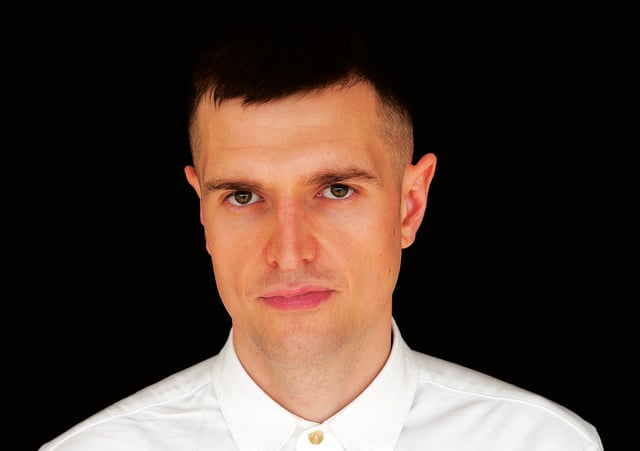 Graeme Armstrong
It is a strange concept, since it cuts both ways. On one hand it is a form of "poverty tourism", where the higher classes indulge, at a distance, in descriptions of the ways of the lower classes. But it is also a genuine kind of nostalgia, where those who have broken out of a cycle of their designated station still feel a tug back towards their ain kind. The Young Team seems to exemplify this paradox. It is a novel which I feel many people will make their minds up over on scanning the first page, and some will be enthralled and some will be nauseated.

The irony is that the readers who might buy this are not the kind of people who might appear in it, and those whom it describes and anatomises and worries over, most likely will not buy it.

To give you a sense of my ambivalence, it is best to resort to quotation. If on the first page of a novel you read "The rain n wind ir fuckin howlin", then "there's two community polis that sometimes ventured doon n busted cu*ts rollin joints", "it is testament tae the fact that 
no c*nt give a f*ck aboot this place", I might venture that you have decided already.

The novel is narrated by Azzy Williams, who at the start is in his early teens. He's already smoking, drinking, taking drugs and fighting in Lanarkshire, and is part of a gang, the Young Team, who are enemies of the Young Toi from a neighbouring estate. The novel is about 200 pages too long (it clocks in at just shy of 400) but it follows a classic pattern. On finishing it, I realised it was actually a Western that mentioned Airdrie and Coatbridge. The reader has initiation, first fight, defeat, vendetta, loss, being torn between two women (a good un' and a bad un'), exile, betrayal revealed, moral dilemma (am I the good guy or am I Clint Eastwood in Unforgiven or Pale Rider, the good guy who does bad things?), hints of possible redemption. Zane Grey at least kept his novels short.

The language is a phonetic rendering of the Scots spoken in Lanarkshire. It is larded with expletives and this may be realism or merely a means to be provocative. People are mentioned as "somec*nt", "everyc*nt" and so on. Azzy refers to himself as "A", and I did a slight double take when he and his gang referred to getting wine: it was not Sauvignon Blanc, of course, but Buckfast. The novel has a very curious, almost Oedipal, relation to Trainspotting. Azzy has a poster in his bedroom. At a rave, he thinks "Trainspotting wis a different generation, c*nts coming up in the eighties. We wur born in the nineties n in the time since heroin hud made it's mark n is f*ckin hated in the schemes." Towards the very end of the book, there is a breaking of the fourth wall, when Azzy says, "It's not that shite being Scottish, Irvine". The Young Team chews at the bit against the legacy of Trainspotting, and wants, like its characters, to be the new top dog.

It would be impossible to doubt the sincerity of this novel. Azzy fears being a "Frankenstein's creature, an eloquent mutant". A quarter of the way through the novel we get a standard situation in which a teacher tells Azzy he sees potential in him, although the novel to this point has shown little evidence of this. It's a structural flaw that these people who believe fade out of the narrative. Nor did I really care for litanies of rave and trance music. Whether they are genuine or fictitious I leave to more informed minds than mine.

In one of the best scenes Azzy thinks "Slag the way A speak, make a social presumption n judge me. Judge ma family, ma prospects, ma financial status n ma intelligence. Yi know wit they say aboot assumption". This is a cri de coeur. The novel deals with both toxic masculinity and also a strange male-bonding. It is noticeable that the gangs are gangs, but include both sides of the sectarian divide in their "troops".

The upside of this is a proper examination of the real feeling of needing to belong; the downside is that the women are almost always described in terms of their looks.

There have been many other novels that deal with Scottish gangs rather than gangsters, although as the book hurtles towards its conclusion, the erstwhile gangs and the "cardboard" gangsters and the genuine gangsters head towards a collision. Personally, I have always preferred subtler novels on this topic like George Friel's Mr Alfred, MA or Jenni Fagan's The Panopticon. With its recovery and return plot, it does steer perilously close to being an anthem to "a bam's a bam for a' that". There is talent here, and passion, but maybe not yet craft.


The Young Team, by Graeme Armstrong, Picador, £14.99