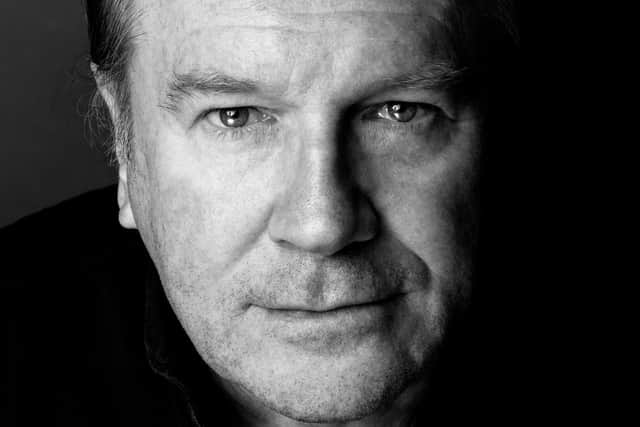 William Boyd
What a pleasure it is to read a novel by an author who not only knows what he is doing and how to bring it off, but also remembers that people mostly read novels for enjoyment. Trio is a comic novel, even Puckish – "Lord, what fools these mortals be"; yet one which recognizes that life is not necessarily comic to those who live it. Even the foolish and self-deluded feel pain. Boyd has always recognized that life is tragic-comic, rich in self-deception. One remembers that he has adapted two of Chekhov's stories for the stage.
The novel is set in 1968, the year of May riots in Paris, anti-Vietnam protest in the USA, the assassinations of Martin Luther King and Bobby Kennedy, a time of sexual liberation which included the legalization of homosexual acts in England. These serve mostly as the backdrop to the story, which recounts the making of a film with a far-fetched title in Brighton.
The trio of the title are all involved in this. Talbot Kydd is the producer, a veteran of the business, 60 or so with a good War record behind him, a married man, father and closeted homosexual. Anny Viklund is the film's star, young, beautiful, American, with a terrorist ex-husband safely, she thinks, in prison in the States, and a French radical philosopher lover. She is now also enjoying an affair with her co-star, Troy Blade, a pop singer, real name Nigel, who hails from Swindon. Elfrida Wing is a novelist, suffering from writer's block and galloping alcoholism, married to the film's director, tom-catting Reggie who now calls himself Rodrigo, foreign language films now being fashionable.
Boyd has written movies and so we can take his picture of the chaotic progress of the film, with its abrupt re-writing of the script, improvisations, trouble with actors' demands and so on, as authentic. All this poses challenges for Talbot, as if his private life and problems with his business partner weren't enough. Anny's idyll with Troy is disturbed by the re-appearance of her ghastly ex-husband, escaped from his American penitentiary, and by the arrival of her French lover, the mysterious philosopher-activist.
Elfrida, hailed on the publication of her first novel as "the new Virginia Woolf," a writer she doesn't care for, has written nothing for ten years. She starts her day with orange juice laced with vodka which she conceals in a bottle labelled Sarson's Malt Vinegar. She then takes a taxi to one of the seedier of Brighton's many seedy pubs where she switches to gin-and-tonic. Later, with her marriage to the appalling Reggie/Rodrigo crumbling fast, she will attempt a comeback. We get half a dozen versions of the first paragraph of a new novel; but no more.
From the time he published his first novel, A Good Man in Africa, Boyd has been recognized as a splendid storyteller, something that distinguishes him from a number of his most admired contemporaries. Evelyn Waugh once called Somerset Maugham "the only living studio-master under whom one can study with profit." Reading him offered "the same delight as in watching a first-class cabinet-maker cutting dovetails". One might say the same of Boyd. He is a master-craftsman. Aspiring novelists might learn more from a study of how he does it than from many weeks of a Creative Writing course.
Here he has set himself the task of exploring three lives linked only by fortuitous circumstances while including them in a coherent narrative. It is a juggling act and he doesn't drop a single ball. Trio is, as I say, a comic novel but one which is rich enough to admit sadness. There is exuberant comedy in, for instance, a ludicrous party given by a falsely-Falstaffian "Great Actor," but there is also pain, misery, perplexity and grief. Boyd moves from one register to another without striking a false note. His sympathy for his characters is rooted in the recognition that most of us know ourselves imperfectly and seek to keep even this imperfect knowledge from others.
Trio is a delight, one of Boyd's best novels, to be ranked with The New Confessions, Any Human Heart and Restless. Never content to repeat himself, he treats each novel as a new challenge. In Trio he meets that challenge triumphantly.
Trio, by William Boyd, Penguin Viking, 343pp, £18.99
A message from the Editor:
Thank you for reading this story on our website. While I have your attention, I also have an important request to make of you.
The dramatic events of 2020 are having a major impact on many of our advertisers - and consequently the revenue we receive. We are now more reliant than ever on you taking out a digital subscription to support our journalism.
Joy Yates, Editorial Director