Book review: Tiny Tales, by Alexander McCall Smith
Alexander McCall Smith's "short short stories" reward characters with kind hearts, writes Kirsty McLuckie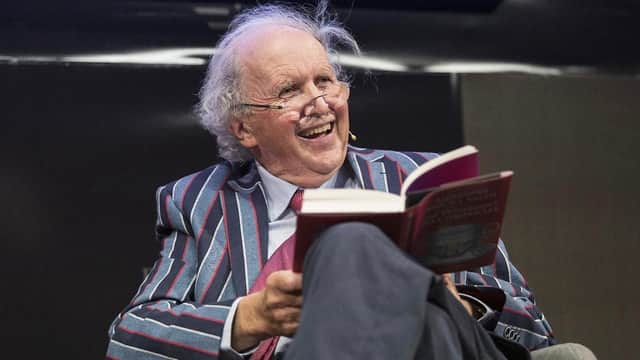 Alexander McCall Smith
Alexander McCall Smith is a master of succinct and witty character portraits. We feel we know his main protagonists intimately, whether they are a Botswana lady detective, a sensitive Swedish policeman or an inhabitant of a certain street in Edinburgh's New Town. But he gives equally minute attention to the walk-on parts in his novels, and those characters' personal triumphs, quirks and failings are also sketched with deft strokes. So perhaps it is no surprise that his latest work is a collection of short stories, some no longer than two pages, in which his talent is concentrated down to its purest form.
Taking things one step further, the book's 30 "short, short stories" are interspersed with tiny graphic novels, illustrated by McCall Smith's long-time collaborator Iain McIntosh, which consist of just four panels, snapshots of sometimes surreal slices of life, but all with a profound message, a life tip or a truism on the nature of cats.
In Tiny Tales, the stories are grouped into themes – love, kindness, poignancy, friendship and strangeness – but in truth all of these appear throughout the work, as the humour is never unkind and goodness is always rewarded. Hard-working immigrants are recognised for their contribution, manipulative TV executives are allowed to quietly resign when their bullying is discovered and even an oppressive Mother Superior, after being hit on the head with a frying pan, is allowed to make a full recovery.
Some characters appear in more than one story. Pope Ron, the first Australian pope, who goes on holiday to his homeland, is a joy. McCall Smith deftly juxtaposes Ron's background as a normal Aussie bloke with his celestial calling but the surreal picture never undermines its power to move. In "The Pope goes Swimming", Ron is asked by his brother, an air conditioning engineer, if he'd like to go to the beach for a dip just like they did when they were boys. Ron replies: "That would be beaut, Herb."
The homesick pontiff's experience of reconnecting with the Australian land, sea and sky reduces him to tears, but the story adds one final detail: "The two Swiss Guards stood solemnly by... The waves had made their blue and orange tights wet. They were dressed for the Vatican, not Cottisloe Beach, where they were the only ones in 16th century garb." It is impossible to read that story without being shoved emotionally in about seven different directions, and it is less than two pages long.
Not all of the stories here are such mini masterpieces. The opener, "Descent", is about a first time parachutist who remains strapped to the handsome instructor after the jump for their first date, where they fall in love. It is not the strongest start to the collection, so much so that after reading the others I went back to it, thinking that after understanding the tone of the book I may enjoy it more, but it just seemed inconsequential.
The graphic panels can also seem insubstantial at first glance, but each reveals a message, sometimes flippant, sometimes carrying more weight. In "Conceptual Art", Steve's old car accidentally wins the Turner Prize and the panel with the judges excitedly admiring the heap of junk is hysterical. In "Geoff's Cat Stanley," meanwhile, the titular mog is psychoanalysed, joins a gym, researches his genetic line and attempts a film career, all with the same very feline outcome.
I thought Tiny Tales would be a book to dip in and out of, but I raced through it in one sitting. Intoxicating stuff.
Tiny Tales, by Alexander McCall Smith, Polygon, 226pp, £9.99. Alexander McCall Smith is appearing online as part of this year's Edinburgh International Book Festival on 24 August
A message from the Editor:
Thank you for reading this story on our website. While I have your attention, I also have an important request to make of you.
The dramatic events of 2020 are having a major impact on many of our advertisers - and consequently the revenue we receive. We are now more reliant than ever on you taking out a digital subscription to support our journalism.