Book review: The View From Poacher's Hill, by Alan Warner, Irvine Welsh and John King
These stories from Warner, Welsh and King are bound together by a punk-fired, working-class worldview, writes Malcolm Jack
Back in 2020, a trio of 1990s superstar authors united to elevate imaginations out of the pits of the pandemic with a three-novella collection of typically hard-hitting tales collectively titled The Seal Club. And now, to mark the 30th anniversary of the first publication of Trainspotting and the close friendship that grew from it, Irvine Welsh, Alan Warner and John King reunite for another trilogy of shorts. The View From Poacher's Hill is a triptych bound together by a shared, punk-fired, working-class worldview and passion for stories of drink, drugs, sex and dark humour, although it's also a somewhat lopsided collection, lacking the blast-from-the-past surprises of The Seal Club.
The best comes first in the form of Warner's "Migration", the shortest of the book's three stories. Lily Hansford is a spoiled teenage girl from an upper-middle-class community in rural Dorset, who drags kith and kin across Europe and back after falling in love with the Costa Blanca during a family holiday. But seemingly shallow intentions are revealed to have much to do with her worsening disability, and her parents' willingness to do anything for their child, no matter how fickle her ambitions. Told from a variety of different perspectives, including that of Lily's brilliantly bitchy best pal Angelita, it's an unpredictable story about friendship, family, class, race and place that flips expectations and lingers in the memory.
Welsh's "In Real Life" somehow contrives to say the least in the greatest amount of space (it's longer than the other two stories combined). A familiarly dismaying root around the rough fringes of Edinburgh, awash with all of the author's trademark vices plus a few new ones besides, it's a mixture of family drama, criminal escapade and scream into the void. Junk food-hoovering Lita McCallum is tragically obese and desperate for a baby that might show her some love. When she wins the Lotto she seeks to buy her way to a better life – until her video games and porn-addicted drug dealer boyfriend and his sleazy uncle team up to try and trick her out of her fortune. Welsh's thick Embra diction becomes a code increasingly less worth the exhausting effort to crack as a charmless array of characters neither seek nor find redemption in this darkly bleak tale.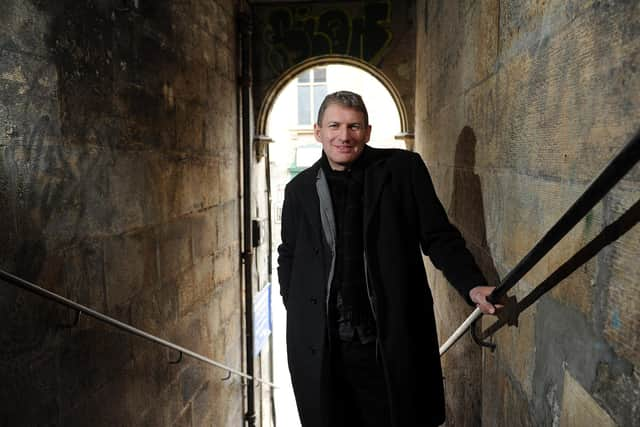 King's "Grand Union" finds the author of The Football Factory on familiar ground too, in a story ostensibly about a big boozy meet up among English football hooligans, albeit with an added twist of surrealism embodied by one unusually erudite casual's pet goat. Hardcore Aston Villa fan Merlin has quit the trucking business during the pandemic to sail the canals in a longboat together with his horned and hooved sidekick Gary. As they approach London, a mentally unstable man becomes convinced that they represent Satan entering the capital and are carrying the final deadly strand of coronavirus, and he's determined to stop them. There are too many half-formed narratives cluttering King's tale, and they never really knit together – but the bit inside the mind of the goat, opining on Black Sabbath and Kafka, is marvellous.
The View From Poacher's Hill, by Alan Warner, Irvine Welsh and John King, London Books, £10.99. Warner, Welsh and King are appearing at the Edinburgh International Book Festival on 12 August, see www.edbookfest.co.uk