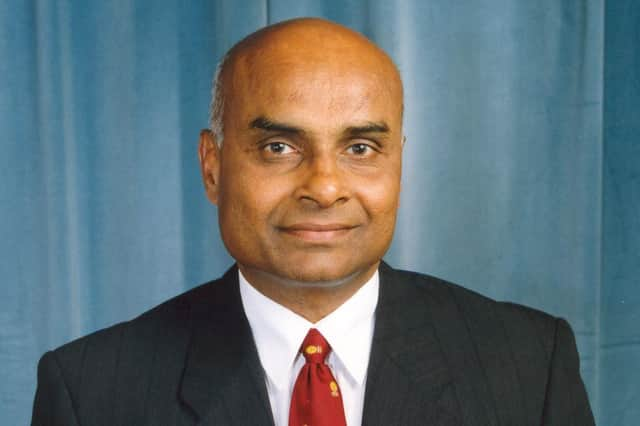 Pradip Datta
Given its title and the majestic view of a snow-covered mountain on its cover, you might assume The Naked Mountain Lands is a book about mountaineering. In fact, it is the memoir of a surgeon who travelled from his native India to London in 1967 for medical training, and ended up making a life at Caithness General Hospital in Wick (the book is named after the plane which first brought him to the UK).
Pradip Datta is now in his eighties and recently suffered a stroke, after which he penned his story with the aid of a friend. Like many self-published books, this one would benefit from being cut down and tidied up by a professional editor, but taken as it comes The Naked Mountain Lands is a pleasant journey from Datta's first days on British soil to his retirement in 2005 and beyond, having given almost his entire working life to the NHS.
If there is a little too much detail about squash games through the decades, the book is still a testament to the importance of hard work and making the best of every opportunity. In the early years of his career Datta suffered repeated job rejections after various contracts expired, and he attained the rank of consultant much later than he had hoped. He is philosophical about the reasons for this, but those around him conclude racial discrimination.
The Naked Mountain Lands, by Pradip Datta
While moving from post to post, Datta carefully recounts settling in to each new place, joining the local squash club and forming part of the community. When he eventually ended up in Wick – from the perspective of his earlier London-based self, about as far away from anywhere as it's possible to get – he found himself without too much in the way of diversion, and so gradually built a surgical training course, despite various sources of opposition.
After 27 years, Datta was given an award from the Royal College of Surgeons of Edinburgh for contributions to surgical teaching, and later an MBE. Continuing past retirement, he trained thousands of students from around the world, and raised tens of thousands of pounds for charities by donating his fees.
In 2017, Datta had a stroke which left him needing 24-hour care. He charts the despair of his difficult rehabilitation with frankness and courage, highlighting a desperate need for more psychological support for stroke sufferers. As with everything else, he manages to turn his terrible misfortune to some good – writing a book which is part inspiring life story, part love letter to the NHS, an institution which he moved halfway across the world to serve, and which eventually stepped up to care for him when he needed it most.
The Naked Mountain Lands, by Pradip Datta, Doctors Academy Publications, £20
A message from the Editor:
Thank you for reading this article. We're more reliant on your support than ever as the shift in consumer habits brought about by coronavirus impacts our advertisers.