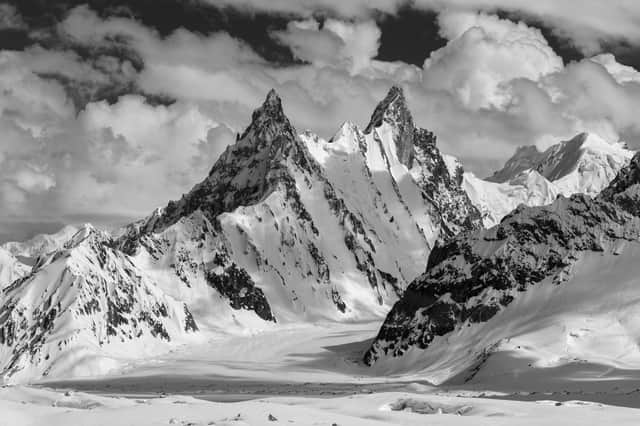 Ghur (5796 m), Biafo Glacier, Panmah Mustagh, Karakoram Mountains, Pakistan PIC: Colin Prior
​In 2014, the celebrated Scottish landscape photographer Colin Prior spoke to The Scotsman about his latest project: a multi-year, multi-expedition survey of Pakistan's Karakoram Mountains, inspired by a visit he had made to the area in the mid-1990s. The resulting body of work, he said, would be his "magnum opus."
Seven years and five expeditions later, the fruits of his labour are about to be published in a large-format book, The Karakoram – Ice Mountains of Pakistan (Merrell, £50), introduced by the award-winning author and filmmaker Mick Conefrey. There is also an essay by Prior in which he describes the arduous and occasionally hair-raising journeys that were required in order to capture the book's 90 images.
A sub-range of the Himalayas, the Karakoram straddle the border between China, India and Pakistan and boast the highest concentration of peaks over 8,000m anywhere on earth, notably 8,611m K2. Unlike the Himalayas around Mount Everest, which tend to hold a lot of snow near their summits and can therefore appear as featureless expanses of white in photographs, the mountains of the Karakoram are so steep and jagged that large areas of their rocky surfaces are exposed even in the depths of winter. The name of the range, first noted in English writings in the early 19th century, comes from the Altaic term for "black gravel" or "black pass."
Colin Prior on the Gondogoro La, with K2 (8611m), Broad Peak (8047m) and Gasherbrum IV (7925m) beyond
In our 2014 interview, Prior explained that part of the project would involve following in the footsteps of the great Italian mountain photographer Vittorio Sella, whose Karakoram photographs, taken on the Duke of the Abruzzi's climbing expedition of 1909, had long been considered the definitive work on this most dramatic and inaccessible of mountain ranges. Sella was by no means the only photographer trying to capture the grandeur of the Karakoram in this period, but according to Prior it was Sella's eye for composition which set him apart.
Some of Sella's pictures are truly remarkable in this respect, and he was particularly good at using climbers to give a sense of scale, as in a memorable image titled Camp V and K2, in which the duke's climbing party and a couple of tents are dwarfed by the world's second highest peak, to the extent that they look almost like cartoon characters.
Perhaps the most striking of all Sella's images, however, is the sweeping panorama he took of the Baltoro Glacier, K2 and Mitre Peak, which is pin sharp in every detail and is all the more impressive when you consider that, in order to take it, he and his porters had to complete a difficult climb up an icefall carrying a number of fragile glass negatives, each measuring 11x14 inches. In his introductory essay to the new book, Prior admits that he didn't have the mountaineering experience or ​​equipment to attain the same high vantage point in order to repeat the image, and so was forced to "compromise" with a picture taken from a high point on the glacier. His view, though, is still a wonderful study in contrasts, and arguably more dramatic, too, as the lower angle makes the mountains seem to lean in more towards the viewer.
On the one hand it seems unfair to compare Sella's work with Prior's – the two men were, after all, working more than a century apart, using vastly different equipment and with very different audience expectations in mind. Nevertheless, the fact that Prior so explicitly set out to follow Sella's lead, and the fact that – even after all this time – Sella's Karakoram pictures remain the standard by which all others are measured, make comparisons hard to avoid.
K6 (7282 m), Charakusa Glacier, Karakoram Mountains, Pakistan PIC: Colin Prior
In terms of style, the most obvious thing that separates the two men is the way they record human presence in the landscape. Sella wasn't just there to shoot mountains, he was there to shoot his patron, the duke, climbing mountains. As such, much of his work has a documentary feel. As well as climbers silhouetted high up in the snowfields, he also gives us images of the expedition with its huge team of porters crossing precarious bridges and trekking across enormous, desolate floodplains. There are some pure landscape images, but often he can't resist adding a human figure for scale.
Prior, by contrast, makes a clear separation between landscape and portraiture. When he does show the members of his expeditions, he does so in close-cropped, tightly-focused compositions. With the exception of one atmospheric shot of a group of porters talking around a campfire, and a picture of women and girls taken at a village feast, all of his photographs of people follow this pattern. His landscape images, meanwhile, are devoid of human life; the mountains themselves are his subjects, not any human attempts to conquer them, and the level of detail he achieves is mind-blowing. It would be good to see a selection of these pictures reproduced ten feet high and hanging in the National Gallery.
The other thing that distinguishes Prior's photographs is his approach to the weather. Probably as a result of his delicate equipment, Sella's images generally seem to have been captured in near-perfect weather conditions; his mountains are rarely troubled by anything more threatening than a few wisps of cloud. Prior's Karakoram, meanwhile, have many more moods. Sometimes they are backed by brooding storm clouds, as in his picture of Lobsang Spire, sometimes they are swathed in mist, as in his images of Uli Biaho Tower. Simply put, the weather plays a huge part in Prior's pictures, in a way it doesn't really feature in Sella's.
Sella is rightly celebrated as a hero in his homeland, but at the risk of sparking a diplomatic incident, it is now Prior who has produced the definitive photographic record of the Ice Mountains of Pakistan.
Angel Peak (6858 m) and K2 (8611 m), Godwin Austen Glacier, Baltoro Muztagh. Karakoram Mountains, Pakistan PIC: Colin Prior
A message from the Editor
Thank you for reading this article. We're more reliant on your support than ever as the shift in consumer habits brought about by coronavirus impacts our advertisers.
Sarfaranga and River Indus, Shimshak Mountains from K2 Motel, Skardu, Pakistan PIC: Colin Prior
The Karakoram - Ice Mountains of Pakistan, by Colin Prior