Book review: The Discreet Charm of the Big Bad Wolf, by Alexander McCall Smith
In the latest instalment in Alexander McCall Smith's "Scandinavian Blanc" series, Ulf Varg, senior detective in Malmo's Department of Sensitive Crimes, is tasked with solving an unusual case involving a missing house. Review by Allan Massie
Near the end of his life, Kurt Vonegut said all he had learned was, "You gotta be kind." It sounds simple, yet it is something many find hard. The same message is delivered by Alexander Mcall Smith to his admiring public in his many books. Though he has the lightest of touches and is always entertaining, he is a deeply serious writer who values truth, honesty, sympathy and kindness.
In all his various series, this is nowhere more evident than in the novels featuring Ulf Varg, "senior detective in Malmo's Department of Sensitive Crimes, driver of a classic silver Saab and owner of a hearing-impaired dog known as Martin." These are novels that cannot be described as "noir." Yet there is always a crime to be investigated, sometimes more than one.
Here, it's a decidedly odd one, bizarre and calling for sensitive treatment. A well-to-do businessman comes to him with a problem. He gets off on the wrong foot, embarrassing Ulf by praising Ulf's brother Bjorn, a newspaper columnist and leader of a minority pollical party, the Moderate Extremists. Still, his caller, an apparently prosperous businessman, has a problem. Somebody has stolen his house, a wooden summer cottage. That's to say, they have removed it, carried it away. It's a rare sort of crime, not one Ulf regards as urgent. Actually, he rarely finds crimes urgent, no matter how "sensitive" they are. It is often difficult to decide on what is important or the right approach.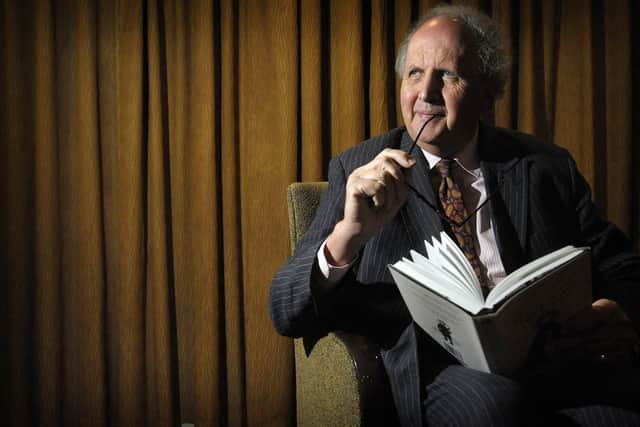 Besides, he has other concerns. There is the problem of Blomquist, a member of his staff. Blomquist is a very nice man, but a terrible bore, an irritating mine of information, with strong opinions on nutrition and indeed everything to do with health and diet. Ulf finds himself avoiding Blomquist and, ashamed of doing so, resolves to be more tolerant. As it happens, Blomquest, being both intelligent and industrious, is a rather good detective, better, one may think, that Ulf himself.
Meanwhile Ulf has personal problems too. He has long been silently in love with one of his staff, a married woman and mother. He can't of course speak of this. Meanwhile he has a girlfriend, a vet's assistant, rather a bossy young woman, who has learned of a new – and very expensive – operation which might restore Martin's hearing. It's in vain for Ulf to plead that Martin is perfectly happy and is anyway able to lip-read, in vain to say that his neighbour – an intelligent bridge-playing widow who looks after Martin during the day, agrees with him. He is incapable of resisting his girlfriend's moral bullying.
All this is a distraction from the Case of the Stolen House, in which indeed he is not greatly interested. Fortunately Blomquist, eager to practise his detective skills, engages in his own investigation, and this proves fruitful. He comes up with a solution which, however, presents Ulf with a new problem. Solving the case is one thing, but pursuing the guilty party is another matter. An arrest, trial and conviction will damage several innocent people. Is this desirable? Is it right to pursue the matter to what might be a miserable and painful conclusion? Once you are faced with the solution to a sensitive crime, how do you then act sensitively?
The narrative in a McCall Smith novel proceeds as smoothly and delightfully as a stream flowing through charming meadows, where you are always invited to enjoy the scenery and smell the flowers. It is all so charming and agreeable and reads so easily that you are tempted to think of him as a lightweight writer. You will, however, do this only if you do not see that comedy may be as serious, as morally concerned, as darker and grimmer fictions. McCall Smith is always concerned with how people behave, especially how they behave towards others. He is always sceptical of harsh, "realistic" judgements. While always alert to the question of right and wrong behavior, he is a kindly judge. "Lord, what fools these mortals be," says Puck. Quite so. Nevertheless, "you gotta be kind."
The Discreet Charm of the Big Bad Wolf, by Alexander McCall Smith, Abacus Books, 213pp, £18.99