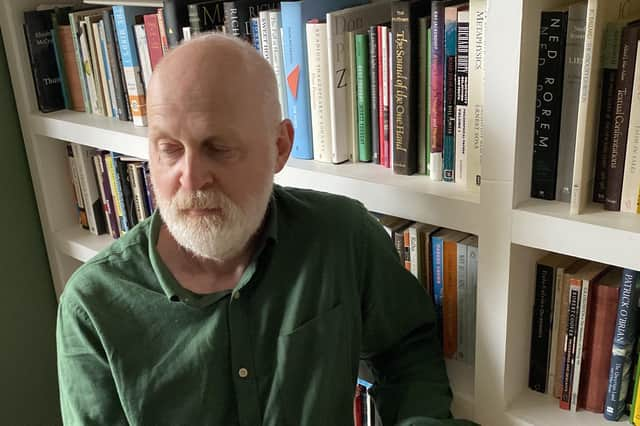 Don Paterson
If I were desperately wanting a punch in the gob this August, I might well saunter over to Don Paterson and tell him how much I admired his new collection of poetry, and how surprised I was that he had mellowed. I would richly deserve said gubbing, as there is a seam of righteous indignation throughout this new book; but, in my defence, I am also partially in the right.
Take as evidence the closing lines from Paterson's "break out" poem, "An Elliptical Stylus" from his debut Nil Nil. It ends: "But if you still insist on resonance – / I'd swing for him and every other c*nt / happy to let my father know his station, / which probably includes yourself. To be blunt". Compare this to the end of the aching elegy "On Sounding Good", for his father, in this book. It opens with a reminiscence in pugnacious style – "Sir, know this: that you were utter shite / in the Kirkintilloch Social Club that night", showing that Paterson has not lost any of his verve for wholly right rhymes. This ends, however, "he chose / to make you sound good, or good at least to those / who loved you; and since he had love to spare, / your knowing this was neither here nor there." There are still teeth there, barely unbared, but the sentiment is starkly different. So too are the rhythms, with a new kind of balance between the tripping wryness of the first lines and the unexpected slowing in the conclusion. I could, I think, write this whole review just unpacking this poem – the description of the singer's "ascent from E flat to K sharp" is funny and sad and precise; the two words "alien spanners" will abide with me.
But to concentrate on one, albeit audaciously good, poem would be a disservice to the rest of the book. What is most striking is the tonal and stylistic versatility of the collection. It includes maxim poems that sounds like a more sardonic version of "The Rubaiyat of Omar Khayyam", both wise and irreverent at the same time. There are riffs – that seems to me the only apposite word – on poets like Cavafy, Montale, Trakl and de Unamuno. It features a rambunctious work in Standard Habbie, "To His Penis", from which I suppose it is acceptable to quote the lines, "I'd waak up in the nicht, true friend / o Andrea Dworkin / to cry a unilateral end / to aa the porkin." There is something of the flyting of Renaissance Scottish writers like Dunbar about it.
Then there are the angry poems, which show Paterson in a more politically engaged form than in previous collections. Three stand out. "Easter 2020" is unremitting and excoriating, but it also parallels the horrors of those who could not see loved ones on their death beds with the shenanigans of those in power. Let this stand as an example: "The pig has hidden in the toilet / since he came down sick / and it turned out happy birthday to me / didn't do the trick". The ballad form seems the right one, and I can easily imagine it being sung somewhat raucously. "Saudade for Brexit" uses the Portuguese term for regretful longing, tinged with the sense that there is no going back. "Spring Letter", about the events in Ukraine, is a "raggedy antiphon" using "disorderly rhymes" in the style of McNeice "a form already halfway to broken / might be halfway adequate to the times". It is not a howl of outrage or a piece of Brechtian propaganda, but something more grief-stricken and nuanced, with a metaphysical slant: "the gods don't wash away our sins / but our conscience". In many ways, this is a God-haunted book.
For those who have followed Paterson's career, the highlight will be the fourth part of his "The Alexandrian Library", subtitle "Citizen Science". In four parts, it features the real and unreal Arctic Bar in Dundee, where various loners, survivors and lunatics converge. One is a meteorologist working on the top of Ben Nevis when the Internet goes down ("the cloud disappeared"). Next we have another environmental researcher visited by Charles Lyell who warns him "the present is key to the past", then a scholar studying old records of whale-hunting to gauge sea levels who is "currently vague on my name". Finally, with a true crescendo, a representative of a group who are trying to remember Euclid, Darwin, Einstein and, to a much lesser success, literature. It is very dark comedy. "The 'literature corner' is busy reclaiming / such few lines of verse as had made half an effort / to make themselves memorable; / so far we have three variant copies of something / called 'This Is The Verse', and the one that allegedly / starts Please do not stand on my grave and cry". This is horrible and horribly true – I once said to a friend who got rid of his books because he had them all on a Kindle that at least he could drop an entire library in the bath now.
Paterson is a polymath poet, a many-voiced one. Confession: I made my Mum read some (she's not normally a poetry reader) and she welled up. No greater praise.
The Arctic, by Don Paterson, Faber & Faber, £14.99. Don Paterson is appearing at the Edinburgh international Book Festival on 20 August