This is a logical continuation from Peter Ross's previous book, A Tomb With A View: The Stories And Glories Of Graveyards, in that here he turns his attention to the building normally, but not exclusively, found in a graveyard: the church. It plays to Ross's strengths in that he has eye for the curious detail, and a very empathetic manner. The church, as we are often told, is not about the masonry or the pews or the stained glass, but rather about the people that make up the church. In his encounters in various churches and places of worship Ross invariably finds a way to let the people reveal themselves, as anxious, dedicated, inspiring, humble, firm in their opinions or just mildly eccentric. But I should not swerve the issue, as it is central to this book. One often hears about a place being a "living, breathing church", but more frequently these days one is likely to hear "last gasp". Churches, far too frequently and far more regularly, will soon become a fellow denizen of the graveyard and not the sentinel keeping watch over them.
This is not an untrodden path. There may well have been "church crawlers" for as long as there have been churches, although I suspect pilgrimage sites might be more applicable in some instances. The books vary in focus and concern, from Simon Jenkins' England's Thousand Best Churches, to Peter Stanford's If These Stones Could Speak to Ronald Blythe's Under A Broad Sky to John Hume's delightful Scotland's Best Churches. Then there is always John Betjeman, or Nikolaus Pevsner whose architectural guides always seem to gee up when it comes to the ecclesiastical. They vary in detail, history and humanity: but then so do churches. It is a bit akin to Wittgenstein's problem with games. Is there a quality that all games have in common (chess, solitaire, rugby, gymnastics and so on) other than that they are called games? All churches are Church.
Re-reading the previous paragraph, it did strike me that all the books are by men. Ross may have a form of diagnosis in terms of comparing church crawling to Munro bagging. I can hardly cast the first stone since I can't pass a church without having a recce, and usually buying a local history guide.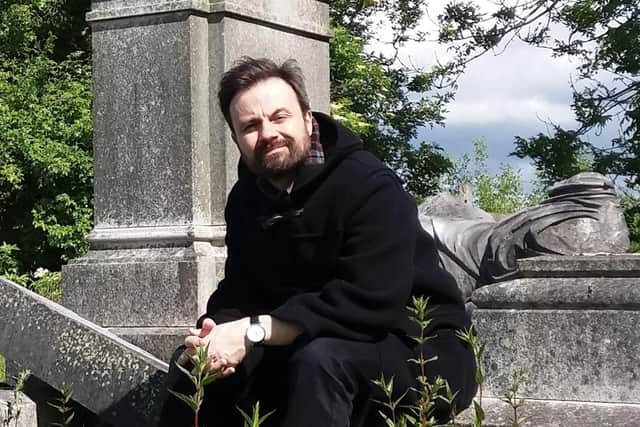 Some of the churches Ross visits are the superstars – St Paul's Cathedral, or even the infamous modernist ruin of St Peter's Seminary. Some are hidden away, but with fabulous stories, such as Holy Trinity in Stow Bardolph which has a wax effigy that looks like a prop from Doctor Who, or St Peter and St Paul's in Chaldon with its Bosch-like wall painting. Perhaps the best glance into the method here is right at the start, when Ross encounters a pew box in St Mary's Whitby with the legend "For Strangers Only". He arrives in most places as a stranger and yet effortlessly wins over the people to whom he speaks. In terms of style there is a clue in the reference to the work of WG Sebald. They are both melancholic enthusiasts, seekers for the numinous in a ruined world, and both have an air of being both bemused and transported at the same time.
These pieces do, however, amount to more than an anthology of "what I did on my church holidays if not Holy Days". It seems to be a book that is taking the temperature of the nation, in more ways than one. Part of the background in the ongoing pandemic, when churches were closed and human contact limited in most places, except perhaps SW1A 2AA. These sections deal with the functionality of the church, as a place of community, of respite and of consolation.
Another strand is a subtle investigation into where we are as a country, sort-of-post-Brexit. What do these churches symbolise and what do they tell us about the kind of country we are? The mentions of the war are significant in this regard; but so too is the granular sense of particularity. Cookham, that Stanley Spencer made the backdrop to his work, is a different entity to the painter Alison Watt's relationship with Old Saint Paul's in Edinburgh. Churches have the capacity to root places, to make them feel individual and not corporate clones. This extends even to those who do not attend; though I have been known to grumble when there is news of a local petition to save a church from closure (and this will be happening more and more) that it would not be closing if every signatory also came to a service. The Kirk has a phrase about "well-designed spaces in the right places", and it makes me grind my teeth. A design that has lasted 500 years might well be "well" enough, and who determines where is right and where is home?
Ross has always had a quiet charm, and it is perhaps displayed best in this book. It is serious, it has moments of levity, and he walks a very coy line around his own disbelief and its relationship to his fascination. It is certainly not expedient or exploitative, a trawl for juicy human interest stories. Instead it is properly interested in humanity, especially in its complexity.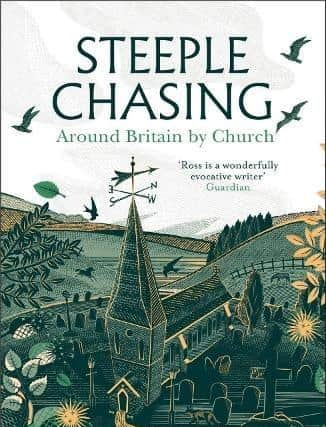 Steeple Chasing, by Peter Ross, Headline, £22