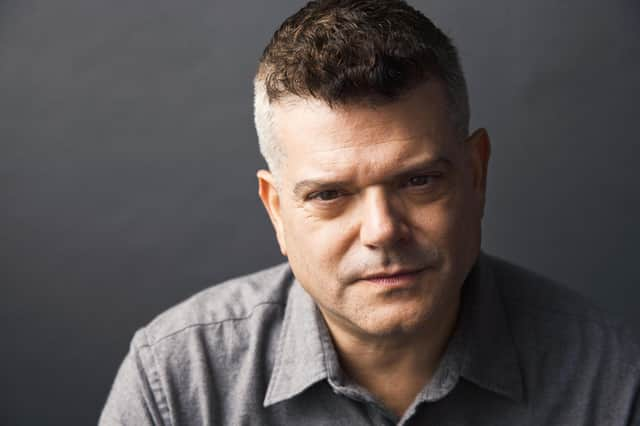 Shalom Auslander PIC: Theo and Juliet
Against a backdrop of economic and ecological disaster, a dysfunctional and eccentric American family set out to fulfil their emotionally difficult and late mother's death-bed request about the ultimate destination of her mortal remains. As part of the (deliberate quotation marks) "journey," we learn a great deal about the fractious family dynamic. But you're not reading As I Lay Dying by William Faulkner, but Mother For Dinner, the new work by the dizzyingly acerbic Shalom Auslander. I re-read Faulkner after reading Auslander, and it's a far funnier, sadder and more profound novel than my younger self's memory of it. I suppose one of the benefits of age is realising how shallow one used to be.
Auslander is a timely reminder that literature can still be daring, provocative and controversial, and I read it while gagging with both laughter and nausea. There are very few writers – perhaps Timur Vermes's novel Look Who's Back or Edward Albee's play The Goat, Or Who Is Sylvia? – that can make you think "I really can't believe they just did that." Auslander's previous novel, Hope: A Tragedy, featured a mild-mannered Jewish protagonist who was somewhat troubled to discover his Midwest home was occupied by a sweary, venal octogenarian Anne Frank. If anything, Mother For Dinner ups the ante a very great deal indeed. I very much hope that some people are offended by it.
The protagonist here is Seventh Seltzer. Both names are significant. He is Seventh because his family is named numerically, right up to the maligned Zero. Seltzer will become obvious. He works in publishing, where he struggles with being tasked with finding The Not-So-Great Something American Novel, and quietly seethes about the politics of identity. "Identity had always been a prison he longed to escape – white, black, brown, American, European, Russian, male, female, straight, gay, They, Them, atheist, monotheist, polytheist – the ever-growing list of cell-blocks from which there was no release. And yet lately, all around him, the prisoners were proudly raising their shackles overhead and cheering their own bondage." It means he reads a lot of work with a lot of hyphens, and if they are published Time magazine hails them with "It was about time…" The reason for his grievance is that Seventh was born into the most shunned, marginalised and feared of all minorities. Secretly, he is a Can-Am.
Mother for Dinner, by Shalom Auslander
Confronting his Can-Am heritage comes to the fore when his mother – known as Mudd – has started to eat nothing but Whopper burgers. The family is all summoned back, all 12 of them, all of whom have variously disappointed Mudd. She wants her last rites to be traditional. Can-Am is an abbreviation for Cannibal-American, and the family have to eat her (hence the weight gain prior to imminent demise). That's when Auslander really ratchets up the horror-comics of it all. The family have all tried to assimilate to being "American" in different ways, and part of the family mythos is that of Julius, who came from the unspecified Old World and worked in the Ford Factory, with its "Americanization" programme; here turned into the horrors of a pageant involving the immigrants voluntarily going into "the Melting Pot." (The novel does use our language of eating to great effect: Mudd will torment bullies by asking if they can have them for dinner, or telling children she'd like to gobble them up). The Twelve are legally bound to do this if they want to inherit, despite complaints of veganism, not knowing if she's kosher and suchlike – but Seventh, surprisingly, wants to assert his long-hidden identity. They are however pretty inept, and need the assistance of the patriarch Unclish, who founded the Can-Am University (where nothing but Cannibal thought is taught, even though it never really opened), to perform the Victuals.
Some readers may want to look away now. Consider this your trigger warning. The scene where Mudd bequeaths her body parts for digestion is bad enough, although it does fit into a literary tradition that include's Villon's Testament, Lindsay's Papyngo and Donne's The Will. Even in death she is singularly vindictive and sarcastic: you know from the outset somebody will be tasked with the derriere. But once Unclish begins on the ceremony, with its elaborate schema of Draining, Purging and Partitioning, and the vexed question of side-dishes, you'll need a pretty strong stomach.
And yet, and yet: the end of the novel is a wistful, regretful, even sentimental paean to the importance of heritage, of the right to decide, of the right to change. It is, I might even say, almost sweet; which after the grotesque nature of what the reader has had to swallow is almost glorious. Auslander, in interview, described his rejected ultra-orthodox upbringing as being raised "like veal," and this novel captures and analyses the ambiguities around what one is given and what one is offered magnificently. It is not an easy read, even though the outrageous nature of the comedy is done perfectly. Mudd is almost a dark-matter liberal in how much she hates everyone except Can-Ams, and her particular loathing of Gilligan's Island and Jack Nicholson. ("There
must be something good about them", one sibling asks, getting the reply "Yeah… They die").
This is a work of genius. It's not for the faint-hearted, but the faint-hearted most of all should have to read it.
Mother For Dinner, by Shalom Auslander, Picador, £16.99
A message from the Editor:
Thank you for reading this article. We're more reliant on your support than ever as the shift in consumer habits brought about by coronavirus impacts our advertisers.
Joy Yates, Editorial Director