Book review: Mirror Land, by Carole Johnstone
Carole Johnstone's new novel is a page-turning read, but with functional writing and a predictable plot, it's not really one to linger over, writes Stuart Kelly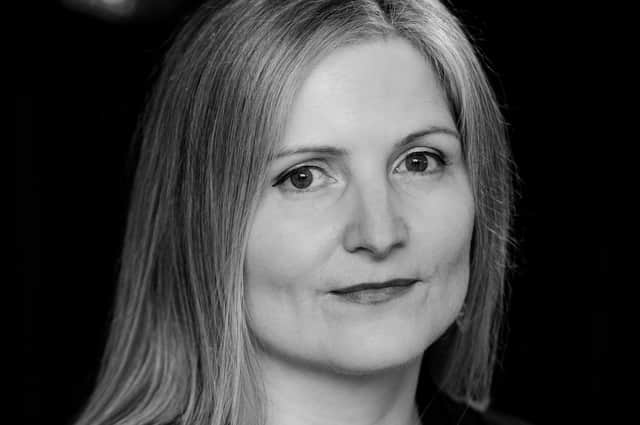 Carole Johnstone PIC: Julie Broadfoot
There is a concept in literary theory called "paratext." It sounds daunting, especially when defined by Gérard Genette as "a fringe of the printed text which in reality controls one's whole reading of the text." Basically, though, it's as simple as pie. You might remember a novel that begins "There was no possibility of taking a walk that day." But were you reading Jane Eyre by Charlotte Brontë or were you reading "Jane Eyre. An Autobiography. [in gothic type]. Edited by Currer Bell", as the novel was originally published?
Paratext boils down to the simple fact that we do judge books by their covers. This makes Carole Johnstone's novel interesting from a paratextual perspective. The front – two similar women, one facing down and one facing up, hair intertwined, on black – has a quote: "Dark and devious… beautifully written and plotted with a watchmaker's precision – STEPHEN KING". On the back, Greer Hendricks says it is "The love child of Gillian Flynn and Stephen King". One of the epigraphs is from the 1982 novella, Rita Hayworth and Shawshank Redemption – "It always comes down to just two choices. Get busy living, or get busy dying," by Stephen King. The same quote, attributed, appears of page 361, and the novella is not only one character's favourite book but the inspiration for some of the action. When one finally reaches the acknowledgments, always an underrated and revealing section of a novel, we are told that thanks are due to "a man whom I've never met, but will remain forever my first writer crush." I think you can guess who the writer is. Didn't he write Misery about obsessive fans? It is paratext overkill. To put paratext upon Pelion, the press release, which the normal buyer of books will not see, informs me it was "the" book at London Book Fair. There are always many "the" books.
It is not a bad novel. It whiled away an afternoon. It is, I suppose, a page-turner, because the reader wants to know what the heck was actually happening. It is not a book to linger over. The plot begins with Cat – Catriona – returning to her childhood home at 36 Westeryk Road, which is a typically gothic place. She has come back because her twin sister El has been reported missing at sea and even presumed dead, and her sister and her husband bought the old pile. Being "home" means understanding "home," and the dark fantasies they enacted there, about pirates, a ghoul called The Tooth Fairy, clowns, and Wild West shoot-outs with their imaginary friends. Although one of them might not be imaginary, and El's husband – of course – had a fling with Cat before El's previous suicide attempt. It brings back memories of a distant mother and a rum-sodden grandfather. There is a sense that the novel is reverse engineered for twists, and nothing is as tiresome as a predictable twist. Cat is convinced that El is not dead, because twins are psychic and she would have known, and the fact that postcards leading her on a treasure-hunt across their home and history seems to confirm that – dum dum dah! – something off is going on.
Mirrorland, by Carole Johnstone
The Scottish Gothic is undergoing something of a Renaissance, with writers like Helen McClory and Jenni Fagan, and in some ways it never went away. Novelists like Emma Tennant and John Herdman were working that vein decades ago, and let's not talk about Stevenson, Hogg and Scott. There are flashes of excellence here – the counterpointing of Blackbeard and Bluebeard as two necessary stereotypes is done well, as is the way in which we never wholly know those closest to us. There is a precise analysis of various toxic masculinities, and of women absorbing harm. All this is done well, even if it seems rather like ticking boxes. The prose is functional. It gets you from A to B, and when it does attempt flourish it jars. El's diary, which is part of the bread-crumb trail, is written in a rather gauche imitation of childhood, such as "Mum is always making us read or reading to us. She NEVER stops! But at least now they're not baby stories or Shakespeare (YUKK)… It's BRILLYANT!!!" – this refers to hearing or reading a Stephen King novel. Poor Shakespeare, who had a good line in twins.
I won't deny that readers will get some temporary pleasure from Mirrorland. It is precise about how imagination is used to cover up reality. But it tees everything up: El has always had a Plan A, so a Plan B can't be far behind. Every kink of the plot can be seen in advance. It is a little like watching (my guilty pleasure) Midsomer Murders, were the only joy is in deciding who is the least predictable villain and then clocking the solution and motive. Although El has left clues for Cat, the clues are mostly directed at the reader: if you reference Papillon and A Tale Of Two Cities and Alice's Adventures in Wonderland, you have already set the parameters of the game. Suspense novels need a degree of ambiguity, and everything is clear here. It is a page-turning read, but unlike Cat, you won't feel the need to go back.
Mirror Land, by Carole Johnstone, The Borough Press, £12.99
A message from the Editor
Thank you for reading this article. We're more reliant on your support than ever as the shift in consumer habits brought about by coronavirus impacts our advertisers.