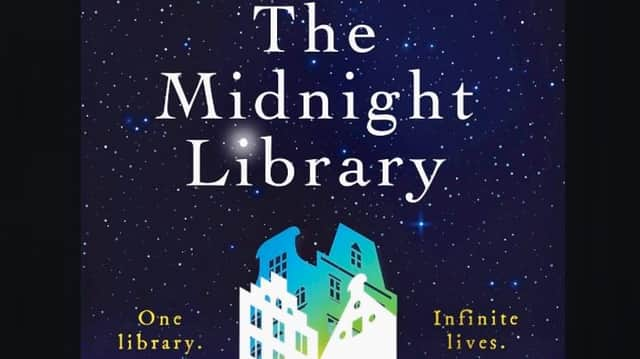 Depression is a terrible illness, heaven knows; but I doubt whether any sufferer has ever experienced such an elaborate and fantastical treatment for it as the one devised by Matt Haig for his heroine Nora, in his new novel The Midnight Library. As the book opens, 35-year-old Nora is experiencing a profound sense of exhaustion and depression, and is on the point of taking her own life. She is single, lives in a shabby basement flat in Bedford where she was born, has just lost her badly-paid job in a failing music shop, and finally reaches rock bottom when her beloved cat is found dead in the road; and crucially, she blames herself for all of these circumstances, bitterly regretting decision after decision she has made in her life so far – mostly to back away from offers and challenges, ranging from marriage, to the chance to become an Olympic swimmer.
Just as Nora is about to die, though, on the dot of midnight something happens; and she finds herself in a different dimension or parallel universe, inside an infinite library of books each of which contains one of the possible lives she might live, or have lived. The library is staffed by a brisk version of Mrs Elm, the school librarian who treated her with exceptional kindness when she was a troubled teenager; and under Mrs Elm's guidance, Nora begins her journey through an ever more bewildering kaleidoscope of possible lives, briefly visiting each one.
The idea seems to be to deal first with the major, heavy regrets on which Nora dwells; her sudden decision not to marry her fiancé Dan, the point in her teens when she told her ambitious, demanding Dad that she no longer wanted to swim competitively, the moment when she walked away from the increasingly successful band she and her brother had started, or the time she decided not to move to Australia with her best friend Izzy. It takes only a brief visit to each of the lives she might have experienced if she had reversed these decisions to show her that no life is perfect, and that regret is essentially a waste of time; and thereafter, the book's formula of visits to new lives followed by philosophical sessions with Mrs Elm in the library becomes just a shade repetitive, as if the book contained one or two lives too many for its own structural strength.
Haig is a hugely popular and prolific writer, the author of 18 novels for children and adults, and of seven works of non-fiction, including his best-selling 2015 book about depression, Reasons To Stay Alive; and The Midnight Library comes across mainly as a light-touch fictional reworking of Haig's thinking about how human hearts, minds and souls can recover from a depressive crisis of meaning, which robs life of all its colour and joy, and any sense of its boundless potential. The book is not elegantly written, but the story has an engaging, page-turning quality, and the dialogue is often powerful and pithy, even if Mrs Elm's library musings sometimes smack too much of homespun philosophy, or a positive thinking manual.
And when, in the end, Nora achieves the kind of epiphany once described by TS Eliot, and arrives back at the place where she started, only to feel that she knows and fully sees the place for the first time – well then, only the most churlish reader could fail to enjoy her new-found happiness, as she begins to live with a full sense of the miracle of existence and awareness, and of the infinite possibilities it opens up for us, with every second of every day.
The Midnight Library by Matt Haig is published by Canongate, 304pp, £16.99. Matt Haig is appearing online as part of the Edinburgh International Book Festival on 31 August
A message from the Editor:
Thank you for reading this story on our website. While I have your attention, I also have an important request to make of you.
The dramatic events of 2020 are having a major impact on many of our advertisers - and consequently the revenue we receive. We are now more reliant than ever on you taking out a digital subscription to support our journalism.