Book review: Love, by Roddy Doyle
Stick with Roddy Doyle's rambling novel about old friends who chew the cud over a few pints of Guinness and you'll be rewarded with a surprise that changes its mood entirely, writes Allan Massie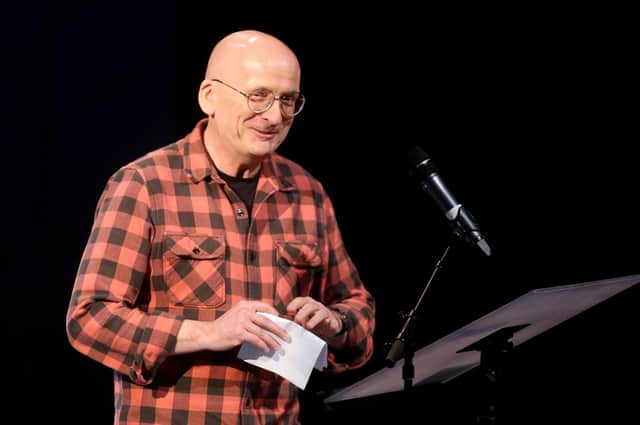 Roddy Doyle PIC: Niall Carson
Roddy Doyle used to write novels that were abrupt, short, buoyant and funny. "Love" is rambling, long, heavy-going some of the time, and more likely to make you smile than laugh. There was a lively sense of expectancy, of a world that might open up, in his early fiction. Now there's not much to look forward to, the world has shrunk and the horizon is not far distant.
Another way of putting this is to say that his later fiction, and this new novel "Love"' are true to experience. This honesty may be bleak; it rings true. There are moments in his new novel, Love, which might have you thinking you are listening to Vladimir and Estragon. I guess this is intentional.
However it's Joe and Dave, not Beckett's couple, though their conversation in a succession of Dublin pubs is almost as circular. They are old friends from boyhood, now with sixty in sight. Joe has remained in Dublin, Dave moved to England. Both are married. Dave returns to see his father, though his relations with him have always been semi-detached. As old friends, over the first pints they hark back to their youth, their first experience of pub life and adult freedom. They remember with special fondness a pub they knew as "George's", the first place where they felt fully accepted as grown-ups. It had a quality all its own and many of us will have had such a pub in our lives. There was a girl there both fancied, without knowing much about her except that she played the 'cello and was called Jessica. They both have something to reveal, though Dave is reluctant to say what this is in his case.
Joe however is eager though he can't come at it straight. Yet it's what he wants to talk about; it's the only thing on his mind. But he comes to it in a roundabout way, so that it's not clear whether he was proud and happy or ashamed. Well, he may be all three. He has met Jessica again, at a parents-teachers evening, and she kissed him on the cheek while his wife, Trish, with whom he has always had good sex and still, he affirms does, is in another classroom. They exchange telephone numbers, though Joe, suddenly forgetting her name, puts "George" against the number on the screen.
Dave questions Joe sharply, repeatedly, tiresomely. Has Joe really left Trish? Despite everything? And he goes back, again and again, over his own marriage with Faye. And that, for much of the novel, is that.
They go from pub to pub, drinking pint after pint of Guinness as they did when they were young, but with none of the exuberance of youth, as Dave questions Joe and the reality of his love for Jessica and the guilt he feels about Trish. There's a sharp edge to the friendship, a touch of jealousy, as they go on and on and round and round.
Reading the novel is for long periods like being trapped in the company of two pub bores, the experience then not relieved by any wit or imaginative flight, deadened indeed by the monotonous repetition of what seems to be the obligatory Dublin adjective. And yet and yet, so much rings true, sadly true in their narrow world, and Doyle is so adept a writer that he holds your attention, and this is rewarded by the surprise he brings off in the last fifty or so pages, a surprise that changes the mood of the novel and invites you to reconsider what has gone before.
There are echoes of Beckett throughout, and you may even find yourself muttering , "Nothing happens, nobody comes, nobody goes, it's awful." Yet, as with Godot, it's strangely exhilarating, and there are sentences that would surely have had Beckett giving a mournful smile of recognition, even approval. For example: "He lifted both shoulders and extended his arms. Like a half-hearted Jesus on a cross built for a smaller man."
It takes courage for a novelist to demand you pay attention to bores. It takes rare talent to make this, first, acceptable, then weirdly enjoyable.
Love, by Roddy Doyle, Jonathan Cape, 336pp, £18.99
A message from the Editor:
Thank you for reading this story on our website. While I have your attention, I also have an important request to make of you.
The dramatic events of 2020 are having a major impact on many of our advertisers - and consequently the revenue we receive. We are now more reliant than ever on you taking out a digital subscription to support our journalism.
Joy Yates, Editorial Director