In 1933, LC Knights wrote one of the most notorious essays in criticism: "How many children had Lady Macbeth?" The play itself has an anomaly, in that Lady Macbeth says "I have given suck, and know / how tender't is to love the babe that milks me"; Macduff explodes "he has no children" referring, perhaps, to Macbeth. Knights did an ingenious thing. He did not answer his own question and gave his reasons for not answering it. He asserted that the characters had no independent existence outside of the play, and even posing the question was missing the point. You might as well ask if Hamlet was fat or what the name of Lear's wife was. That did not stop endless reinterpretations, constant squaring of circles and filling in of gaps. The recent film with Michael Fassbender opens with the Macbeths burying their child. Orson Welles added in voodoo dolls (which slightly absolves the Macbeths of any agency). Roman Polanski had a final scene with Donalbain riding off to seek out the witches, which is rather clever, given that it is not his brother who is destined to be the king hereafter (that's Fleance, played, and I still never quite believe this, by Keith Chegwin). Both David Greig and Zinnie Harris have offered new takes on Macbeth, Jo Nesbo has tried to reimagine it as a cop thriller. As Marjorie Garber wrote, "every age creates its own Shakespeare".
So what new thing does Isabelle Schuler bring to this? She rather coyly refers in an afterword to "Easter eggs" from the Shakespeare text in her retelling of the story of Lady Macbeth. The play is mentioned in a way in that Gruoch is told she will be "immortalised". But the reimagining seems rather predictable and familiar. At the outset, the reader is informed that Groa – her given name, rather than the name forced on her by her father – is descended from supposedly painted "Picti" and that her grandmother was "a daughter of druids" and has a "secret store of herbs" for healing. So far, so typical. She is taught an incantation by her grandmother, which is repeated by her mother, and which she flings in the face of an oppressor. It fills her with "magic and warmth and freedom", is an "ancient song of parting", "the echoes of generation past". Ironically, it is given at first in Gaelic, which I am unsure if the Picts or Druids ever spoke, and turns out to be the invocation by the witches in the immortal play. It is perhaps the cleverest part of the novel, the idea that the "weird sisters" are an intergenerational lineage determined on Groa's ascent to power.
The book does have a grounding in historical fact, particularly the character of Gillecomghain, Groa's first husband, and father to the child Lulach, which is the best guess through the mists of time. What is certainly less uncertain is that he is there as a knock-off of Renly Baratheon in Game Of Thrones. This exemplifies the book's own uncertainty about what it actually is. Parts are sweeping history, parts are little allusions to literature, parts are feisty, fiery heroine as if the play was being rewritten by a chatbot in the style of Disney's Brave.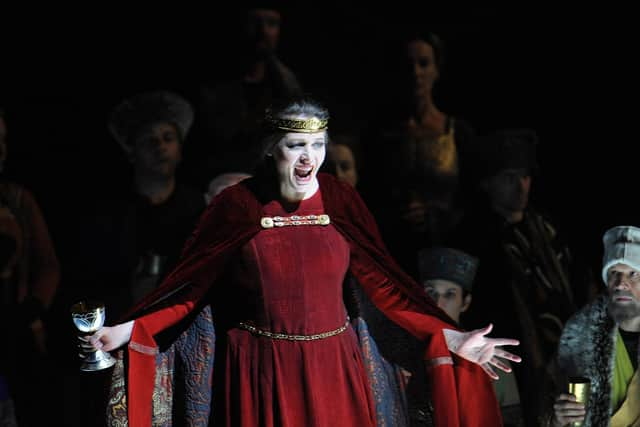 There is a very peculiar subplot, in that Duncan is of an age with Macbeth and Gruach, and, of course, tips his hat to her as it were. Setting up an improbable love triangle is strange enough, but it undermines the great line "Yet who would have thought the old man to have had so much blood in him?"(Act V, Scene I). Macbeth is not the one who prevaricates and hesitates; instead he is gung-ho from the get-set. The issues around mental illness – both Macbeth's and Lady Macbeth's – go remarkably unacknowledged. The acknowledgements state Lady MacBethad was originally "a pilot for television". There may be a reason it was not commissioned. This veers between "young adult" and "gritty realism" in a manner which is awkward to say the least.
It does turn the pages, perhaps a fossilised legacy of its original format. The smattering of real facts is done with some elegance. The biggest problem, however, is the prose itself. To call it perfunctory would be a kindness. I have just reopened the book at random: "I was pleased by the efficiency with which the servants tidied, sweeping out the debris and bringing in new hay and wood to light a small fire for us when the night grew cold". That is a masterclass in redundancy and cliché.
The idea of reimagining maligned figures has a long history; but there is a danger of turning the past into puppets of the present. Was Lady Macbeth a proto-feminist and anti-Christian? Who knows? It really does not matter when you have a play like Macbeth. I don't judge books by their covers, but when I saw the subtitle, "She will be Queen. Whatever it takes", I almost immediately knew what to expect. I do hope the author writes something else, and I do hope it is original.
Lady MacBethad, by Isabelle Schuler, Raven Books, £14.99