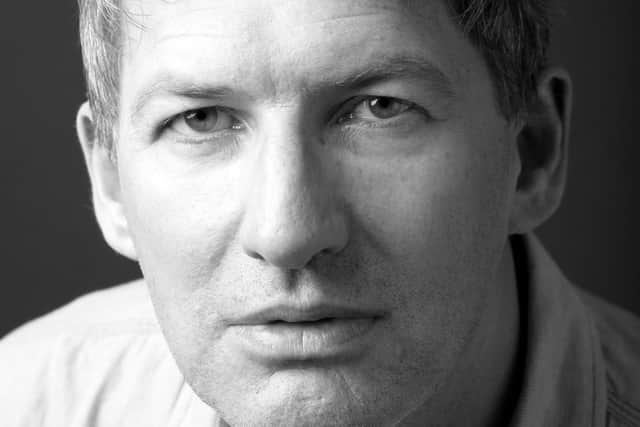 Alan Warner PIC: Gemma Day
Mea culpa, mea culpa, mea maxima culpa. I have been writing book reviews for these pages for over 20 years, and for the first time, on finishing Alan Warner's new and ninth novel, my only thought was: well, I'm flummoxed. The fly-leaf is a good primer for readers, so before getting to page one we know that the narrator is called Crofton Clark, and that he is the steward – or "help" – in an English country house called Kitchenly Mill Race, owned by a rock star called Marko Morrell. We also are told it is set in 1979.
Even before the novel proper, the reader encounters a paragraph in the style of 19th century novels outlining what will happen – "As I did two or three times a month during those summer afternoons of the 1970s… Crofton approaches Kitchenly Mill Race – Dan Mullan chief gardener – a previous owner Lord Halmer – a window situation – curtains and the questions of pulling them – a night arrival – an intruder." The first sentence of the synopsis is the first sentence of each chapter. Then the unsettling settles in, as the reader tries to get a fix on our narrator. There are pointed period details, such as "Cornish Strawberry Mivvi wrappers and crushed Lilt cans," but an eerie poetry – "vast, slow tarpaulins of shadow were moved across the fields by pure white cumulus perpetuated above." As the reader progresses, an image emerges of Crofton. He is somewhat obsessive about the place and narrates – to himself, or to the reader – in a mildly officious, slightly perjink style; meticulously noting the historical and architectural features, tut-tutting about a plaque not being rubbed down with Brasso often enough. But then there are interjections of comedy – will the "four mentally unstable peacocks" be of significance? Or the Magic Roundabout slippers and Mickey Mouse alarm-clock?
The voice veers and slips between registers: fiddle-faddle and finials one minute, "mam" up north the next and some explosive swearing. Every first-person novel is in some ways a challenge to the reader. What can we learn about the narrator? Take, as examples, questions such as how old is Crofton, or what style of hair does he have? We do know that he is a huge admirer of his friend – or is it employer? – Marco, whose mother refers to him as Markus. We know that he reads Mauriac (later on, he will quote Camus) as well as all the music magazines of the day. Then there are the much deeper questions: do we believe a word he says? Is Crofton a wilfully blind prog-rock version of Stevens in The Remains Of The Day, or a gentle fantasist like Billy Liar or Reginald Perrin, or something more sinister? Moreover, we know precisely where and when the story unfolds, but when and where is the story being told?
Kitchenly 434, by Alan Warner
Over the course of the novel we get various misadventures, involving disposing of human excrement with a slotted spoon, detached decorative spheres, the use of hosiery in fixing cars, and how to imprison an accountant or two. In some ways, as comedy, it is very much of its time, with Carry On pratfalls and the occasional leer about underwear. It is all perfectly silly, but that is not a criticism. There is a kind of schadenfreude about comedy where you keep thinking "that is exactly what I expected that pillock to do".
Comedy can be inhuman. Crofton as a character becomes human to us when the question keeps on gnawing about whether the linguistic pyrotechnics and fractured idiolect is actually a true representation of being somehow broken. The demented nature of the farce elements might actually reflect an inability to cope with reality, all shorn up with a self-aggrandisement and curious apathy. The fly-leaf calls it "tragi-comic" and the final pages deliver on the tragic part of that, but do so in an almost science-fiction style, dislocating in time. The house itself, after all, was an amalgamation of the ancient and the avant-garde.
Kitchenly 434 is an exercise in disorientation. Readers of a certain vintage might remember when one answered the phone giving the location and final three digits. If you can misremember the 1970s, you weren't there. It has a very oblique relationship with the idea of England. Crofton talks about "merrie England" with a form of posthumous nostalgia – Margaret Thatcher is about to become Prime Minister – and eulogises over the landscape, if not its cleanliness. He insists on trim lawns but not so much trim hair. There is something touchingly sad in the idea that country houses, rectitude and wildflower lanes were always someone else's fantasy. The "estate" vs "The Estate" is a structural rhyme throughout, with the State always in the background.
Warner's work has always been intriguing and this, I feel, is his most ambitious and haphazard novel since The Man Who Walks. There is a strange echo of Nabokov, whose novels were similarly unreliable and designed as man-traps of a sort. The voice of Crofton, by turns lyrical, lachrymose and ludicrous, is a peculiar elegy. Flummoxed, yes, but the rose-tinted glasses are both rosy and deceptive in a queasily skilful manner.
Kitchenly 434, by Alan Warner, White Rabbit, £18.99
A message from the Editor:
Thank you for reading this article. We're more reliant on your support than ever as the shift in consumer habits brought about by coronavirus impacts our advertisers.