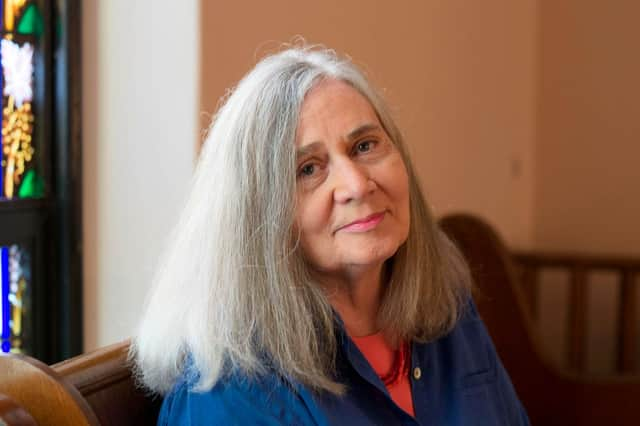 Marilynne Robinson PIC: Alec Soth / Magnum Photos
The inside fly-leaf of the cover of the book announced that "Marilynne Robinson returns to the world of Gilead with Jack, the final novel in one of the great works of contemporary fiction". The last clause is indisputably true. Is this the end? Yes. When I had the privilege of interviewing Robinson on the publication of Lila, the question of further books about the fictitious Iowa village came up, and she slightly prevaricated, saying she was not certain she had finished with some of the characters. An exuberant reader in the audience shouted "Do Della!" Robinson looked serene and wry and said "Maybe. Maybe Jack". It is an immensely satisfying and bittersweet end to an astonishing series.
Jack is, of course, John Ames Boughton, the ne'er-do-well son of the Rev. Boughton. In Gilead, which focused on the Rev. Boughton's friend and fellow minister, the Rev. John Ames. For Ames, the sudden return of the prodigal Jack was disquieting, especially as he had suspicions about Jack's interest in the minister's much younger wife, Lila. Home was more of an ensemble piece, and was almost "perspectivist", in that we saw the other side of the story hinted at the end of Gilead. Home extrapolates on this, and we learn of Jack's suicide attempt when his letters to his "wife" Della are sent back marked "Return to sender". Della arrives in the closing pages with Jack's son; Jack has already left.
Jack was always something of an enigma. As a child – and as a man – he had a predisposition to and propensity for petty acts of theft. He was also always maliciously breaking things. He was both feckless and reckless. The Rev. Ames finally forgives Jack, and in Jack it is almost as if Robinson set out to redeem him. This is not a spoiler, but the novel has no scenes set in Gilead. The action takes places in St Louis, Chicago and Memphis, and begins with Jack following – we learn – Della home having caused some embarrassment over dinner. The tone is pitch perfect: "I can't help the way I was brought up", he pleads, "I do want to apologize". "I don't want to hear it. And don't bother trying to explain", she retorts, with a crushing parry against his "if that's alright" with "Nothing is all right. All right has no place in this conversation".
Jack by Marilynne Robinson
A set of coincidences means that Della and Jack are later stranded overnight in a graveyard, and the real reasons for their being there are leaked through the novel. The relationship faces problems as she is a "Negro" schoolteacher and Jack is an alcoholic, living in penury and recently released from prison. But what Robinson does is something quite miraculous. Although he introduces himself, with his usual sardonic flamboyance, as the Prince of Darkness to her, yet she eventually sees in him some spirit of light, a soul. The coincidences might seem corny in the hands of lesser writers, but given Robinson's great themes have always been Providence, Predestination and the hard task of choice, it seems wholly appropriate.
She captures the enigma of Jack at a sentence level. In the opening exchange we get his characteristic of stating something, and then qualifying it: "I've never denied it. Seldom denied it, anyway". "It would look a little abject to be mopping his brow with that monogrammed rag in his pocket. It wasn't even his monogram". "It's a thing that people say, isn't it? Or they say the opposite". This syntax is replicated throughout the book. The style is gloriously formal and braided with Biblical and literary allusions – you might have thought if a Shakespeare play were to feature it would be Romeo And Juliet; in fact it's Hamlet. Jack seeks to cultivate what he terms "harmlessness", which is a curious combination of not caring, or even carelessness, giving no regard to consequences and not being bothered if he is mistaken for a pastor or a bum. Even his little larcenies were never really for gain, but arose from a fascination of the point where "thine becomes mine". But the relationship with Della must stir him out of this torpor. Is it better to leave, so as not to bring shame and criminal prosecution on her, or stay and defend her? There is a long dark night of the soul, there is a false Paradise, there is the perpetual question of what you are prepared to sacrifice.
Even in Gilead Robinson has been studying America's difficult relationship with race. Black lives mattered before Black Lives Matter. I shan't of course spoil the ending, but it seems significant and just right that the final word of the novel is "grace". It is the grace of "there but for the" and the grace that is "sufficient for you, for my power is made perfect in weakness".
Perhaps the most remarkable thing about these four books taken as a whole is the whole-hearted commitment to the novel as a moral endeavour. They are beautiful, and they are true.
Jack, by Marilynne Robinson, Virago, £18.99
A message from the Editor:
Thank you for reading this story on our website. While I have your attention, I also have an important request to make of you.
The dramatic events of 2020 are having a major impact on many of our advertisers - and consequently the revenue we receive. We are now more reliant than ever on you taking out a digital subscription to support our journalism
Joy Yates, Editorial Director