Book review: Intensive Care, by Gavin Francis
There is much in Gavin Francis's account of working as a GP in Edinburgh during the coronavirus pandemic that is disturbing, some that is alarming. But there are also inspiring stories of stoicism in the face of adversity, writes Allan Massie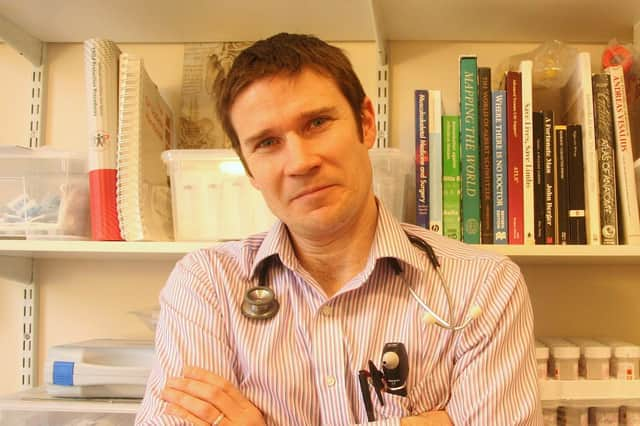 Gavin Francis
Gavin Francis is a doctor, a GP in Edinburgh, an author and journalist, and this book is a record of his life and work in the first nine months of the year we are happy to be rid of. Sadly, though we are rid of the year, we are still some way short of being rid of the coronavirus epidemic which has dominated it and changed our lives. Indeed, with the virus having spawned a very infectious variant, we are still trapped in a forest, with the prospect of effective vaccination still not lighting our darkness.
If like many you have sometimes thought that the Government should have followed another course and not put so many of us under what has come close to being house arrest for so much of the year, reading this book will surely make you change your mind. I confess I hadn't fully grasped just how infectious this virus is and how easily it can be contracted or indeed how elaborate and necessary the precautions taken, and protective gear and garments adopted by doctors and all health workers, have been and still are. We have of course heard much about the courage and devotion to duty of those who work in hospitals, less about GPs, community nurses and social workers. Francis's accounts of the difficulty of continuing to provide care for the elderly suffering lockdown is moving and riveting. Likewise his report of provisions made for Edinburgh's homeless, rescued from the streets and many of them sheltered at least for a time in hotels closed to the normal clientele.
He remarks also on "how much the crisis had triggered the wholesale recalibration of the prestige of different jobs: shelf-stacker, refuse collector, care provider, all seen for their value and essential utility." It is easy to forget that these people were all at risk themselves while doing the work that made it possible for millions of us to live confined in comparative safety, even comfort.
Intensive Care, by Gavin Francis
From the start of the outbreak there was talk of "following the science" but, as Francis makes clear, there was no single or simple "science" to follow. In any case, for him, as I suppose for all good doctors, "the core of medicine" is "the clinical encounter with its alliance of science, kindness and intensive care." Inevitably he, like all GPs, found himself obliged often to practise telephone doctoring. He dislikes this; it makes him anxious, as he begins to suspect that "stop-gap measures, like video encounters and telephone triage, were being promoted as an enduring ideological shift." The suggestion that "shifting healthcare online would be cheaper but equally safe" was "a prediction as without foundation as Scotland being Covid-free by August" – last August, that is.
People who have contracted Covid-19 have suffered, some experiencing what is called "long Covid", a very slow recovery characterised by fatigue. Others who have escaped infection have nevertheless suffered in confinement. Some of Francis's stories about his elderly patients and their families are painful and distressing to read. Yet at the same time the stoicism displayed by so many is impressive – and a lesson to those of us who have endured nothing worse than boredom.
Nobody of sense can pretend that the Government has got everything right, and this has been true of governments everywhere. They have all been engaged in a difficult a balancing act, and sometimes the balance has been askew. Mistakes have been made. Re-opening universities at the start of the academic year not only led to a new wave of infections; the subsequent confinement cheated students of the university life they had been looking forward to. As a GP, Francis was early made aware of what one may call the side-effects of the epidemic – the mental health consequences: "some days every call I took was about loneliness, self-harm, panic attacks."
There is much in this record of coping with Covid-19 that is disturbing, some that is alarming. Overall however the effect is different, even inspiring. I can't recommend it too strongly. You will learn a lot from it, and you will find much more that is encouraging.
Intensive Care, by Gavin Francis, Profile, 199pp, £16.99
A message from the Editor
Thank you for reading this article. We're more reliant on your support than ever as the shift in consumer habits brought about by coronavirus impacts our advertisers.
Joy Yates, Editorial Director