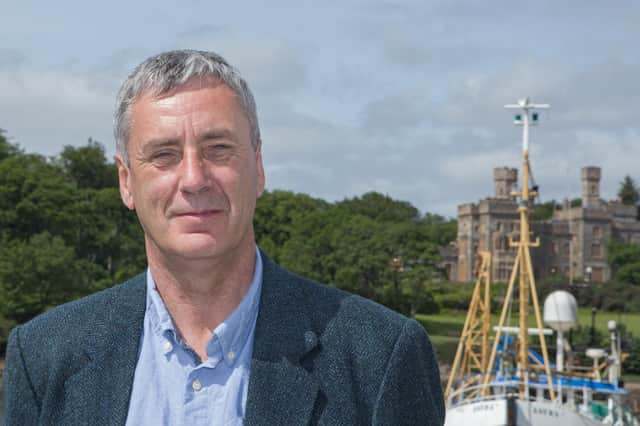 Donald S Murray
There is much to be said for coming to novel-writing in middle-age, or even later. You have acquired a store of material, often a rich one. In contrast, novelists who start young and enjoy early success may exhaust their material and, being as published writers in a different relation to experience, find they cannot replenish their store. Donald S Murray was a school teacher for 30 years. He as written much in both English and Gaelic, but In a Veil of Mist is only is second novel, following the success of As the Women Lay Dreaming. It is very good, and I am sure there will be more to come.
There are two strands to the novel, which is set in 1952, mostly in his native Lewis. Part of it deals with island life and domestic stories. There is charm, but nothing couthy or kailyard in Murray's presentation of this. Lewis may be an island on the edge of the United Kingdom but it is not isolated. There are millions of city-dwellers who have fewer connections to the wide world than the men and women of Lewis. They have served in both the Royal and the Merchant Navy, have been migrants, some returning, others settling in foreign lands. One woman, Jessie, still writes letters which she no longer posts to the man who went to Canada 30 years ago, promising to return to marry her when he had made good, a promise never kept. Murray writes about the people and landscape and way of life of the island with sympathy, deep understanding and humour. His evocation of Lewis is as fine as George Mackay Brown's was of Orkney; high praise but thoroughly deserved.
The other strand, with which the novel rightly begins, is grim and disturbing. This is "Operation Cauldron." The Cold War is intense. Stalin is still alive. Red China has intervened in Korea. There is fear of the Atom Bomb and perhaps worse. In response, top secret germ warfare – experiments on monkeys and guinea-pigs – are being conducted on a ship moored just off the island. Some of the scientists engaged in the operation are horrified by what they are doing; others accept it as necessary. One, who will play a central role in the novel, is conflicted. He accepts the work is his duty, knows that his young wife loathes it, thinks of her all the time, fears that she is unfaithful. One wonders if he will crack.
In a Veil of Mist, by Donald S Murray
Murray is of course fully aware of the horror of such preparations for war, but also recognizes why Governments undertake them – even democratic ones which nevertheless conceal what they are doing from the people they are seeking to protect. He gives air to both sides of the argument, one that, it seems, may be even more timely now than it was even in the long years of the Cold War. After all, the pandemic we have been enduring, even though not man-made, has made us more aware of the horrors that what Churchill called "perverted Science" might unleash. His treatment of the theme shows yet again how a good novel is capable of making you think and feel at the same time.
Marrying two such distinct and very different themes in a novel is daring, and there were moments when I feared that Murray couldn't effect the marriage and the novel would be broken-backed. Happily, he has the skill to bring it off, and perhaps it is the rich and sympathetic portrayal of island life in all its diversity – the hardships, pains, disappointments and often loneliness which are offset by humour, friendship and care for others – that makes the moral argument he presents so timely and compelling.
This is a novel to read slowly and carefully. It is one to savour, and I would be surprised if many readers coming to the end don't turn back to read it all over again straight away. There is more matter here than can be absorbed on a first reading. I should add that it is often very funny.
In a Veil of Mist, by Donald S Murray, Saraband, 231pp, £9.99
A message from the Editor:
Thank you for reading this article. We're more reliant on your support than ever as the shift in consumer habits brought about by coronavirus impacts our advertisers.