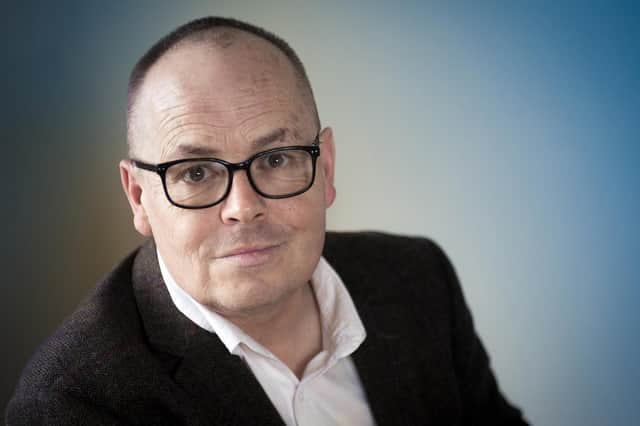 Mick Kitson PIC: Alan McCredie
The cardinal rule of reviewing is – unsurprisingly – "get to the end of the book." This is not as obvious as it sounds. It does not mean "finish the story." At the end of Mick Kitson's novel there is a "Note from the Author." It reveals that "Annie Perry was my great-grandmother. She was the grand-daughter of William Perry – the Tipton Slasher (1819-1880). As children my brother and I were told countless stories about the Slasher… these stories were all part of an elaborate family mythology." His grandmother was "an inveterate inventor of tales" and claimed that they were the rightful heirs to the estate of "a mysterious (and entirely fictional) nobleman called Sir John Jeremy or sometimes Sir Jeremy John." I read the brief half page and thought: why didn't you write a non-fiction book based on all this, up to and including how it made you a storyteller? There is far more humour and humanity in the afterword than in the novel itself.
The novel is a piece of faux-Victoriana. That in itself need not be a criticism, as the genre had produced works like The French Lieutenant's Woman by John Fowles and Tipping The Velvet by Sarah Waters. The central character is one Annie Perry, a young woman of Romani heritage, who as the family descends into poverty is sold to Bill Perry – who was a genuine historical figure, a boxer known as the Tipton Slasher, and who eventually took over a pub in the Black Country which he renamed The Champion of England after his sporting prowess. (You can find a reference to the Tipton Slasher in Robert Browning's poem "A Likeness"). Annie is part Cinderella (drudging in the pub as Bill drinks the profits) and part Valkyrie, as she learns to use her fists as well, taking part in illegal bouts. She is predictably plucky.
But binding real people and novelistic confection is a dangerous process. As the novel progresses we get all the trappings of melodrama. There is sexual assault, revenge, star-crossed love, an enigmatic highwayman in a tricorn hat, lunatic asylums, a nefarious industrialist, a sadistic, effete aristocrat, do-good-ing daughters of a vicar in spiritual crisis, a female nemesis and more. It is too much like fiction where the cast of characters behave as if they understood they were in a novel. There are flashes of neat writing, as when Annie says "learning reading is like learning fisty. You've to see what something means, and one thing don't always mean the same twice, nor three times." It segues, however, into her enthusiasm for Burns, Keats and Wordsworth and puzzling over the Bible. The novel shows its own hand, or rather fails to feint, when Annie reveals that she "liked Mr Dickens' books for he knew and wrote well of the poor and them as are victims of the cruelties of fate for no wrong done by them. I loved the sorrowful tale of the orphan Oliver Twist." There is a good counterpoint between the Slasher's veneration of Queen Victoria and the Chartist movement, even if some of the novel's politics seem rather black and white.
Featherweight, by Mick Kitson
Part of the problem is simply one of style. The novel alternates between Annie's first person narration and a form of Greek chorus of supporting characters. This is quite a traditional structure, but one in which the writer needs to be fleet of foot to balance the perspectives; often here it just jerks between. There is a frame, a prologue and epilogue set in America, but the characters there are almost the definition of spear-carriers. Since the book has this contrapuntal structure, it is understandable that there are different idiolects. The approximation of Black Country dialect ("I hant never seen a town fore this look… 'Tek her round the livery over the bridge there… tell the boy we'll settle with him tomorra") seems a little artificial, a bit like parody DH Lawrence, and it is surprising that there is so little of the Romani language in a book where the main character is from that heritage. It has a number of redundant repetitions – I lost count of the references to the "red bricks" and "smuts" of the newly industrialised area. Sometimes it clangs a little to have, for example, "like a skylark burbling in the heavens" and two pages later, "the unbodied burble of a skylark". If you are aiming for naivety, then sometimes more is more.
This is a novel about the so-called "noble art", and I think more than one reader's eyes might drift over the blow by blow account of the fights. It seems a missed opportunity that more was not done with the ethics of pugilism as a whole. Obviously there's a toffs versus plebs theme, but this doesn't really deal with the complexity of paying to see people being beaten. The sentimentality comes across strongly with the assertion that "in America it dint matter if you was a gypsy or Irish or Scotchman… there was gold in the hills for the taking." People may have believed that, but they may well have been in for some dashed expectations.
Featherweight is not a bad novel; it is simply too obviously a novel.
Featherweight, by Mick Kitson, Canongate, £14.99
A message from the Editor
Thank you for reading this article. We're more reliant on your support than ever as the shift in consumer habits brought about by coronavirus impacts our advertisers.