Book review: Elizabethans, by Andrew Marr
This fascinating survey of Britain during the reign of Elizabeth II takes us from hats to hoodies, and from Everest to Brexit, with a refreshing concern for everyday lives, writes Stuart Kelly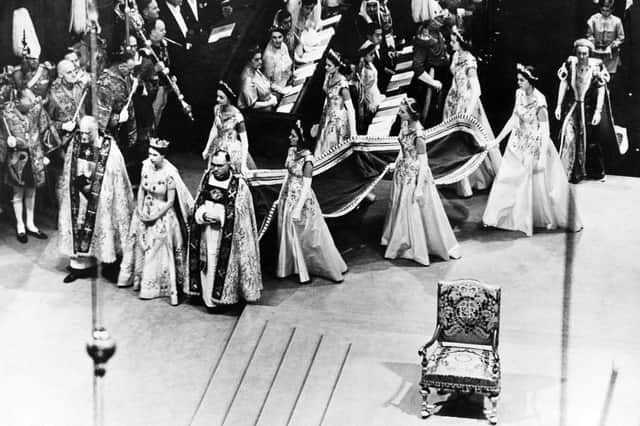 If your taste is for histories of recent history, there are a fair few books to which you might turn. David Kynaston, Dominic Sandbrook, Peter Hennessey, Alwyn Turner and Andy Beckett have all written works on this period; more recently David Olusoga and Cathy Newman have challenged the more than rather privileged perspectives. So what does Andrew Marr, formerly of this parish, bring that is new to this discussion? Elizabethans takes a clear starting point – the coronation of our currently ruling monarch – and moves towards the days we are living through; the introduction cleverly elides the Queen's speech about the NHS with the Prime Minister's hospitalisation from Covid-19. Quite a contrast. What, I feel, it brings is a journalist's eye for the human story.
It helps that Marr is such a well-known broadcaster, as you can hear the cadence and timbre of his intonation on almost every page. That is not a glib comment: there is an element of trust built into the book. But it also does more. There is no easy parroting of mantras – "You've never had it so good", "the white heat of technology", "the lady's not for turning", "back to basics", "cool Britannia" – and indeed the Prime Ministers appear fleetingly compared to what I am tempted to call "real people".
The arc of the book is both simple and complicated. We might think of the 1950s as an era of hats, church attendance and skinniness, and the current days as hoodies, empty churches and obesity but both are to an extent caricatures (although caricatures always have a grain of truth). Marr is very good at using case studies as emblems of a more fractal picture of our years. It is not virtue signalling that the first person he deals with in detail is the writer Jan Morris. When the Queen was crowned, James Morris, as then was, filed copy to The Times about Hillary's "conquest" of Everest. This was the new Elizabethan Golden Age. There is the hubris and the humility. Britain might be a reduced power, but can climb very big mountains. A later to be trans writer will file the first copy. The chapter is called "Mountains to Climb", which neatly reflects the idea of necessary change. Throughout the book, this fascination with the stories of the people who became Elizabethans is both informative and entertaining. Who would have thought that Her Majesty quietly didn't mind that the composer Benjamin Britten and his life partner Peter Pears shared a bed on a visit to Balmoral? The aristocracy was perhaps more tolerant of same-sex relationships than the fictional man on the Clapham omnibus.
Along the way, there are very precise pen portraits of various individuals, such as Jayaben Desai, a trade unionist who told her boss "What you are running here is not a factory, it is zoo. But in a zoo there are many types of animals. Some are monkeys who dance on your fingertips, others are lions that can bite your head off". This particular essay comes immediately after a section on Farrokh Bomi Bulsara, whom you will all know by his stage name of Freddy Mercury. The elisions of how class, race and gender have always been more permeable than some think are paramount to this book. It is also daring. Enoch Powell, of course, makes an appearance; but he is paired with Tony Benn. One becomes the gargoyle of the Left; the other the national treasure. But on Europe, they had remarkably similar views, though reached at from very different starting points. That kind of paradox seems to fascinate Marr.
There are two sections of particular importance. The first is the decline of the British military during the period of decolonisation and the fact that the country was basically broke. A certain stereotype of manhood was lost, and international importance diminished. We had nukes but not boats. More significantly, Marr writes with a degree of passion about education. Although health, welfare, the extent of the military and national resources all went through dramatic change as we became Elizabethans, education did not. Marr's figures on this are staggering in that a private school elite is still in place. Graciously, he admits to being part of it. But the lack of reform in education and the Blimpish hoorah-ism coupled with systematic dismantling in the armed forces makes for a stark lesson. Along the way, however, we get such delights, if that is the right word, as the connection between Diana Dors and Ruth Ellis, the Sinclair C5 (scuppered by not having a roof and Britain having rain), Monty Python and Lara Croft and the Body Shop being mistaken, on starting, as an "adult" retailer.
Two things loom large. "We will be, ourselves, part of history quite soon", Marr writes. "The first is that nationalism is now a genuine possibility, not a tartan fantasy." The other is that we may not be Elizabethans much longer. I have never lived except under Her Majesty Elizabeth II. It does make you wonder about how the future might see the reign of Charles III.
Elizabethans, by Andrew Marr, William Collins, £20
A message from the Editor:
Thank you for reading this story on our website. While I have your attention, I also have an important request to make of you.
The dramatic events of 2020 are having a major impact on many of our advertisers - and consequently the revenue we receive. We are now more reliant than ever on you taking out a digital subscription to support our journalism.
Joy Yates, Editorial Director