Book review: The Death Of Francis Bacon, by Max Porter
It's not a novel, art criticism or biography, but Max Porter's new book is entirely fascinating, writes Stuart Kelly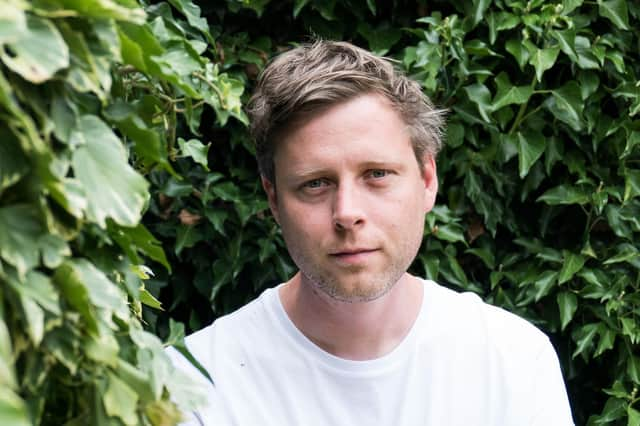 Max Porter
If I had been told by someone at a literary party, when such things still existed, which 20th century English painter would be at the centre of Max Porter's new work, I might have hazarded a guess at Stanley Spencer. If you know Porter's previous books – Grief Is The Thing With Feathers and Lanny – you might understand my error.
Both books, like Spencer's paintings, are deeply rooted in a particularly English landscape, although it is a landscape which is triangulated against ideas of the supernatural and the not-human.
Both of them use cultural tropes in an oblique manner – the poetry of Ted Hughes in the former and the myth of the Green Man in the latter – just as Spencer insists on mythic resonances behind even cows bolting in Cookham (that child! grasping the grey, blown dandelion rather than the blooming one!)
Spencer's tilting perspectives and exaggerations of bodily forms have a similarities to Porter's unique twists of grammar and fixation on the body. But I was straight up wrong. The painter is Francis Bacon and I would never have guessed it. He was, as he says in this: "I'm the least green painter in the history of art."
What kind of a book this is is an otiose question to ask. It's a Max Porter book. It's not a novel, although it has an arc, a clearly defined central character, development and revelation. It is also situated in a specific and true time and space – covering the last days of Bacon's life in the hospital of the Handmaids of Maria in Madrid, tended to by one Sister Mercedes, which is irony enough given his pitiless and determinedly horrible versions of the crucifixion.
It is not a long poem, although the amount of assonance, alliteration, internal rhyme and striking metaphor might make you think otherwise: it keeps a core of the unpoetic which is sorely missing in a lot of today's elongated verse. It is definitely not a biography, although it tells us a lot about Bacon's personhood. He was gregarious and self-hating, a squandering bon viveur, a creature of chi-chi salons and back alleys.
He was ambitious, and loathed himself for his capitulation to producing "Bacons". It is not a work of art criticism, but it tells you more about how to look at a Bacon than anything I have read about the painter.
At one point, "the voice" (they all drift and merge) might be Porter himself: "It's an attempt to express my feelings about a painter I have had a long and unfashionable obsession with" – this could be Porter on Bacon, or Bacon on Velazquez. "It's an attempt to get art history out of the way and let the paintings speak."
What it truly is, is a very moving depiction of a mind in dissolution at the very edge of death. Or as the voice puts it: "His curdling burst of fifties kitsch, his own podgy face trademarked, pretending it confronted death when all it dead was illustrate it again and again a lazy fear of it."
The seven chapters all begin with the false bonhomie of, "Take a seat why don't you" and end with (presumably, but not definitively), the words of Sister Mercedes, "Intenta descansar" – "rest now".
The narratives are flecks of memory and figments of possible lives. Each also begins with catalogue copy – such as "Oil on canvas, 77 x 52 in".
There are no titles. Being assiduous I spent far too long on the websites of MoMA, the Tate, the Courtauld, the Met and suchlike trying to track the painting. The effort was in vain, and the answer was staring me in the face.
The prologue has a similar epithet: "Preparatory Sketch Non-existent, pencil on paper, 6 x 4 in". These are imagined paintings, and there is more to it than that.
Thinking about the book, I realised that while I can call from memory specifics of Spencer's work, even the most famous pieces by Bacon come up as a blur or a smudge.
Does the screaming Pope have eyes? Do the mutant things in Three Studies for Figures at the Base of a Crucifixion have limbs, or wings, or the geometric caging? In all the butcher's tray colour of pinks and mauves and reds, the detail of what is in front of you often slides, in a manner peculiarly like his smeared and slashed self-portraits.
At the same time as this arrived, I was sent a copy of a new anthology, Apocalypse, edited by James Keery.
I have already compared Porter's work to the "founder" of the Apocalypse form of writing, Dylan Thomas, and reading these two books in tandem made me realise the extent of the influence.
The sinister lyricism, the grotesquery are all there – someone is recollected as having a "slight formless gash where your crowded mouth is, that lovely brow like a minotaur's shoulder in the middle. Good face" – these are fine echoes in this anthology of 1940s and 1950s poetry.
Apocalypse used to be out of fashion. In our age of terrorism, financial and economic crisis and pandemic, its time has come again. Or as Porter/Bacon puts it in this powerful stiletto of a book: "It's an attempt to keep catastrophe still so you can get a proper sniff at it."
The Death Of Francis Bacon, by Max Porter, Faber & Faber, £6.99
A message from the Editor:
Thank you for reading this article. We're more reliant on your support than ever as the shift in consumer habits brought about by coronavirus impacts our advertisers.
Joy Yates, Editorial Director