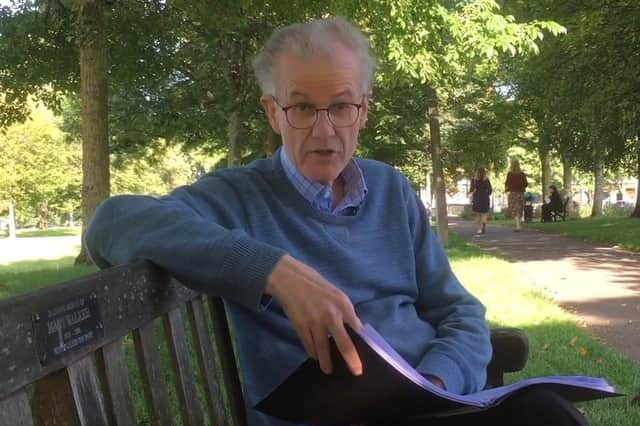 England and France – Englishness and Frenchness – were the two poles between which the wartime heroine Violette Szabo lived her life; so it seems both poignant and fitting that this extraordinary response to her life by the acclaimed Scottish poet, biographer and academic Robert Crawford is published in a slim but elegant bilingual edition, with Crawford's text on the right-hand pages, and on the left a perfectly poised French version by Paul Malgrati.
The year 2021 marks the centenary of Szabo's birth, on 26 June 1921; and although her brief career as a British secret agent parachuted into France in 1944 has been immortalised in several biographies, and in the book and film Carve Her Name With Pride, Crawford's impulse to create this centenary tribute is more than justified by the sheer poetic power of his text, and by the unusual and haunting form it takes.
Essentially, Crawford's poem reflects on Szabo's life through five sections each laid out like a Curriculum Vitae, created at successive points during her adult life. In the first, dated 1938, she is Violette Bushell, a 17-year-old shop assistant in Brixton, the daughter of an English father and a French mother who met in Paris at the end of the First World War; in the fifth and last, dated 1945, she is Ensign Violette Szabo of the First Aid Nursing Yeomanry, a prisoner in Ravensbruck women's concentration camp north of Berlin, facing imminent death.
Each CV follows the same pattern, over seven or eight well spaced pages; name, date of birth, address, date of document, weather, and then a series of increasingly eccentric or surreal categories, capturing Violette's journeys (through lists of station names with fleeting impressions), the terrain in which she has found herself, an old story that touches on her situation, a shopping list, a prayer, an assessment of her performance, a food diary, a list of possessions carried with her.
In a sense, this is a simple technique; but it is hard to overstate the impact of a format that combines such a detailed, sensitive and loving poetic evocation of a life with such an inexorable documentation of the loss of that life, through Violette's marriage in 1940 to Free French soldier Etienne Szabo, the birth of their daughter in 1942, his death in action in North Africa later that year, her recruitment to the Special Operations Executive and training in Scotland, her brief but heroic service in France in the summer of 1944, and her eventual capture, interrogation, imprisonment and death, executed with a single shot at Ravensbruck in February 1945.
Crawford opens his book with an extended quotation from the philosopher David Hume in which he questions the idea of the self as a stable presence. Hume says that all he can see, when he considers himself, is a shifting set of perceptions; and the Violette Szabo conjured up in Crawford's book is indeed a woman who shape-shifts remarkably through her life.
Yet in focusing so closely, and with such sympathetic imagination, on the detail of what Szabo might have seen, heard and perceived at key moments in that life, Crawford nonetheless seems to capture the essence of a young life lived at frightening speed, and perhaps without the reflection that leads to hesitation in the face of danger.
This half-decade will mark the centenaries of many of those who lived fast and bravely, and died painfully young, in the war years of the early 1940s; and although few will receive a tribute as profound and passionate as Crawford's text, in a sense his supremely vivid evocation of the times and places of Violette's brief life stands – and will stand – as a memorial to them all.
Curriculum Violette, by Robert Crawford, Molecular Press, Geneva, 86pp, £8
A message from the Editor:
Thank you for reading this article. We're more reliant on your support than ever as the shift in consumer habits brought about by coronavirus impacts our advertisers.