Robbie Morrison, a stellar name in comics writing, first turned his eye to historical crime fiction with Edge Of The Grave, which won 2021's Bloody Scotland Debut Prize. In Cast A Cold Eye, it's now 1933 in Glasgow, the Great Depression is biting, the razor gangs slashing, and along with all the other troubles the cops are trying to keep a lid on, there is a rising threat from the IRA.
After a seriously unsettling prologue, we find ourselves in the company of Inspector Jimmy Dreghorn and WPC Ellen Duncan, seeking a robbery suspect. Assisted by the bulk of Sergeant Archie McDaid, their quarry is apprehended with a flourish by the canal. It's a smart introduction to our two main protagonists and their junior colleague, capturing relationships and attitudes in a few pages.
As they clean up after apprehending their suspect, a woman nearby voices concern for a fellow boatman. Dreghorn and McDaid find their stomachs are suddenly as unsteady as their feet on the bobbing barge: Charlie Smith is in his tiny cabin, shot dead. Executed.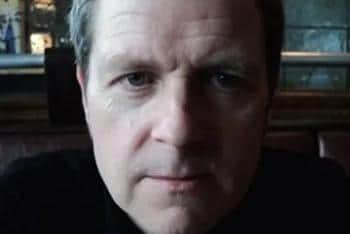 Dreghorn and McDaid are part of the "Tartan Untouchables", created to investigate major crimes across the city, crossing divisional boundaries. The team don't all play well together but their thirst for answers is immense.
A link between Smith and a troubling theft is uncovered. Meanwhile, an Irish connection is made when Dreghorn and McDaid cast an eye over a meeting of the city's Catholic gang leaders in a bar, where a few Irish guests are at the table, including one Conall Tracy. The next day, they find this meeting caught the eye of Special Branch, who reluctantly offer the reasons for their interest in a potted history of Partition and the immediate aftermath, a section which sacrifices some brevity in favour of ensuring a reader with zero knowledge is educated.
There is more death and devastation wrought, but finally a link to the Black and Tans – temporary recruits to assist the Royal Irish Constabulary in 1920-22, many of them ex-British Army – reveals a powerful potential motive: vengeance.
The pace picks up as Dreghorn and McDaid slot the pieces together, with a final, inevitable showdown filled with pain both physical and psychological.
The final confessional section, while on the long side, adds nuance, and underlines some of the book's themes. How deep are some bonds? How long can the desire for vengeance be carried? Can you escape the past?
Dreghorn and McDaid are together more than the sum of their parts. McDaid is a frequent source of humour and his family life, chaotic but loving, allows him the emotional strength to support Dreghorn as he battles nightmares about his past.
There are a lot of pages here but they turn easily and satisfy as they do. If you prefer your reading material featuring the Dear Green Place to be on the No Mean City side of things, and fancy a delve into the early 20th century, well, Morrison hasn't so much written a novel as built a time machine: step in and be transported.
Cast A Cold Eye, by Robbie Morrison, Macmillan, £16.99