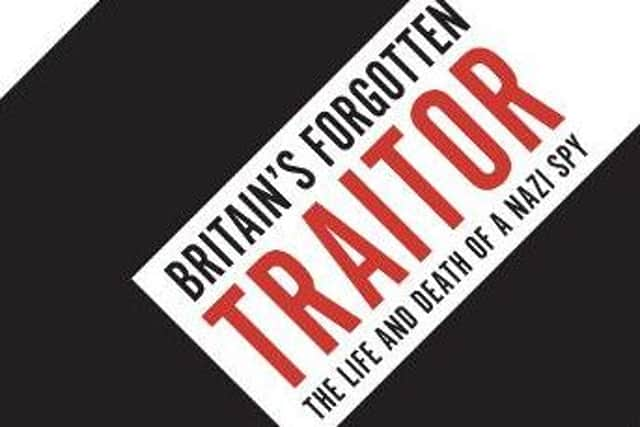 Not many books begin with a description of the author's lunch with the novelist John Le Carré, and end with a thank you to Le Carré for inspiring him to write about spies. Poole-based journalist Ed Perkins was researching for an article about Le Carré's childhood in the town and came away fascinated by notions of espionage and the tussle between truth and lies in a spy's trade and character.
His new enthusiasm led him not into spy fiction but into spy biography and to the "forgotten traitor" Oswald Job. Although ethnically German, Job was British-born but had spent much of working life in France, so was interned when the Nazis invaded in 1940. Astonishingly, he got leave from the internment camp in the autumn of 1943, escaped to Portugal and took the flying boat to Poole.
Searched and interrogated by Security Control on entry, Job was found to be carrying two pieces of jewellery. Unknown to the Germans, MI5 had completely undermined their intelligence operation. German spies had either been executed or turned into doubles, feeding bogus information back to Berlin. MI5 were expecting a delivery of precious stones to pay an agent, a wireless operator codenamed "Kilian" by the Germans, "Dragonfly" by the British. Job was a marked man. His problem was that he was a British subject, committing treason. Could MI5 risk turning him, or try accusing, convicting and hanging him? They chose execution.
Perkins uses his journalistic skills to bring this story into the light, not least his obvious court reporting experience. The National Archives in Kew have detailed records of Job's trial and we know the verdict, but Perkins has us on the edge of our seats, just as if we were in that Old Bailey courtroom. His detailed research reveals Job's earlier crimes (fraud in Germany and in France) and his bigamy (he had a wife in England and another in France), but the story is also illuminated by glimpses of the lives of ordinary people in France and London. Job's health and diet in Pentonville while he was awaiting his end are noted, and a little detail tells us why less cocoa was consumed in wartime UK. Chocolate and sugar were rationed; cocoa was not. Unsweetened cocoa was not a popular beverage so sales dropped.
As both journalist and storyteller Perkins certainly involves his readers and evinces some sympathy for Job. Was the man really just trying to "get home" and support a vulnerable older brother? Had he fooled German intelligence? Was he going to sell the jewellery and keep the proceeds? This reader is not so sure, and reckons MI5 got their man.
Britain's Forgotten Traitor: The Life and Death of a Nazi Spy, by Ed Perkins, Amberley Publishing, 288pp, £20
A message from the Editor:
Thank you for reading this article. We're more reliant on your support than ever as the shift in consumer habits brought about by coronavirus impacts our advertisers.