Book review: Bournville, by Jonathan Coe
A story of a Birmingham family from 1945 to 2021, Jonathan Coe's Bournville is also a study of how England sees itself in relation to Europe, writes Allan Massie
Jonathan Coe has always been an eminently readable novelist. His last novel – Mr Wilder and Me – was a delightful autumn comedy. I can't remember if it won prizes; it should have done.
Its immediate predecessor, Middle England was an ambitious exercise in a classic form – the Condition of England novel – popularised almost 200 years ago by Benjamin Disraeli. It was funny and full of life, but also an angry novel, a Remainer's novel provoked by his detestation of Brexit and of the politicians who made our departure from the EU possible.
That theme – that argument indeed – surfaces again in Bournville though the tone is milder, more regretful than angry, at least till the final section covering our year of Covid lockdown.
Coe is a Midlander, Bournville the Cadbury model estate near Birmingham, an example of enlightened and caring capitalism.
There is a prologue set in March 2020 in which Lorna, a young musician making her first concert tour to Austria and Germany, keeps for a few days a step or two ahead of lockdown.
Not having given a thought to the virus she is taken aback to find her tour manager's car stuffed almost to the roof with toilet paper. It's only with difficulty they can get her double bass aboard. Then she will have the unsatisfying comedy of her first Skype conversation with her octogenarian grandmother, Mary, who – confessedly modelled on Coe's mother – is the central unifying character in the novel.
Divided into seven distinct sections or episodes, the book extends from 1945 to 2021. Each is focused on a single event: VE Day 1945, the Coronation 1953, the football World Cup 1966, the investiture of Prince Charles as Prince of Wales 1969; the wedding of Charles and Diana Spencer 1981, Princess Diana's funeral 1997, the 75th anniversary of D-Day 2021. Each is complete in itself, though of course Mary's family, neighbours and friends feature in all. Each marks a significant moment not so much in history as in the cultural understanding of how the British – the English anyway – see themselves and the nation.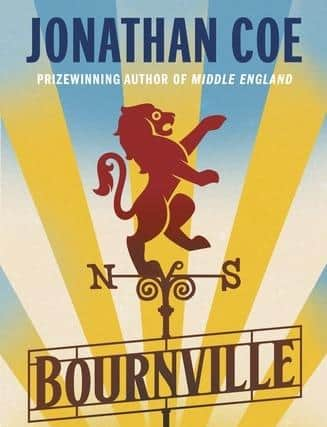 If the investiture of the Prince of Wales seems rather an odd moment to focus on – it's not, I would suppose, something that many recall clearly, and indeed it made only the faintest impression on me at the time – it makes sense in the novel. Mary's family are holidaying in North Wales and one of them at least is amazed to discover that the Welsh have grievances against the English and resent and dislike them.
It is, as I say, a condition of England novel, but, more importantly perhaps, a study of how England sees itself in relation to Europe. Mary's family and friends are all very English, patriotically British/English, but Mary's future husband has a German grandfather, long resident in England and naturalised British, whose appearance at the VE-Day bonfire provokes some yobbish resentment.
This German connection is explored in 1966 when distant cousins – father and son – come with tickets to the World Cup. There is some quite painful comedy here. One of Mary's sons, a fanatical fan, behaves a bit like the English fans who would cause trouble on the continent. In his chanting of "Two World Wars and one World Cup" he gives no thought of the Americans or the Red Army, both of whom, as Coe reminds us, Churchill lavishly praised in his broadcast to the nation on VE Day.
The last section, covering our experience of Covid. Is inevitably bleak, touching also on some of the absurdities imposed by a government whose leader and other members didn't, as Coe reminds us with some bitterness, obey the rules they imposed on us, rules which in the novel mean that the octogenarian Mary dies, confused and alone.
There is much to enjoy here, as in all Coe's novels. He handles his large cast deftly. It is an intelligent criticism of our shared history since 1945 – even if readers this side of the Border may, no matter how they vote, be irritated by the author's assumption that British and English are always the same thing.
Bournville, by Jonathan Coe, Viking, 354pp, £20