Book review: Antkind, by Charlie Kaufman
Pretentious metafiction proves a sad spectacle of self-indulgence, eclipsing film work of the Eternal Sunshine screenwriter, writes Stuart Kelly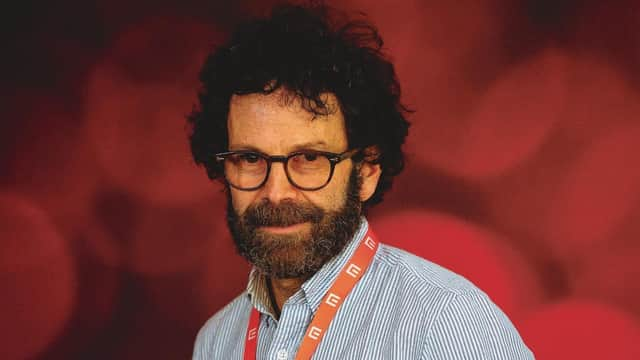 Charlie Kaufman PIC: Str/EPA/Shutterstock
Some critics have the unfortunate glitch of referring to a novel as "unfilmable" as the apex of accolades. There is one, Mark Z Danielewski's House Of Leaves, which genuinely is, in that it's a book about an impossible film described by a blind man and allows the reader enough room to fear. Usually, it is just lazy shorthand for "difficult".
So what to make of Charlie Kaufman's debut novel? Will it be described as "unfilmable"? Well, it is, but not for the reasons you might think. Kaufman, whose screen writing credits include Anomalisa, Synecdoche, New York, Adaptation, Eternal Sunshine Of The Spotless Mind and Being John Malkovich – all of which I variously enjoyed – now tries to translate his quirky, endearingly left-field style into prose. Fourth walls will be broken and the flimsy line between fact and fiction will be inevitably blurred. The reason it is unfilmable is I cannot conceive of anyone who would want to make it into a film. There's clever, and there's clever-clever. There is also dumb and dumber.
Yet it starts so well. The protagonist is a film critic, B. Rosenberger Rosenberg, who is – cliché alert – a failed film-maker. On an ill-paid critique job, he winds up in St Augustine. There, it transpires that his neighbour has made the most miraculous film. Ingo Cutbirth (an African American although B. sometimes thinks he is Norwegian) has made a film that lasts three months long, features stop animation and has taken 90 years to make. He has also created "Unseen" characters that never appear. Rosenberg is intrigued by the film, watches it, deals with Ingo dying, and takes away the greatest film ever made. Except the trailer he has hired goes on fire and only he remembers the film. One still is saved, from which he tries to reconstruct what he saw. Also, by this point, he has been in a coma for three months. So: memory, identity, the nature of cinema. The ducks are lined up in a row. The ducks, it transpires, are Donalds.
It is a good set-up, and could have been an affecting and neatly weird novella. Instead we get – I am not making this up, although making things up seems half the point of the book: President Donald Trunk, who makes robots of himself and engages in sexual acts with them; a fast-food chain that wants to take over the government; a genius ant that sends a virus back into the past; a Nazi cloning lab; various iterations of double act comedy (I did like that Abbott and Costello were secretly offing any rivals); a Garden of Forking Paths where B. meets B2 and B3 who might or might not have seen the film; a simultaneous rhinoplasty and circumcision and several references to B.'s pathological dislike of the over-rated Charlie Kaufman. Get the retort in first.
But its failure is not in being as Igno says of B.'s only film that it has been called "incompetent, pretentious, unrelatable, sophomoric, unbearable, precious, completely unbearable". (Get that retort in first!). It is that it is without a shred of humanity. There are novels that feature truly dislikeable characters: Ignatius Reilly in John Kennedy Toole's A Confederacy Of Dunces, Antony Lamont in Gilbert Sorrentino's Mulligan Stew, Francis Xavier Enderby in Anthony Burgess's quartet of novels.
They are all bombastic, delusional, self-pitying and egotistical. But there is pathos in these characters, whereas it would take preternatural powers to be sympathetic to B. B. is the wokest woke person that ever awoke, and keen to brag about his African-American girlfriend, that he is not actually Jewish, prefers Mx as a non-binary form of address and always says "thon" as well as "he" or "she". He is also not gay, or not not gay. Part of the novel's conceit is that he is prone to numerous pratfalls, usually involving sewers – a stylistic rhyme with the obsession with old comedy routines – but even there he berates himself for saying "manhole" rather than "personhole". Is the reader supposed to laugh at this as a satire on political correctness itself, or laugh at B. for assuming he is so politically correct? Even in comedy there are things that are serious.
There is a queasy sense of disregard in all these shenanigans. It's as if, without the restrictions imposed by cinema, Kaufman thinks it is his right to just chuck in any passing fancy. It is almost childlike in its sense of there not being any limitations. One puff for it describes it as "Nabokovian", and in a generous mood I might see an echo of Kinbote, the deranged editor in Pale Fire. But Nabokov was tight, and precise and elegant. This is the equivalent of thinking that wearing a baseball cap backwards counts as being avant-garde. Antkind may well be called postmodern, probably by people who use the word postmodern to make themselves seem intellectually superior at cocktail parties.
The sadness of this bloated novel is that it might have been good. I read it, to use a neologism the book deploys, "melancholily". Sometimes being tickled and tickled turned from fun and glee to vaguely abusive. Don't waste your money: watch Twelve Monkeys or Harvey or Citizen Kane or Ghostbusters instead.
Antkind, by Charlie Kaufman, Fourth Estate, £18.99
A message from the Editor:
Thank you for reading this story on our website. While I have your attention, I also have an important request to make of you.
With the coronavirus lockdown having a major impact on many of our advertisers - and consequently the revenue we receive - we are more reliant than ever on you taking out a digital subscription.
Subscribe to scotsman.com and enjoy unlimited access to Scottish news and information online and on our app. With a digital subscription, you can read more than 5 articles, see fewer ads, enjoy faster load times, and get access to exclusive newsletters and content. Visit https://www.scotsman.com/subscriptions now to sign up.
Joy Yates, Editorial Director