Book review: Already, Too Late, by Carl MacDougall
Technically it may be a memoir, but Already, Too Late has all the vitality and depth of fiction, writes Allan Massie
Carl McDougall died a few months ago. He had been a leading figure in the Scottish literary world for at least 40 years, one who often gave more time to others than to his own writing, so there were fewer novels than there might have been; this, despite the success of his 1996 novel The Casanova Papers, which I remember with admiration and pleasure.
Already, Too Late is a memoir of his early childhood, and one that rings true. Yet it is also to my mind a novel, and a very good one. By this I mean that it is written in the manner of a novel. Much of the book is dialogue, perhaps as much as half of it. It is excellent dialogue that rings true to life. Therefore, you may say, a memoir. Yet, no matter how much is drawn or extracted from memory, long conversations that advance the story and reveal character, are imagination playing on memory. This is excellent. The book has the vitality and depth of fiction, the kind of fiction that, as we often say, is truer than fact. We are not told about the characters; they reveal themselves in speech as surely for example as characters do in a Dickens novel – the sharp-tongued, near-blind Granny superbly.
Carl was a wartime baby who didn't meet his father till he was five and, as other war babies resented his admirable Gaelic-speaking father when he returned from thee forces, regarding him as an interloper. They were only getting to know each other when the father, a railwayman, was hit by a train and killed.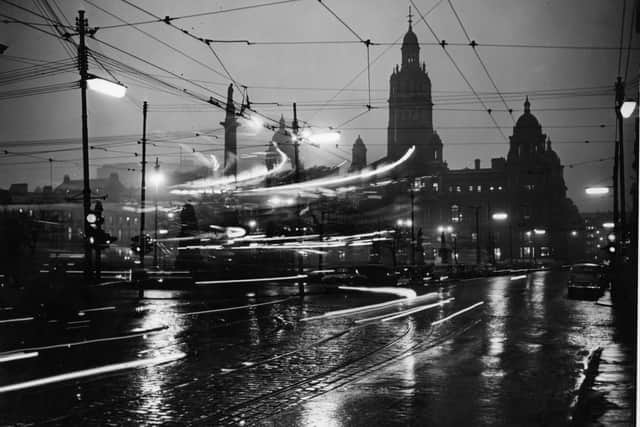 They are poor, his mother desolate. In time they remove to Springburn in Glasgow, a home shared with the grandparents. The grandfather is German, settled in Scotland long before the War, but nevertheless a cause for Carl to be bullied. His only friend is a Catholic boy who skips school when he can. Eventually Carl, though lazy and delinquent, is sent to a state residential school. The child has a grim life, but stoically doesn't give way to self-pity.
The book offers a keen picture of working-class life in post-war Scotland. Carl, on the fringes of the adult world, records long conversations about work, unemployment, social conditions, emigration, politics class resentment; another reason for readers to treat this as a novel, rather than a memoir. The past is brought to life through the boy's eye and memory, but the novelist's voice. MacDougall is, after all, writing more than 60 years later.
You might call this a non-fiction novel, with some reason, though to my mind the term has been discredited by Truman Capote's self-indulgent two ventures into the genre. What I mean is that here we have a remarkable book which is an exercise in recovered memory illuminated and enriched by the creative skill of the novelist. As a picture of working-class Scottish life presented through the eyes of a young boy it bears comparison with Alan Spence's Its Colours They Are Fine, set some 20 years later. The two book would sit comfortably side-by-side on your shelf, and I can offer no higher praise. Put what I think William Mclvanney's finest novel, The Kiln, beside them and you have three novels which will tell you more about working-class life in the west of Scotland than any work of history or sociology can offer. They confirm the truth of DH Lawrence's assertion that "the novel is the true book of life" – even though this splendidly rich book of MacDougall's may claim to be only a memoir.
MacDougall was a very fine writer and – I think – an unusually selfless one. By this I mean that he seems to have spent as much time helping and encouraging others and in writing about social matters as he did in making fiction. I don't think he got as much recognition as he deserved, though other writers – for example the great George Mackay Brown – admired him greatly. He was among the best of us.
Already, Too Late, by Carl MacDougall, Luath Press, 271pp, £14.99