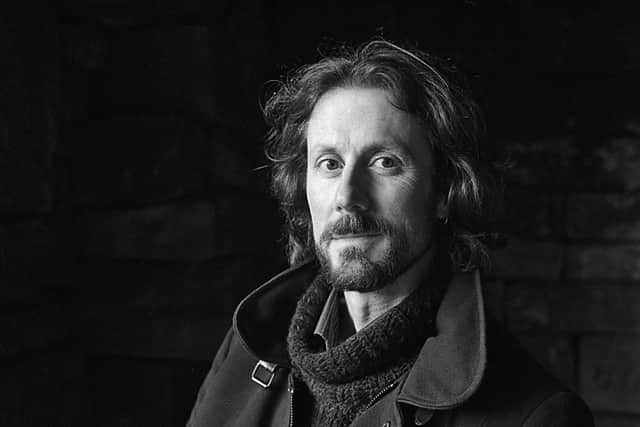 Paul Kingsnorth PIC: Claire McNamee
Why has Paul Kingsnorth called his last three books "The Buckmaster Trilogy?" In the first volume, The Wake, Kingsnorth apologised for the anachronism of calling the central character "Buccmaster of Holland", adding that "it is not an old English name. But it came to me and refused to yield to anything more historically correct, and so, it stays." Set in the aftermath of the Norman Invasion of 1066, Buccmaster is a victim of the "fuccan frenc" and is so tormented by the mysterious Wayland that he is "a small man buccmaster a weac man," especially compared to Hereward the Wake, that he resorts to the old gods, the fens, guerrilla warfare and becoming a "grene man." In Beast, an Edward Buckmaster has sloughed off the world of "office cubicles and buying cans in these supermarkets and waiting at these bus stops in the rain." He is on a pilgrimage that ends in hermitage, undergoing a psychic amputation by degrees, a paring back of the non-essential in search of "this thing, this mystery, this void, this truth, this God – that this can only been seen where everything else, including our minds, especially our minds, has dropped or been sheared away?" All the time in this soundless, uninhabited waste, a large feline appears to be stalking him on his way to epiphany. The first two have narrative echoes; such as immersions, paranoia, some connection to land and yet being transported into a beyond. But does the third, Alexandria, stitch and weave the whole together?
To an extent it does, albeit with problems which were there from the start. Both the narrating voices of the previous books make shimmering appearances in a dream vision towards to end, and certain images are repeated like leitmotifs. Indeed, the previous protagonists are part of some mystic chain of gradual understanding. In Alexandria, we are almost a millennium from the present, and the characters (as this is a multi-voiced work) are the remnant of a quasi-religious order who have survived some cataclysm. There is an old seer, a child and her parents sfia and nzil, sfia's younger lover, and father who can speak to birds and mother who is the leader of their subsistence level existence. There is also, out in the beyond, an antagonist; a stalker sent from a daemon called Wayland, who seeks to upload them all into Alexandria. But the seer has a vision that swans are returning, which means the fall of the despotic, bodiless Alexandria. So we have the rudiments of a narrative – there is a quest, there is a threat – but they seem almost perfunctory. The real crux of the novel is between the world-views of the primitivist "Nistrians" and the utopian nuncio of Wayland. It might have been better as a kind of Platonic dialogue between the ideals of transcendence and self-sufficiency. In the first section we also have "cantos" of the mythology of the Nistrians. The incantatory, call-and-response lines are their etiolated hymnal. As David Peace found with Tokyo Year Zero, the linguistic exhilaration of bluntness and a fey poeticism are rarely easy companions.
As with Kingsnorth's previous books there is linguistic innovation. In The Wake there was a bold attempt to convey the feel of Anglo-Saxon (it is a help and a hindrance that I studied Anglo-Saxon – the 1066 Kingsnorth "shadow tongue" is less poetic than the later Ormulum, a thorn or eth or yogh would have made it far more alienating); in Beast we had the stripping away of capitals and punctuation marks, and a reduction almost to monosyllable and blank page, to convey the purging. Here we have a similarly honed lexis, although it lacks the invention of either Ridley Walker or The Book Of Dave or A Clockwork Orange. It seems as if alongside the Internet and internal combustion engines, the Nistrians just lost the capacity to spell. When, in particular, the characters convey their world-view ("Man is fyr but Woman is Water… Way moves in cycles, and this is Water time, woman time. it is right, but you are man and you still burn") it can sound as if Yoda took the Kool-Aid.
Alexandria, by Paul Kingsnorth
The problem with the book is rather more fundamental. The language around ecological and futurological writing is deeply fractious. "Reconnecting with nature" or "back to the soil," transcendence via staring at mycorrhizal networks or shedding flesh to be q-bits in the eternal web; none of this comes without linguistic baggage. This book is not with a degree of apocalypse fetishism that both sides share. The catastrophe is coming, depending on your recycling habits or your bandwidth. Will you forgo avocados and whales or autonomy and have touch only as a coded memory? Between the two ghastly options, Kingsnorth offers a pabulum Gaia. But I, for one, do not think that if the world is a massively complex, inter-related phenomenon, then a binary nihilism can be true. There is room for redemption.
As for Buckmaster, this troubled me, but my brain-nag eventually remembered Buckminster Fuller, the architect, ecologist, enthusiast for synergetics and "Spaceship Earth" and Mensa President. He also changed the orthography of his name; he also had a vision that "You do not belong to you. You belong to the Universe. Your significance will remain forever obscure to you." He at least had hope. Kingsnorth has written a significant and intriguing trilogy, but one I find hard to admire.
Alexandria, by Paul Kingsnorth, Faber & Faber, £16.99
A message from the Editor:
Thank you for reading this article. We're more reliant on your support than ever as the shift in consumer habits brought about by coronavirus impacts our advertisers.