Book review: A Song For The Dark Times, by Ian Rankin
Though everything seems to be going to hell in a handcart for Ian Rankin's sleuth, Stuart Kelly is relieved that there's life in the old dog yet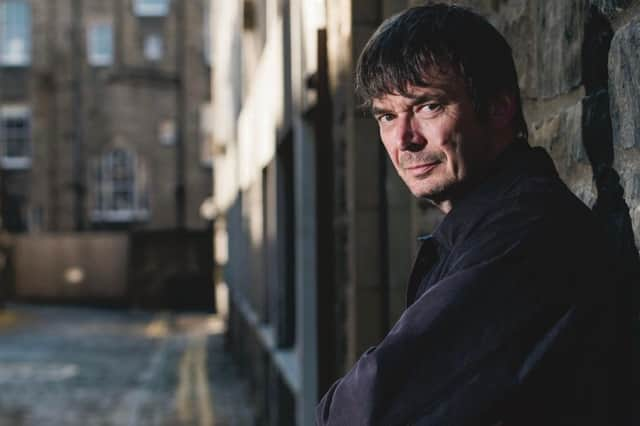 Reading this, the 24th Rebus novel (or the 26th in the franchise if one includes the two standalone novels featuring Malcolm Fox), a thought flashed unbidden into my head. It is a quote by the Rev Sydney Smith of the Edinburgh Review, critiquing Walter Scott's The Pirate: "One other such novel and there's an end, but who can last forever? Who ever lasted so long?" (Smith was wrong: Scott went on to write another 13 novels, including some of his finest).
A Song For The Dark Times is a very good novel, but the inevitable seems ever closer for John Rebus. He has now moved into a ground floor flat because his lung problems preclude climbing flights of stairs, and while reading it, I started to worry that when Rebus's loyal Saab begins to pack it in, this might be a piece of foreshadowing.
Although it is billed as a thriller – and it has its thrilling points – this is a crime novel. It deploys one of the most successful tropes of the form, which makes the reader a kind of parallel detective, particularly by using parallel narratives. The "A plot" has Rebus getting a call from his slightly estranged daughter, Samantha, now living in the (fictitious) village of Naver in Sutherland. Her husband, Keith, has been missing for two days. Not only did she and Keith have a moderately blazing row before, on account of her having a fling with the Svengali-like head of a local commune, but Keith has become increasingly obsessed with a local history project involving a Second World War internment camp, 1033. Of course Rebus heads off immediately.
The "B plot" brings in Siobhan Clarke and the now regular Malcolm Fox, dropped in from Gartcosh as part of a sensitive investigation. A Saudi student, Salman bin Mahmoud, the son of a businessman under house arrest, has been stabbed on Seafield Road, not the most picturesque part of Edinburgh. He is apparently wealthy, something of a playboy, and obsessed with Sean Connery's 007. Some believe the case is linked to a spate of attacks on foreigners in the wake of Brexit – Salman's friend Gio Morelli has recently been mugged, as has a Chinese student. There's also a link to their friend, the glamorous Isabella Meiklejohn whose father owns swathes of Sutherland, including the commune and the camp. Moreover all three gilded youths were frequent patrons of a chi-chi new gin bar in the Cowgate owned by (who else?) Big Ger Cafferty. On the fringes of this group of gangsters and popinjays is also a disgraced SNP politician who sent racist tweets and is now a property developer.
So the question arises: are these cases in any way connected, and if so, how? Rankin sets multiple hares running, and the various suspects and causes zig-zag just like a hare on the hill. It is, in a Sherlockian way, guessable – there are no last minute revelations. But piecing it together balances readerly patience with the impetus of the plot. It's no surprise that Fox uses jigsaws as a metaphor during the novel. Back in Naver, Rebus starts to meddle in the disappearance, and sure enough, a body turns up. But this brings him into contact with the veterans of the camp, who stayed in Scotland. Rankin actually writes the elderly very well; without caricature and without sentimentality. One key point is a cheeky sort of in-joke: Chekhov famously said "if in the first act you have hung a pistol on the wall, then in following one it should be fired. Otherwise don't put it there". A pistol significantly isn't there in the local pub in Naver; nor could it be fired since it is both antique, dating from the war, and thoroughly rusted. But it does have significance, if not a bang.
The Rebus novels have always tacked closely to the contemporary, and this one (with, for example, the references to Brexit) is no exception; though even here there is a feeling of fatigue and ennui. One of the commune dwellers refers to "rising levels of greed and stupidity. You'd be a fool to look out there for answers." There is a general feeling that everything is going to hell in a handcart. Samantha complains about small village life being like a concentrated form of perpetual surveillances, with Facebook and so on only adding to the erosion of privacy and the capacity for gossip. Rankin is also very good at class disparity, and although there are some testy exchanges between Clarke and the entitled students, the highlight is Fox musing – I won't say to whom – about "a wall between you and them that you can't seem to scale, and Christ knows you've tried".
It is a cardinal rule not to reveal the ending when reviewing crime fiction. The denouement is very satisfying, and there is something between a twist and a cliff-hanger. Suffice it to say that when I ran the hypotheticals there are multiple possible strands for the next book. A pity we will have to wait a year for it.
A Song For The Dark Times, By Ian Rankin, Orion, £20
A message from the Editor:
Thank you for reading this story on our website. While I have your attention, I also have an important request to make of you.
The dramatic events of 2020 are having a major impact on many of our advertisers - and consequently the revenue we receive. We are now more reliant than ever on you taking out a digital subscription to support our journalism.
Joy Yates, Editorial Director