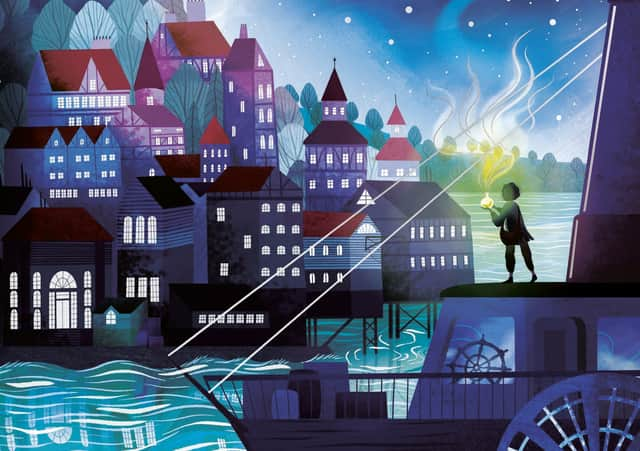 Evernight by Ross Mackenzie
The first few months of 2020 have been full of retellings in Young Adult fiction, with everything from Anna Karenina to Grease being reimagined in a new light. One of the best recently published retellings is Jane Eyre: A Retelling by Tanya Landman (Barrington Stoke, £7.99). A superb adaption of the beloved classic, it beautifully captures the emotion and intense narrative voice of the original. The author has skilfully stripped back the story to the core essentials, cleverly retaining all the cherished scenes and dialogue from the original. For those who love Charlotte Bronte's original, this is the perfect partner. For those new to the story, it is the perfect introduction.
Only Mostly Devastated by Sophie Gonzales (Hodder Children's Books, £7.99), meanwhile, is a heart-warming and laugh-out-loud funny LGBT retelling of the musical Grease. Ollie and Will had a summer fling but did not expect to see each other again – certainly not in the same class. Inevitably, away from the lakeside setting of their romance, their relationship changes. Will they find love again? Tackling complex issues of peer pressure and identity in a sensitive and heartening way, this novel will make you laugh and cry all at once. Only Mostly Devastated is a must-read for any rom-com fan 

For those who enjoy reading new versions of traditional myths and legends, A Thousand Beginnings and Endings (Greenwillow Books, £12.99), compiled by Ellen Oh and Elsie Chapman, is the ideal collection with stories from various South and East Asian cultures. Fifteen acclaimed authors share gripping extracts from classic epics, inventive science fiction and immersive fantasy. Especially enjoyable are the short explanations each author shares following their retelling, grounding the story in its culture and heritage. With such a diverse range of stories, there is something in this collection for every reader.

Fans of fantasy, meanwhile, need look no further than Evernight by Scottish author Ross Mackenzie (Andersen Press, £7.99). A fast paced and gripping thriller, laced with superb world building, Evernight maintains the suspense right until the final page. Many years ago, the Evernight came to the Silver Kingdom and turned everything to darkness. It can only be defeated by the bravery and power of a witch, and it is up to Larabell Fox to stop the darkness spreading. Beautifully cinematic, Evernight is a spellbinding tale.

Those in search of a more unusual thriller should try Song Beneath the Tides by Beverley Birch (Guppy Books, £10.99). It is a rich and gripping novel that explores the lasting impact of colonialism, the horrors of animal poaching and the effects of tourism on local communities in East Africa. Past and present stories collide as Ally experiences glimpses into the past. Her visions are deeply rooted in the legends and stories of Kisiri, a sacred island at risk from poachers and threatened by tourist development. Told in parallel timelines, this novel is a unique and fresh story for YA readers. It presents challenging themes in an accessible, engaging and thought-provoking way and at its heart it is a story about hope and the importance of working together.

Another story filled with hope is Run, Rebel by Manjeet Mann (Penguin Books, £7.99), a compelling and emotive verse novel about a young girl defining her place in the world which sensitively explores themes of bullying and domestic abuse. Amber is a flawed protagonist, yet she is also an empowering and inspirational character who demonstrates incredible resilience. A powerful read, perfect for fans of Sarah Crossan and Kwame Alexander.