Author Heather Critchlow - how revisiting my past helped with a novel solution
In her debut crime novel, Unsolved, Heather Critchlow uses the hills of Aberdeenshire, where she spent her formative years, as the location for her mystery about a true crime podcaster investigating the case of a woman who went into a woods and never came out...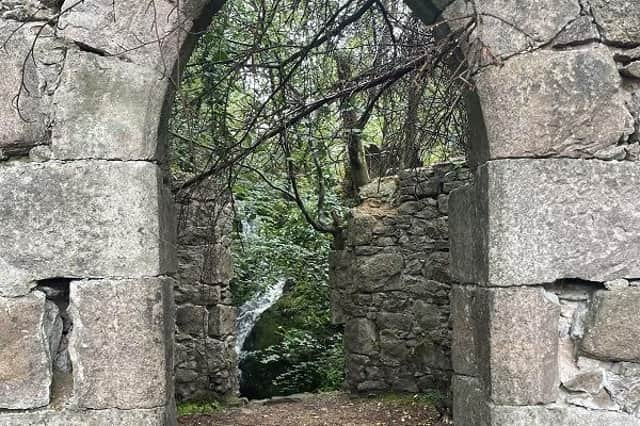 If you know where to look, in the foothills of Bennachie in Aberdeenshire, you can find a secret waterfall. It isn't marked on the visitor maps and it's even tougher to find since storms have brought down so many of the trees around it. But, in autumn last year, I decided to follow my memory to a place I'd stumbled upon as a teenager. A place that imprinted itself on my mind so clearly, I used it as a setting in my debut novel a quarter of a century later.
My novel, Unsolved, is the fusion of my fascination with true crime podcasts with the beautiful but sometimes bleak landscape of my youth. Unsolved features a podcaster investigating the cold case of a woman who rode her horse into the woods and vanished. Unfortunately, the waterfall, which I remembered being framed by a stone folly built for the nearby Pittodrie estate, seemed to have managed a similar vanishing act.
When choosing a setting for my novel, I knew I wanted somewhere wild and isolated. My favourite podcasts have a very strong sense of place – as much about a time and social setting as about the crime itself. My mind naturally went to the hills of Aberdeenshire, where I spent my formative years.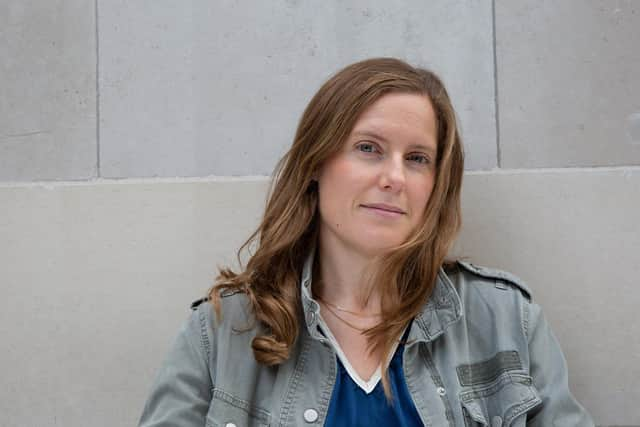 I was ten when I moved to the area with my mum and younger brother – living with my grandparents on their croft for several months before buying a steading to convert in the foothills of Bennachie. It was reputedly the worst winter to hit Aberdeen in seven years, so perhaps not the best timing to be living in a caravan on a generator until mains power was connected.
School was a 40 minute drive away so we didn't have many friends in the immediate area. What we did have was freedom to roam the landscape – an unfamiliar luxury for children raised in the more populated south where there were laws of trespass to contend with. In the years that followed, we crawled over the fields, woods and hillsides – finding carpets of bluebells, hidden sculptures and, it turns out, perfect places to hide a (fictional) body.
There are pockets where no one ever goes – little thickets of trees visited only by deer, burns that twist and turn through forgotten slices of woodland down the side of fields, and deep hollows in the heather. It was in these secret places I found myself stumbling all these years later, hiking cross country to meet the stream where it tumbles from Bennachie's peaks, hoping to follow it downhill and locate the elusive fall.
Unfortunately, my walking boots were as old as the memory, kept in my mother's shed to be used on trips home. It turns out that even solid boots have a shelf life. Like my plans of an easy stroll, they disintegrated as the morning progressed. Anyone coming across me that day would have found a chuckling, slightly deranged woman with flapping soles, muttering about a waterfall.
As the rain set in and the boots deteriorated further, I was reminded of a climb years earlier when the mists came down and we took the wrong spur down. Though it will always feel like home turf, and isn't difficult to find some way down, Bennachie retains the capacity to surprise. The shifting secrets of the landscape are a source of constant inspiration to me.
Not unlike a madwoman searching a hill, podcasters often find themselves sucked into cases that are less straightforward than initially imagined. Since listening to the first season of early true crime podcast Serial in 2014, I've been hooked by the way in which these podcasts can open up forgotten cases, righting unsafe convictions but also offering forgotten victims and their families a chance of justice.
Podcasters may start out as dispassionate reporters, but many end up as champions of the missing and murdered, returning year after year to follow up on new leads and keeping in touch with families.
Canadian podcaster David Ridgen is a master at delving into complicated cases that remain unsolved. In Someone Knows Something, he deploys a poetic style of narration, a kindness and a tenacity that win people over. When creating my own podcaster in Cal Lovett, the protagonist in Unsolved, I wanted to imagine the human cost of this approach, the toll it takes.
Podcasts may cost their hosts peace of mind but they do make a difference. Serial's investigation of the murder of high school senior Hae Min Lee led to an innocent man being freed. Australian podcast The Teacher's Pet was instrumental in the conviction of the man who murdered Lynette Dawson, while US series Up and Vanished helped solve the mystery of what happened to missing teacher Tara Grinstead.
These series bring their audience along with them. We listen when driving, walking the dog, running or cooking. The voices of the families and witnesses move inside our heads and it's human nature to feel for them, to want to help. Over time, the audience contributes clues, pores over evidence and interacts with the podcaster. Unlike a commissioned documentary or TV series, the podcast is a completely flexible medium – new episodes can be added at any time.
In a world where so much time and attention is lavished on perpetrators, true crime podcasts provide access to people who remember the victims, they bring their lives into the light, sometimes using audio recorded before the person's death or disappearance – voices from beyond the grave.
That focus on the victim is important to me in the stories I choose to tell. In my book, missing woman Layla Mackie is far more central than the man who murdered her. Ahead of her time, she is feisty and independent but without the resources to forge a different life for herself. She works as a waitress at a country house hotel that is inspired by Pittodrie House Hotel, which sits in the shadow of Bennachie and where I worked as a teenager.
Luckily for me, the real life hotel was a far more pleasant place to work than its fictional counterpart, but Layla hates her job. To escape, she rides horses for a local stables, only truly free in the fields and woods. For many years, I rode a neighbour's horses in return for helping out, and know well the feeling of freedom that comes from galloping through those fields as Layla does. So much of Unsolved comes from the landscape – it was in many ways the first character, defining the story.
I could have done with a horse on the day I was searching for the forgotten waterfall. Fortunately, the last ditch attempt bore fruit. Falling over more than once, very glad to be unobserved, I crossed the stream, picked my way through the undergrowth and scrambled over fallen tree trunks.
It's there. Every bit as magical as I remembered. Mercifully, the stone folly has survived the trees falling around it, though the outlook is a little changed as a result. In writing Bennachie's secret waterfall into my novel, I changed it. I made it taller, grander, more dangerous – partly for plot but partly to protect it from prying eyes. I needn't have worried. It's doing a pretty good job of hiding on its own.
Unsolved by Heather Critchlow (Canelo, £9.99) is shortlisted for the Bloody Scotland Debut Prize. She will be appearing at the Bloody Scotland International Crime Writing Festival in Stirling 15-17 September. Tickets at www.bloodyscotland.com