Alexander McCall Smith – the author celebrates the return of 44 Scotland Street to The Scotsman
As the Edinburgh writer celebrates the return of his popular daily series, with The Stellar Debut of Galactica MacFee, he takes time out to talk about the capital's most famous address and its inhabitants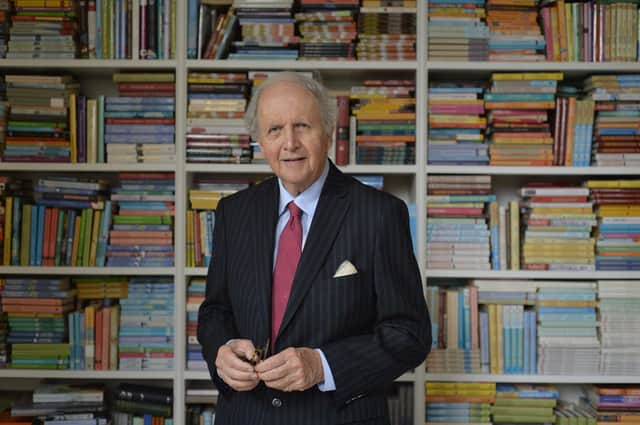 Alexander McCall Smith takes time out from his busy schedule to celebrate the launch of a new series of his long-running serial novel 44 Scotland Street, which runs daily in The Scotsman, to answer our questions.
Back to full health after spending six days in hospital earlier in the summer receiving treatment for a tick-borne illness, the Edinburgh-based author, who recently enjoyed his 75th birthday, is looking forward to the new series featuring the adventures of the inhabitants of Edinburgh's most famous address, entitled The Debut of Galactical MacFee. In addition to this, the latest novel in his No.1 Ladies' Detective Agency series, From A Far and Lovely Country, as well as a cookbook of all the recipes which have appeared in Scotland Street over the past 18 years, will be published this autumn.
IT IS 18 YEARS SINCE SCOTLAND STREET WAS FIRST PUBLISHED IN BOOK FORM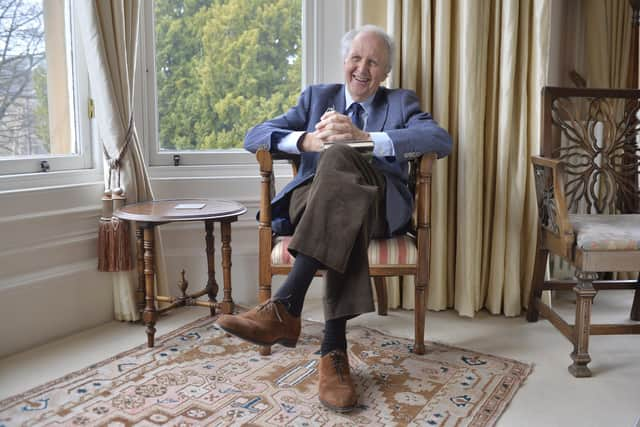 It is indeed. The first book was published in Edinburgh in 2005, by the Scottish publisher, Polygon. I wrote it day-by-day for The Scotsman and they then published in book form a few months later. None of us knew what to expect but the readers were supportive. In those days, some of them would cut it out from the paper and send it on to friends elsewhere.
WHAT ARE THE JOYS OF A LONG-RUNNING NOVEL?
I enjoy my annual conversation with the characters, whom I now know rather well. But there are dangers too. You can't go back and correct mistakes as you would do with a regular novel. You can't edit it after it appears in the paper. The die is cast earlier than it is with normal methods of publication.
HOW HAS IT CHANGED OVER THE 18 YEARS?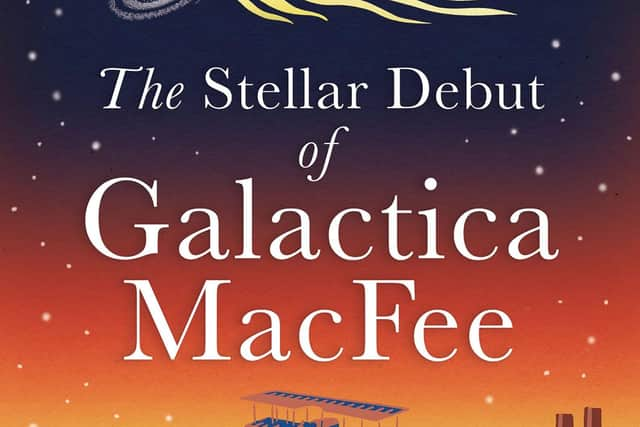 Characters have come and gone, although the central cast remains. Bertie had a birthday; just the one, as I can't bear for him to grow up. Of course what he yearns for is to be 18 and move to Glasgow. He has even tried to book a train ticket, 11 years ahead of his 18th birthday. He has a
little brother now, Ulysses.
Of course there have been all sorts of events. One character (Bruce) was struck by lightning. He survived but was a changed man. What else? The trams arrived – eventually – and the dreaded Irene left for Aberdeen (but may now be on her way back to Edinburgh). At one point, she spent some time in Dubai in one of the books, Bertie's Guide to Life and Mothers, when she won a competition for an advertising slogan. She was detained by an amorous Bedouin when he mistook her for one of his wives. She was there for a while and ran a book club for the women of his harem.
WHAT HAVE BEEN THE HIGHLIGHTS FOR YOU?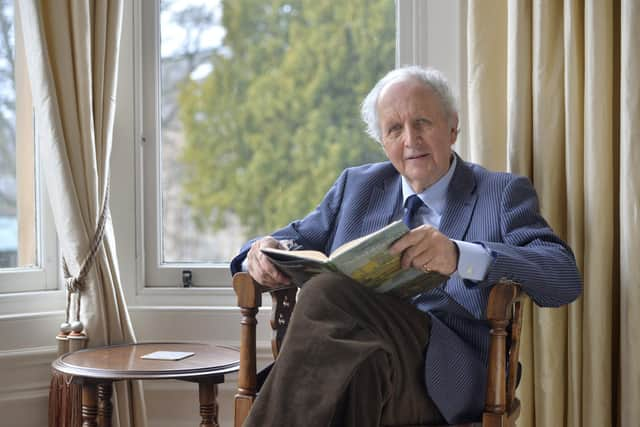 When we first spoke about the possibilities of a serial novel at lunch with Iain Martin – The Scotsman's then editor – all these years ago, I had no idea what it would be about. And I really thought it would only reach readers on the east coast of Scotland. I was wrong. Scotland Street now has readers throughout the world and the books are translated into numerous languages. It is rather like an extensive club, for which The Scotsman newspaper can take a great deal of the credit.
There have been unexpected offshoots. A composer wrote music inspired by the series, and BBC Radio 4 ran a Scotland Street drama series over a number of years, produced by David Ian Neville. There was even a stage-play one year, at the Fringe, and I believe there are Scotland Street walking tours.
WHAT DO THE REAL-LIFE RESIDENTS OF SCOTLAND STREET THINK ABOUT BEING FAMOUS?
I was careful not to use a real door number. We didn't want to impose on the residents of the street. They have been very generous over the years – putting up with me walking up and down their road with journalists, film crews and the like. The last was Angela Rippon. That was great fun. A steady stream of readers come to Scotland Street looking for No 44 and are confused when the numbers run out before reaching it. It is a fictitious building but the street is real.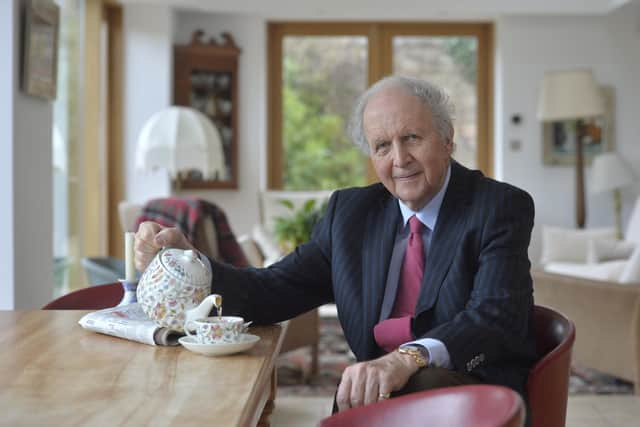 BERTIE, BIG LOU, FAT BOB, IRENE, BRUCE, DOMENICA AND ANGUS HAVE BECOME HOUSEHOLD NAMES. WHO IS MOST LIKE YOU AND WHO IS YOUR FAVOURITE?
Bertie is a real favourite of mine, although I am fond, too, of his friend, Ranald Braveheart Macpherson. But the truth of the matter is that I like all the characters, even the villainous Irene Pollock.
YOU GET LOTS OF EMAILS AND LETTERS, WHAT IS THE MOST COMMON QUESTION PEOPLE ASK YOU?
We get many letters from readers in all corners of the world: Australia, New Zealand, India, Africa…
Some are deeply moving letters telling me of the support the books have offered at difficult times in life. I try to respond to everyone. Others ask for the recipe for Mma Potokwani's Rich Fruit Cake which makes a regular appearance in the No.1 Ladies' Detective Agency series. Or Big Lou's Shortbread from Scotland Street. They write as the episodes of Scotland Street appear, concerned for the welfare of characters. And in recent weeks we were approached by someone who hoped to get engaged while on holiday in Edinburgh. The proposal of marriage following a lunch in Valvona and Crolla, in Elm Row, because they so enjoyed the Scotland Street books. I wasn't in town but sent a video which they played. They were very pleased (and I believe it was a positive outcome).
WHAT'S AHEAD FOR 44 SCOTLAND STREET AND ITS RESIDENTS?
I'm having some fun with Irene, who is considering a return to Edinburgh. She is also trying out some cold-water swimming therapy in the North Sea. Suffice to say, this does not go well and a fishing trawler is involved in her rescue. Poor little Bertie has a new class-mate – Galactica MacFee – who seems out to make enemies of every other child in the class – including Olive and Pansy. And there is a shifty looking character lurking in the rhododendrons (or is it rhododendra) of Drummond Place Gardens who mistakes Angus Lordie for Magnus Linklater and entrusts him with a disclosure about the Scottish Government's plans to merge Edinburgh and Glasgow. Angus is, quite understandably, shocked.
IT IS 25 YEARS SINCE THE FIRST BOOK IN THE NO.1 LADIES' DETECTIVE AGENCY SERIES WAS PUBLISHED HERE IN EDINBURGH. WILL THERE BE MORE IN THE SERIES?
I started the No.1 Ladies' Detective Agency with a short story, but I enjoyed the company of Precious Ramotswe and so it grew into a novel, and then… well you can see that I could not stop. The first book, published by Polygon, was a bit of a risk but the modest print run sold out and they reprinted. Later the series was taken up by Little, Brown in London and Penguin Random House in America. The books received very generous reviews and sales grew by word of mouth. The next book is out in September (it is a busy month for me), From A Far and Lovely Country and I plan to go back to Botswana next year.
I try not to over analyse lest it should all fall apart. But people do seem to find comfort in these books, whether that is within the pages of Scotland Street or The No.1 Ladies' Detective Agency. During difficult times – and we've lived through some difficult times since both series started – people want to find happiness and humour in books. They want to escape from the doom and gloom that can be a feature of everyday life.
DID YOU ANTICIPATE THAT YOU WOULD TOUCH SUCH A NERVE WITH YOUR WRITING, BOTH WITH 44 SCOTLAND STREET AND THE DETECTIVE SERIES?
No, not at all. Both took me by surprise. But it has been a very enjoyable journey with the characters and the readers.
SCOTLAND STREET IS A PARTICULAR STREET IN A PARTICULAR CITY, HOW DO YOU MANAGE TO MAKE IT RELEVANT FOR INTERNATIONAL READERS?
Scotland attracts visitors from all parts of the world. Edinburgh is an entrancing city. Living here we complain about the potholes and the state of the pavements, the trams and the sprawl of housing into our greenbelts. But the city retains its positive features, and these are much appreciated by visitors.
Some of them come here because they want to see the places they have read about in the books. They feel that they already know the places frequented by the characters in Scotland Street and my Isabel Dalhousie series. There is, I am told, a steady stream of literary visitors to Valvona & Crolla. I think that the readers relate to the city because they see it as a contained world – one that has an intimate feel that is perhaps under threat in larger cities.
DO NEW TOWN RESIDENTS EVER THINK THEY ARE THE INSPIRATION FOR CERTAIN CHARACTERS? AND ARE THEY?
I occasionally include real people in my books but I certainly would not do that without first asking their permission. Ian Rankin is in the Scotland Street books, as is Jack McConnell, the late Tam Dalyell and… a few others. But for the fictional characters I take inspiration from snatches of overheard conversations, people I see fleetingly on buses or in cafes: real life is a productive quarry for a novelist.
WHAT IS YOUR WRITING SCHEDULE - HOW MANY HOURS DO YOU WRITE A DAY?
I tend to get up at about 4am and write for a few hours. I may then write for a while during the morning. I usually manage two or three thousand words a day. Travel and the business side of my writing life take up a good bit of my time too. Writing five or six books a year keeps me pretty busy.
YOU USUALLY WRITE AS IT'S PUBLISHED BUT THE LAST BOOK WAS WRITTEN IN ADVANCE, HAVE YOU DONE THAT THIS TIME?
I have. I used to write just a few days ahead but once or twice I was caught out and we really were right up to the wire. Once I was out at sea with no internet connection. I had visions of a blank page in your paper. So now I write ahead and like to have finished the book by the time publication starts in The Scotsman.
YOU'VE BEEN RECOVERING FROM A TICK-BORNE ILLNESS HAVING SPENT SIX DAYS IN HOSPITAL EARLIER IN THE SUMMER. HOW ARE YOU FEELING NOW?
I am pretty much back to full health. Thank you. It was an illness that you don't normally find in Scotland. I picked it up in Canada, in a remote part of Ontario. I'm very careful with ticks which are a serious problem now in Scotland. We have a house in Argyll and I don't go into the long grass there if I can help it. I now have special protective clothing I wear. The extremely impressive doctors in Edinburgh's Western General and the specialist lab in Inverness identified the condition. They looked after me so well, as did the marvellous nurses and support staff. I encountered real kindness when I was unwell.
HAS IT AFFECTED YOUR WRITING SCHEDULE?
For a few weeks but now I am returning to normal and trying to catch up.
THERE IS A SCOTLAND STREET COOKBOOK COMING OUT IN OCTOBER...
That's right. Anna Marshall has written a Scotland Street Cookbook which comes out this autumn. She has gathered every mention of food or meals from the books and created recipes to suit. And they are extremely good. It turns out that there are many conversations between characters around a table, or in the kitchen, or in a café. And of course, I describe a meal at the end of every run in the Scotsman, to signify to the attentive reader that we are bringing the season to an end. Everything is in there: mutton pies, cheese scones, oatcakes. Anna has done a great job – and the panforte is delicious.
WHAT COLOUR IS THE FRONT DOOR OF 44 SCOTLAND STREET AND WOULD IT
EVER BE PAINTED SHOCKING PINK?
Shocking pink is not in the plans for 44 Scotland Street. Crushed strawberry is much more
appropriate for a Scotland Street doorway. But you never know. Looking back at the covers it seems to have been black, red and brown at various stages. There was even a neighbouring door that was purple.
ARE THERE ANY ISSUES YOU AVOID IN RELATION TO 44 SCOTLAND STREET AND
Living in the city keeps you alert to change. But I'm not writing social realism and these books are not confrontational in their nature.
DO YOU STILL LIVE IN EDINBURGH AND WHO WITH?
I live in Edinburgh with my wife. I still travel a great deal – I do regular book tours – but Edinburgh is very much home. I enjoy my time at home, catching up with friends – some of whom I have known since my student days. These friends include my illustrator and great friend, Iain McIntosh, who illustrated Scotland Street from day one. My daughters have families of their own now and we spend as much time as possible with our
grandchildren, two in Edinburgh and two in Oxford.
The new 44 Scotland Street daily novel, The Stellar Debut of Galactica MacFee, starts in the paper on Monday 4 September, and will be available in book form in November from Polygon, hardback £17.99.
Alexander McCall Smith's previous Scotland Street novel, The Enigma of Garlic, published by Polygon, is available now in hardback £17.99 and paperback £9.99.
From A Far and Lovely Country, the latest No.1 Ladies' Detective Agency book is published in Hardback, £22.22 on 31 October and in paperback, £9.99 in 2024.
The 44 Scotland Street Cookbook, Recipes from the Bestselling Series by Alexander McCall Smith, Written by Anna Marshall with Alexander McCall Smith, Hardback, £12.99 will be published by Birlinn, On 5 October