Are you warm? Are you fed? Are you safe? Are you a labrador? Probably not but if you dedicate your life to getting those bases covered you'll be taking a leaf out of the book of Olive and Mabel, who are.
The book in question is Dog Days: A Year with Olive & Mabel, written by their owner, Scottish sports commentator Andrew Cotter, aka Food Source, who made them all internet sensations and helped us get through lockdown, and now fans can see them in real life as the canine superstars hit the road to make a rare appearance at Boswell Book Festival today [13 May].
When lockdown hit and Cotter's work on live sports events dried up overnight, he began commenting on the behaviour of his adorable dogs Olive and Mabel, and such was the success of his posts, that Cotter branched out into longer videos, which was followed by a book: Olive Mabel and Me. A winning combination, the Labradors, one black and one golden, doing what dogs do, and Cotter with his humour and delivery it wasn't long before he was back with a second book, Dog Days: A Year with Olive & Mabel.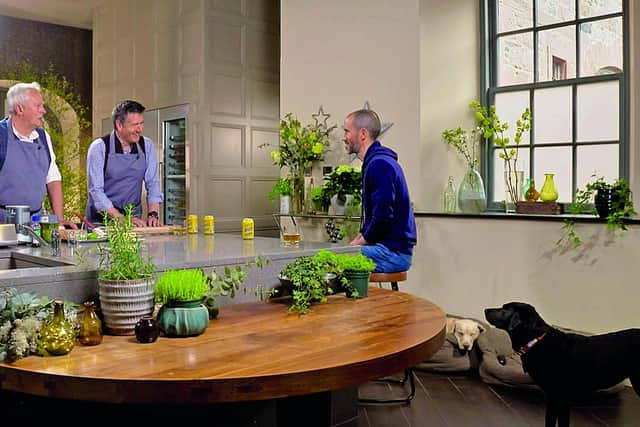 While the first book focused on life with Olive and Mabel, the second book goes further and has more of Cotter's entertaining and philosophical musings on life in lockdown, made all the more compelling now that we can look back on a slice of his life during that time.
"It's amazing when you look back and remember how intense things were in lockdown. I wasn't allowed to cross the Border to get to Scotland or the mountains. It all seems very strange now and that's why I enjoyed writing it because it's forever a sort of record of that strange time."
WHY DO YOU THINK THE OLIVE AND MABEL VIDEOS ARE SO SUCCESSFUL?
The fact that it's dogs involved. I could have commentated on things we were all doing like baking bread or doing jigsaws but I just went to commentate on the dogs and a lot more people love dogs than love jigsaws. People recognise a lot of their own dogs and their own experiences of having dogs.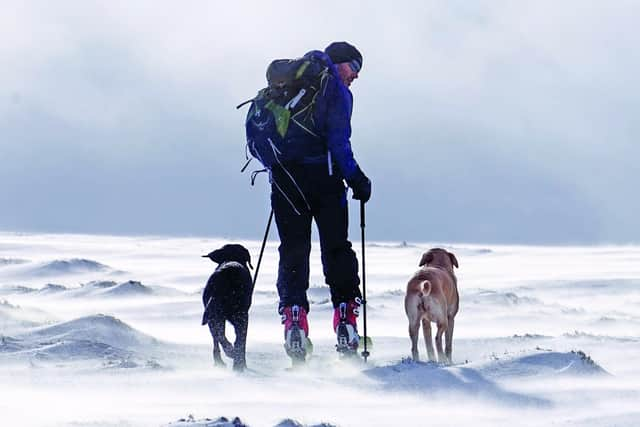 People would come up and say these videos really cheered me up, made me happy, would you do some more, so there's definitely an element of you're making people happier at quite a difficult time.
WHAT CAN WE LEARN FROM DOGS AND THEIR THREE BIG PRIORITIES - ARE YOU WARM, ARE YOU FED, ARE YOU SAFE?
They are simple beasts and just want comfort, warmth and to feel secure. It's a very simple way to exist. I think you could get very philosophical, but the thing that ruins us as humans, compared with dogs, is that we want status as well.
Animal behaviorists would say animals do as well in terms of status within a pack and reward for performing certain tasks, but I think humans' pursuit of status and appearance is the thing which is damaging to us. All the troubling things that are happening in the world are probably being done for status in some way.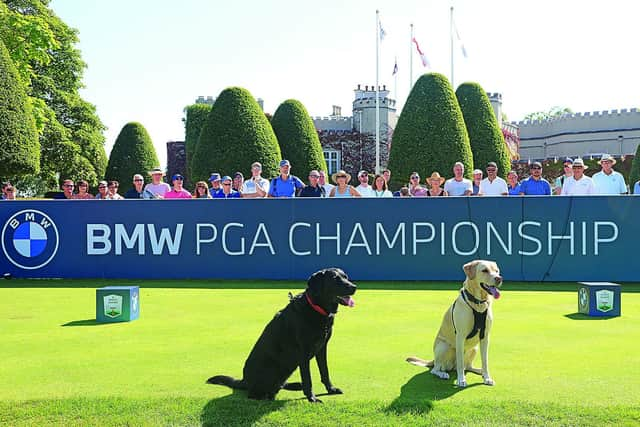 I'm not saying we should all live like dogs but I think there's a lot to be said for it. Wouldn't it be nice to live each day as it comes, say am I happy, am I comfortable? But of course that's not possible. The damaging thing about higher brain function is it creates all sorts of complexities and problems. So it would be nice to live as a Labrador I think sometimes.
YES, A LABRADOR DEFINITELY, BECAUSE NOT ALL DOGS HAVE THAT MINDSET...
Yeah, some dogs are utter b*******. And some are shivery little dogs. And Mabel's a worrier, worries about her own little world as much as we probably worry about our greater world. Olive's a much more relaxed dog.
HOW DID THE OLIVE AND MABEL VIDEOS COME ABOUT?
I lost the sports broadcasting one day in March, Friday 13th I think it fittingly was, when the Masters disappeared, the London Marathon went shortly after and the Six Nations and suddenly you're looking at nothing. I made the video the next day but sat on it for a couple of weeks because I wasn't entirely persuaded it was worth putting out. But then everyone was flocking to social media because it was our window of the world so I just put it out to say, here I am, this is what I've been reduced to, commentating on my dogs having breakfast. And it was astonishing. That's what started the whole thing three years ago.
AND IT GREW VERY QUICKLY FROM THERE…
There were three commentating ones, walking near the house, them fighting over a bone, and then the fourth one I took it away from commentary and did a Zoom meeting with them because suddenly we were all doing it and it captured that zeitgeist and got a great response. It made me want to do little sketches and be more creative, put them into situations where they're online dating or joining a gym, being conned into buying bitcoin by the cat next door. But sometimes people just like to see dogs being dogs.
Then normal life was looming and the video I made of our first climb out at the mountains became something more sort of cinematic and philosophical and it was a nice thing to film.
And then the final major video, Willing and Mabel, was the most bizarre with Mabel dreaming she was in a US detective show. That took AGES and was a major production for two minutes of silly video but I really enjoyed making it. I like the challenge and the creativity and it's very different to sports broadcasting. The shot of us running in slow motion along the shore was in Troon and I was hoping you couldn't see Arran in the background because I wanted it to look like Miami Beach. In another scene I was wearing black tie, holding a whisky tumbler of cold tea and a chocolate cigar in an ashtray to look like a smokey casino, and I was well aware I had gone into madness but I quite enjoyed it.
DO OLIVE AND MABEL UNDERSTAND THEY'RE FAMOUS?
No. But they're labradors and think that everyone should be out to give them affection and love.
When there were 600 people in a theatre to see them, not me, it's a very strange thing, but lovely. I was genuinely touched so many people said these dogs really helped me during what was a difficult time, getting ill and various relatives departing. So that was very odd, but it's pretty special as well.
SO THEY'RE HITTING THE ROAD AGAIN?
Yes, we're doing two book festivals, Boswell and the Borders Book Festival. We're not really doing appearances any more apart from these because I don't want in future to be wheeling out a grey and lumpy Olive in a bath chair and saying here we are again, Whatever Happened to Baby Jane…
DID YOU EVER RESENT THEM OR THINK I'M A SERIOUS JOURNALIST HERE DOING A JOB AND YOU'RE GETTING ALL THE ATTENTION?
No. Sport can be dramatic and serious but you don't want to be pompous about it. You've always got to find light and shade. I do sort of see the absurdity in life for good or bad and think a lot of trouble is brought about in the world by people who can't laugh at themselves and take themselves too seriously, so I'm all for poking fun at ourselves.
AND NOT CARING WHETHER A MOUNTAIN IS A MUNRO OR NOT, IT'S JUST A WALK...
Yes, they're not ticking off 3,000 foot mountains; that means nothing to them and shouldn't really mean anything to us – we're looking for some sort of achievement where achievement is not really something they go for. They just like to go for a walk.
Andrew Cotter, Olive and Mabel will be at Boswell Book Festival on Saturday, 13 May at 2pm talking about Dog Days: A Year with Olive & Mabel (Hardback), £20