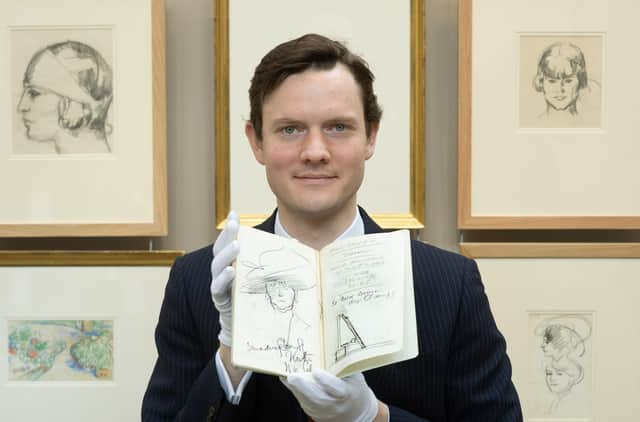 The sketches in pencil, conté and pen and ink were made by Fergusson in the early 1900s during his time in Scotland and in Paris.
They include elegant women and gentlemen quickly sketched down by Fergusson on his travels as well as distinctive self-portraits.
Fergusson, who died in 1961, left the books to his long term partner, the dancer and choreographer Margaret Morris, who later gave them to a friend of the couple's in the 1970s.
They have remained in Scotland in the private collection of the same family for the last 50 years and have never before been on public view.
The remarkable sketchbooks will be among the highlights of Bonhams Scottish Art Sale in Edinburgh on May 17, where they are expected to fetch a combined £19,000.
Leo Webster, picture specialist at Bonhams in Edinburgh, said: "These two sketchbooks come from different periods in Fergusson's career. The earlier book dates from around 1902 while the later, from his time in Paris around 1907-10, shows an artist perfecting his craft as he developed his modern style.
"He would have carried them around wherever he went and filled them to the brim with sketches of people, capturing the character in their faces as well as the costumes and hats."
The earlier sketchbook, measuring just 13.2 x 12.5cm, is thought to have been carried by Fergusson on his travels around Scotland from 1902-03.
Estimated to fetch £5000-7000, it features around 45 individual pencil or graphite drawings including one thought to depict Jean Maconochie, the artist's muse at that time.
Fergusson noted in the inside back cover addresses in Edinburgh, Dunoon in Argyll, and Crieff in Perthshire, where it is thought he sketched people he saw. He also jotted down "5 oranges, 5 1/2 lemons" which may have been a shopping list for a still life painting.
The later sketchbook, valued at £8000-12,000, dates to around 1907-10 when Fergusson was mixing with Picasso and other artists in Paris.
The 21 x 13.5cm book includes 42 drawings in conté and pen and ink along with several scribbled Paris hotel addresses that place the sketches in the city where he lived from 1907-14.
Mr Webster said: "This sketchbook highlights Fergusson's desire to capture as much as possible with as few lines as possible -- his drawings are clearly efficient in this regard. One can see this training in efficiency coming through in his paintings, as he moves away from his more formal beginnings towards a thoroughly modern aesthetic.
"Undoubtedly his move to Paris in 1907, and his subsequent exposure to the Avant Garde in European art, was the catalyst that pushed him towards his modern style."
JD Fergusson, born in Leith in 1874, was one of the four Scottish Colourist painters, along with S.J. Peploe, F.C.B. Cadell and G.L. Hunter, whose work has achieved international acclaim in recent years.
Mr Webster added: "These sketchbooks have been within the same family for many years. It's pretty special to have them come to the market and they will be exciting to a whole host of buyers from private collectors to institutions."