Season of plenty: Autumn art highlights across Scotland
In galleries all over Scotland this autumn there's a chance to listen to a wide range of artistic stories, writes Moira Jeffrey
It's a simple thing: a beautiful golden flag blowing and shimmering in the wind, in striking contrast to the damp Scots landscape of peat bog and rough grass in which it is firmly planted. But when you look closely at the image, part of a series of photographs entitled The Dreamers by artist Iman Tajik, it slowly becomes apparent that the flag you are looking at is in fact an emergency blanket. Tajik is an Iranian artist now based in Glasgow. He is flying the flag of improvised shelter, of displacement, of the search for safety and the crossing of borders.
Recently, as part of a group exhibition called Unravelling Times at the Hunterian Art Gallery in Glasgow, which continues until 13 October, Tajik led a group of friends and artists on the long walk from Glasgow's West End to the gates of the Dungavel Immigration Removal Centre, where he himself was once a detainee. It is a journey he has made before, an extended performance that marks his solidarity with those inside. "As an artist and activist, it is my role to return there and draw attention to this place," he told MAP magazine. "Now I have some kind of freedom and can point my finger at this place. I was there alone and now I come back with friends – it's a kind of revenge. I'm coming back with a different energy, a positive energy."
Across this summer, in my role as director of Scottish Contemporary Art Network (SCAN) I have campaigned under the slogan Artists Make a Better World. We have shared with the public and policy makers what a difference artists make in this world, why we should support them and arts organisations in communities across the country.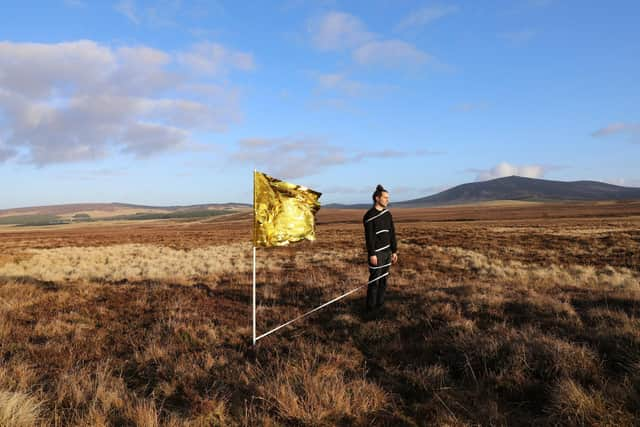 One of our themes is how artists make space for different voices, for a multiplicity of lived experience, and how that connects with the widest of audiences through shared histories or new empathy. After the clamour of the summer, and building on the success of our festivals, this work continues. Right across Scotland this autumn, there is a chance to listen to a wide range of artistic stories from international artists and Scottish artists with diverse roots, and diverse routes into art making.
In Edinburgh, there is a welcome return for Zarina Bhimji, the London based artist who took part in a group show at the venue more than 35 years ago. On 28 October, she opens her first solo presentation in Scotland, entitled Flagging it up. Known for her elegiac films and photographs, Bhimji was born in Uganda to Indian parents, and moved to Britain in 1974, two years after the expulsion of Uganda's Asian community in the Idi Amin era. She was nominated for the Turner Prize in 2007. At the Fruitmarket amongst more recent works there will be a chance to revisit her most renowned film Out of Blue (2002), an arresting visual journey across Uganda. It's a slow unfolding: the stunning landscape she records is on fire and despite its evident beauty, it is scarred by a history of war, fracture, and expulsion. Bhimji's work seeks empathy rather than explanation as it examines history and institutions of power through evocation rather than documentary means. She has said: "if I can't make an object that describes a dusty room so someone else understands what it feels like to be in that room, then I've failed."
On the Isle of Bute, in the splendid surroundings of the stately home Mount Stuart, the Zimbabwean-Scottish artist Sekai Machache, a former member of our team at SCAN, has infiltrated the grandeur of the building until 29 October, with a series of lyrical film works, beginning under the blue painted sky of Mount Stuart's grand hall. Renowned for her own powerful presence in her works, Machache is now a force to be reckoned with in Scotland's artistic firmament. Next year she has been selected for the group show that will represent Zimbabwe at the prestigious Venice Biennale.
At CAMPLE LINE, the beautiful former mill building in rural Dumfriesshire run by curator Tina Fisk, you can visit The Unbearable Halfness of Being, an exhibition of drawings, embroidered textiles, talismanic objects, wood carvings, video and neon light works by artist Jumana Emil Abboud from 7 October. Nazareth-born Abboud is a lyrical artist whose work tells of loss and longing. Her recent work has focused on the water courses of Palestine. Living between Jerusalem and London, where she is undertaking a doctorate at the Slade, the artist evokes old Palestinian folk tales and recent oral histories to explore seven endangered water resources, the site of both spiritual and practical sustenance for communities.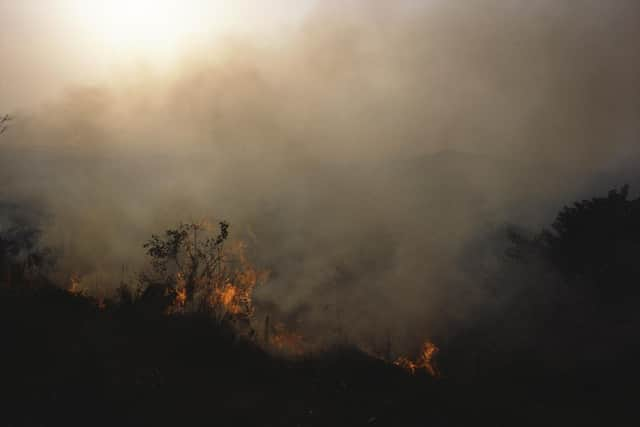 And at Glasgow's Tramway, from 24 November, you can see another aspect of the spiritual connection between landscapes, journeys and life stories. Idols of Mud and Water is Sydney-based artist Ramesh Mario Nithiyendran's first major solo exhibition in Europe. His colourful, human-animal sculptures echo the intertwined belief systems of the artist's own ancestry. Arriving with his parents in Sydney as a Tamil refugee in 1989, the artist's wider family practiced Hinduism and Catholicism to varying degrees, and Hindu, Christian and Buddhist cultures have coexisted in Sri Lanka for centuries.
At SCAN our advocacy work includes flying the flag for visual arts. This autumn we are calling for better investment in Scotland's artists and arts organisations in the Scottish Budget so these stories can continue to be told. But we also undertake more quiet work on policy and development. We have been feeding into the Scottish government's new international cultural strategy.
It's easy to think that in the cultural world Scotland's international work is done during Tartan Week, in a flourish of plaid and saltires. But beyond the stereotypes is a community that values deeper cultural exchange. Scotland has untold riches in this regard. Our galleries place artists from Scotland into an international context, share powerful and important voices from overseas, and tell the stories of our world that are complex, challenging and deeply rewarding, in communities across the country. In the arts, we've been doing this work for generations. It is artists that lead the way, and we have much to learn if we walk beside them on their journeys.
Moira Jeffrey is director of Scottish Contemporary Art Network (SCAN). You can find out more about SCAN members' events and exhibitions, as well as the Artists Make a Better World campaign, at www.sca-net.org