Review: New National Gallery exhibition spaces in Edinburgh 'a triumph of space, light and shadow'
Righting a historic wrong, the National Gallery's new Scottish Galleries are a great experience and a huge achievement, writes Duncan Macmillan​
The Greek temple design of the old National Gallery defies extension. The only way to find more space is to dig down – avoiding the railway tunnels underneath. The first excavation, more than 40 years ago, gave us the dim and charmless basement where the national collection of Scottish art lay buried for years. Later, further excavations provided a new entrance and other facilities, but it all still felt underground.
Now, however, in astonishing contrast, the new Scottish wing designed by Hoskins Architects is a triumph of space, and of light and shadow. Constructed ingeniously out of the first basement extension, the new space means that at last the Scottish collection can be be properly displayed. It has been a long time a-coming. For my generation the urgent need to recognise our art goes back at least to the referendum of 1979, when the majority for devolution was overturned by George Cunningham's wrecking amendment. Scottish MP for an English seat, his name should be written in the book of infamy as the personification of Scottish cringe: we were not grown-up enough even for the modest devolution on offer. But it focussed our minds; we were also regularly told at the time that we were a philistine nation with no meaningful artistic tradition. The catalogue of a contemporary British Council exhibition of British art included a map. Scotland sliced clean off, it stopped at Berwick.
Recovering our artistic tradition seemed to be essential to our national self-esteem. We could write about it, but to succeed we really needed our National Gallery onside. The opposite happened. In the 1990s, the then director-general of the National Galleries, Sir Timothy Clifford, sought to banish Scottish art from the national collection altogether. Evidently, for him it was an embarrassment. As I wrote at the time, what he really wanted was neither national nor Scottish, but the International Gallery of Nowhere in Particular. It took a massive campaign in which this newspaper played a valiant part to overturn this dreadful plan. Now, however, Sir John Leighton can justly say that the national collection of Sottish art is shown "with pride and ambition," the distinctive jewel in the Galleries' crown.​
There are 130 works in the new wing, including some sculpture, and another 50 in the old galleries, a significant proportion of the total works on view. A new prints and drawings gallery has also been created, currently showing work by David Allan.​
To visit, ideally you enter from Prince's Street Gardens, though there is also access through the old building. From the garden entrance, a wide, top-lit stair leads to the new galleries. (You have to go up over those railway tunnels.) The first space is squarish and reasonably high. A window shows the galleries that lie beyond and they are a total surprise. Day-lit from the gardens along most of its length, the new space stretches into a mysterious, shadowy distance that, underground, lies beyond the end of the old building. The roof is a bit low initially, but from halfway along with a series of low ramps, the floor slopes gently down. The walls get taller. Spaces open to the right and it ends in a big gallery, tall enough for a double hang. From here a lift and a stair lead up to the old galleries.​
This great new space is devoted to Scottish art, but the hang is not a simple chronological story. Rather, it is a series of themes or episodes that will also be changed over time. This arrangement is important, for even though wider European art is not hung with these Scottish pictures, there is no sense that the story told here is separate. Indeed, not only are major Scottish works still hung in the upper level, but the new Scottish hang also continues into the old gallery upstairs. The link is firmly made: Scottish art is part of the European story, not just some minor affair only of interest to the natives.​
There is some rough chronology, but it is backwards. The first gallery is boldly hung with pictures from the 1920s, the last mostly with the Victorians. As you enter, William Johnstone's great abstract picture, A Point in Time, greets you. Alongside are Cecile Walton's defiant, naked self-portrait as mother and artist, Romance, and pictures by Eric Robertson, Anne Redpath, James Cowie, Robert Burns, Agnes Miller Parker and others. It is a strong display. Then at the beginning of the main gallery come works by the Colourists and others on one wall and by Charles Rennie Mackintosh and the Macdonald sisters on the other. The next section is a wide corridor hung with landscapes on one side and paintings of Edinburgh on the other. Two of Alexander Nasmyth's great views of the city are hung here.​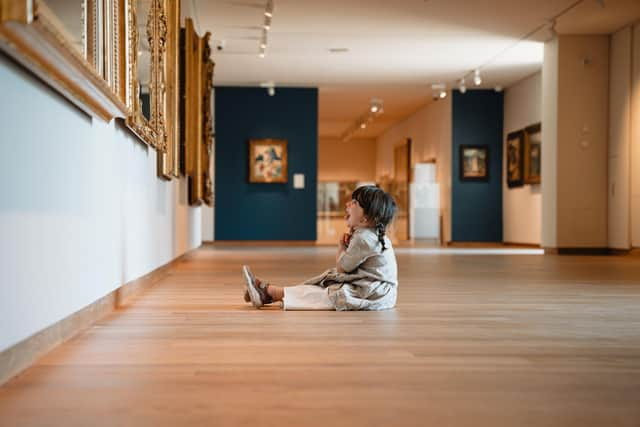 As you proceed, subsidiary galleries open to the right. The first is dedicated to Symbolism and includes Phoebe Traquair's miraculous four panel needlework, Progress of a Soul. Others are given to William McTaggart, the Glasgow Boys and the pupils of Robert Scott Lauder. Scott Lauder himself is represented by his enormous Christ Teacheth Humility, not seen in public for years.​
I have to register a couple of quibbles here though. Arthur Melville is included as a Glasgow Boy. He was not. He influenced them profoundly, but, a pioneer of modernity, he was an east coast painter. Nor was Flora Macdonald Reid a Glasgow Girl, as she is here described. (We would be better without such labels. Really these were all just Scottish artists.) Flora Reid trained in Edinburgh at the Trustees Academy and with her brother, painter of rural scenes, John Robertson Reid. She later moved south. Also, Bastien-Lepage's Pas Mêche, the only foreign picture included, hangs here. Holding a gleaming knife, James Guthrie's stern little Hind's Daughter confronts Lepage's cutesy urchin across the space. Guthrie was not inspired by Bastien Lepage's painting as we are invited to infer. On the contrary, he pointedly challenges its sentimentality. But there is so much here to admire, these are minor complaints.​
The final big space leads off to the right. The first part is hung with great Victorian, story-telling pictures, William Dyce's Paolo and Francesca, and Joseph Noel Paton's two Oberon and Titania pictures, for instance. George Paul Chalmers' The Legend is a star here too. There is also a small display of David Octavius Hill's pioneering photographs. The final part shows the romantic image of Scotland as it is seen in the work of Horatio McCulloch, Alexander Nasmyth, John Knox and others, ending with Landseer's Monarch of the Glen. These artists were much inspired by Sir Walter Scott and his portrait by Raeburn looks on.​
Upstairs the story continues, with a gallery devoted to genre and history pictures by Wilkie, William Allan, David Allan and others. Then, as you pass into the old galleries, you are greeted by Scottish artists, Wilkie, Raeburn, and David Roberts, taking their proper place among the greats. Or you can do it all the other way around. Either way, it is a great experience and, righting a historic wrong, it is a major achievement by the gallery team led by Leighton. He is leaving us, but he certainly goes out on a high.
Comments
 0 comments
Want to join the conversation? Please or to comment on this article.