Peter Howson: Artist inspired by catastrophe he saw coming
He has been one of Scotland's best-known and most troubled artists in modern times.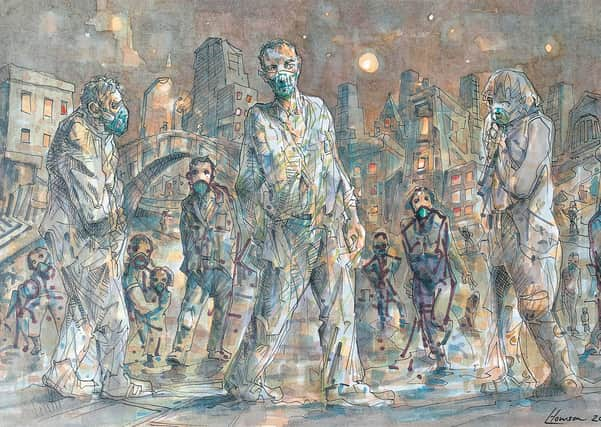 He has been one of Scotland's best-known and most troubled artists in modern times.
Now Peter Howson has told how the coronavirus pandemic has provided him with inspiration to create a major new body of work during the lockdown restrictions.
But Howson, whose work is based on themes of global unrest, religion and mythology, also believes he depicted an ominous warning about the pandemic in a vast apocalyptic painting called Prophecy, which took him two years to complete and was unveiled just over a year ago.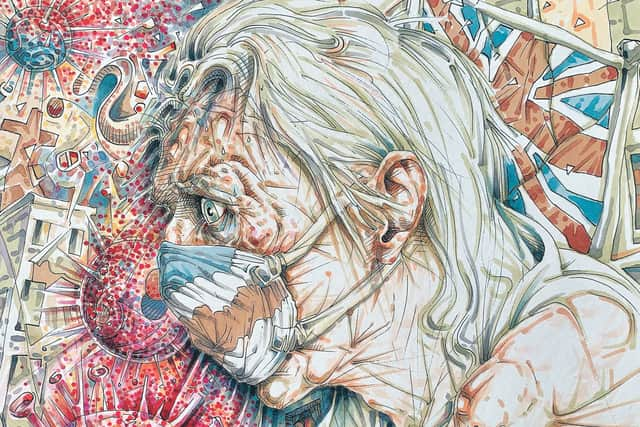 The 62-year-old former war artist, who has had well-documented battles with depression drug and alcohol addiction, said he was enjoying the changes that lockdown had brought and was feeling "inspired" and "blessed" to be able to work every day.
Howson told how he has been getting up every day during lockdown at 4am and working through till 10pm, a routine which is keeping him "sane, stable and even happy".
Brought up in Ayrshire, Howson is represented in public collections around the world, including the Metropolitan Museum of Art in New York, the Oslo Museum of Modern Art, the Tate and V&A in London and the Scottish National Gallery of Modern Art in Edinburgh.
The Glasgow-based artist, whose work has been bought by Madonna, Mick Jagger and Jack Nicholson, has created more than 20 new pieces responding to how much change the UK has undergone in the past two months.
A graduate of Glasgow School of Art, he came to prominence after being commissioned by the Imperial War Museum to be Britain's official war artist to document the conflict in Bosnia and Herzegovina in 1993. He later said the profound impact of his experiences had caused him many years of illness and led to the break-up of his marriage. A TV documentary charted how one of his biggest commissions, to coincide with a visit of the Pope to Scotland, impacted on his mental health.
Howson's new work is the first he has revealed since he unveiled a new painting last year which he created to commemorate the 25th anniversary of the Srebrenica Massacre.
Howson said: "At first I found the lockdown hard because of the change of routine, but I settled down and enjoy the change. I will create work as long as I can in any situation. I have been working pretty hard in recent months. I work long hours because it keeps me sane and stable, even happy. My art is the only thing I do well.
"I have a strict routine, getting up at 4am to draw, and also to write out quizzes and things for my daughter Lucie, who is currently with her mother and brother in the Borders, and I usually work till about 10pm.
"I feel inspired every now and then and I feel blessed to have such a great job.
"When the virus took hold I knew it would affect my work – everything I see or hear about inspires me to produce images. That's just the way I am. I have to be on the outside looking in. That way I can see things clearly.
"I think in my painting Prophecy I saw disaster ahead – a world gone mad, riots, wars, disease and a police station not unlike Orwell's vision in 1984.
"We are decadent in the West and have lost the ability to really change. We are losing our religion and idolising our humanity – which is always a mistake.
"I do not pay that much attention to what the government is saying or doing, I try to see behind their propaganda.
"There are many artists struggling at the moment, just like 83 per cent of the population, but some people, the outsiders and the poor, will struggle even more."
Comments
 0 comments
Want to join the conversation? Please or to comment on this article.