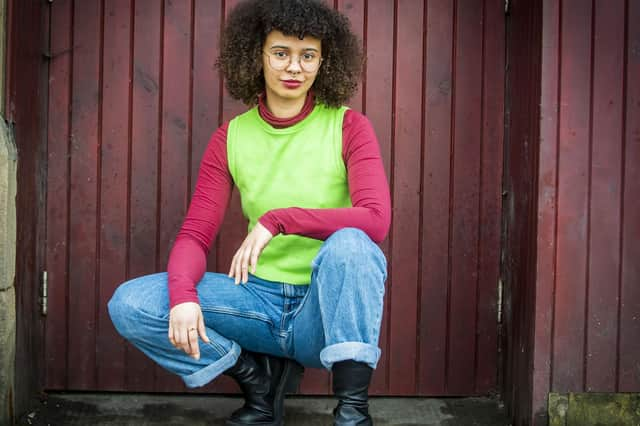 Saoirse Amira Anis laughs a lot. Her laughter bubbles over into our conversation. She says when Eoin Dara, head of exhibitions at Dundee Contemporary Arts, offered her a solo exhibition (opening in May), she laughed. "Honestly, I laughed for about a minute, I was saying 'Eoin, you're just going to have to keep talking, I don't know what to say!'"
The show is a major breakthrough for Anis, 25, who graduated from Duncan of Jordanstone College of Art and Design in 2018, and works two part-time jobs to make ends meet alongside her art practice. But it doesn't come out of nowhere. In the last three years, she has shown work at Jupiter Artland as part of the Black Lives Matter Mural Trail, has been selected for Platform, Edinburgh Art Festival's showcase for emerging artists, and curated Miss(ing) Information, an exhibition by black women artists at Perth Museum and Art Gallery. Last summer, she had her first solo exhibition at Cample Line in Thornhill.
Eoin Dara says: "Saoirse has produced absolutely fascinating exhibition projects at galleries like Cample Line and on major international platforms like Edinburgh Art Festival, and this feels like the perfect moment to develop a major new show with her in the city where she lives and works. We're excited to be bringing her excellent work to DCA in 2023."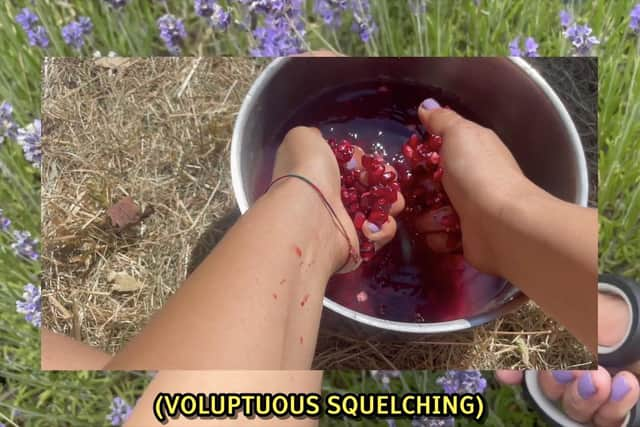 Anis grew up in South Lanarkshire, her father is Moroccan, her mother Scottish. She enjoyed art at school but planned to pursue a career in the sciences or psychology until an art teacher set out to change her mind. Arriving at Duncan of Jordanstone as a painter, she moved into sculpture, installation and ultimately performance.
"We had a project where we were encouraged to use found materials, and I realised how much I enjoyed just sitting on the ground and playing with materials, seeing what would happen. And I realised I spent a lot of time dancing. If I had a space to myself, and had music on, I'd stop and dance for 20 minutes and then go back to making art. At some point I realised, okay, that's also the art."
Now, she works across sculpture, installation, writing, film-making, photography and performance, always looking for ways to communicate the joy of the making process in the finished product, and trying as many new things as possible: "I like being a novice, learning things through doing them."
At the heart of her practice is spontaneity. If she plans too much, she gets bored. "My work is fed by lots of different, disparate things which don't necessarily make sense together, but the creation of the work is my attempt to make sense of all these things," she says. "I pull together history, folklore, things that interest me on television, books and stories and music. Everything I engage with has the potential to find its way into something that I'm making. I get a lot of joy and excitement from that spontaneity, not knowing what's going to influence me next."
There are not many artists who talk so naturally about joy, and Anis is not afraid to be whimsical or playful in her work. She has a performative alter-ago Freedom Princess (a translation of her first two names) and her Cample Line show explored her make-believe country, Freedomia. But this is more than playing dress-up, it's about finding her own freedom, as a young black woman, from the burden of society's expectations and the weight of difficult histories.
Her billboard project for Black Lives Matter, We Can Still Dance, carried the words: "I am not your magical negress. I am my own light and I will be magical on my own account."
"I was talking to a friend about Hollywood tropes and realised I was destined to be a supporting character," she says. "The work was my assertion that I'm no longer going to define myself based on other people's perceptions of me, I want to be the main character in my own story."
The dancing is part of that too. Part of her life since childhood, and used frequently in her work, it is another expression of freedom. "I've always felt like that joy is unmatched, that joy of getting totally lost in the music. It's a bit bittersweet because there's a limit to how much I can dance now with my physical limitations [she has the chronic pain condition fibromyalgia], but that doesn't take the joy out of it."
Anis is one of a number of young black artists who have found their voices in Scotland in recent years – Matthew Arthur Williams, who currently has a solo show at DCA, is another, as is Sekai Machache, who featured in our Ones to Watch edition two years ago. Alberta Whittle, who represented Scotland at the Venice Biennale in 2022, is an important role model and instigator, drawing other black artists into her collaborative practice and sharing the limelight with them.
Anis says: "Sekai took me under her wing and passed opportunities my way as the only other black artist working in Dundee at that time. She said to me, 'Alberta took me under her wing, this is what we do for each other'. We've talked about it as a sort of grassroots nepotism. It's so special to be part of that community."
She describes her career since graduating in 2018 as a series of tipping dominos, each small step leading to the next. On the back of her degree show, she was offered a residency at Scottish Sculpture Workshop in Aberdeenshire, then a performance commission for Dundee's Neon Festival. A film she made after graduation which was shown by Map Magazine was spotted by the curators of Cample Line. Machache's support helped her secure the Black Lives Matter Mural Trail commission.
For her solo show at DCA she plans to create characters which draw on North African, Scottish, Saharan and Hebridean folklore, and make "a costume with lots of tentacles which move about when I dance". But there is a serious edge to this too, the story of a real Moroccan woman who lured Portugese colonisers into ambushes. "I want to reframe evil characters as feminine power, feminine anger. I want to celebrate disobedience, and in the process do something to assuage my own anger."
Because, for all her laughter and warmth, Anis is angry. "And I don't like it. My anger is triggered quite a lot being in Dundee in spaces which are largely white, by injustices that I experience in those spaces. It's becoming impossible to ignore the possibility that those things are race-related. And that inability to do anything about things that hurt me is something I'm just getting f***ing sick of. I think I'm justifiably angry, but I want to find a way to ease how that sits within me."
She has realised, she says, that her art can be both protest and celebration at the same time. "It was really useful for me to realise that in just making work as a black artist and defying expectations or stereotypes, I'm automatically making a protest. Finding celebration within that has always been important. This work is an act of protest, but I like there to be joy in my work. I think, generally, that's what I want people to take away."
Saoirse Amira Anis, Dundee Contemporary Arts, 20 May until 6 August