Cardonald councillors Alex Wilson, Elaine McSporran, Jim Kavanagh and Matt Kerr are collectively working on the project, which they hope can officially begin next month.
They have teamed up with Glasgow graffiti artist, Dan MC of Spraywellmurals and SWAMP [South West Arts and Music Project] to create their first mural on Paisley Road West with a QR code that will feature Winnie Drinkwater from Cardonald, the first ever woman to fly a commercial plane.
The code will allow people to visit an online site and learn more about the history behind the wall painting. Councillors are hoping they will be able to get permission to start soon.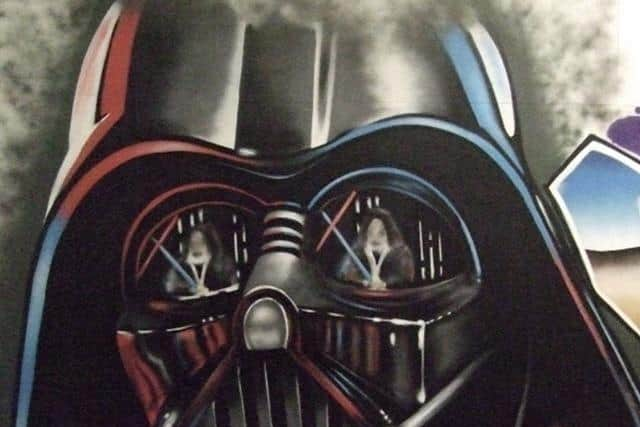 The first subject will be Winifred Joyce 'Winnie' Drinkwater, who lived in Cardonald, and who was just 17 when she qualified at the Scottish Flying School in Renfrew.
Born in 1913, the "exceptional Scot" would go on to be known as one of the most pioneering women of her generation, becoming the first female commercial pilot in 1932, at the age of 19.
Her story was brought to wider attention a few years ago when it featured in an episode of STV's The People's History Show.
Speaking about the project, Cllr Wilson said: "We are going to create around five interactive murals in Cardonald, which will have a QR code on them that links you to a site with the history behind it. There will also be historical clips acted out by the members of SWAMP.
"The first project we want to complete is the history surrounding the first ever female pilot – Winnie Drinkwater – who was a Cardonald resident. She was the first woman to fly a commercial plane and went on to become a big aviator.
"We want to get the airport and schools involved in the programme which will be very exciting for the area.
"Local pupils will then be able to learn about Winnie Drinkwater, who she was and how she was a pioneer for women."
Graffiti artist Dan, who has family connections to Cardonald, said he was excited to design the new murals.
He said: "I think this mural is a great one to start off with as a local hero and role model for the young people of Cardonald and all who pass by.
"Especially the fact that the painting will be interactive, so anyone who doesn't know her story can simply scan the QR code and find out all the information. I haven't seen an interactive mural being painted in Glasgow before, so this will be the first of its kind, which makes the whole project even more interesting.
"I have a strong connection to the area as I have family from Cardonald and spent a lot of time there as a child. The family doctors are right across the road from where the murals are to be painted and my family members are close by. So you can imagine it is a very interesting project to be involved in and I am extremely excited to get it up and running as soon as possible."
Cllr Wilson added: "We are working collectively to bring something good to the area. Cardonald is very much a forgotten ward and doesn't have any real murals apart from the one on Paisley Road West.
"We would like this to be the first of a few murals in Cardonald. This would also be the first mural in Glasgow with a QR code, which will show people the history behind it."