Edinburgh Art Festival director Kim McAleese on her long-term vision for the event
As she prepares to oversee her first Edinburgh Art Festival as director, Kim McAleese runs through some of this year's programme highlights and sets out her long-term vision for the event
I took over as director of the Edinburgh Art Festival at the end of July last year, so this year's event will be the first that I have programmed. Before getting into the details, however, I would like to tell you a bit about myself and my background, because I think that it gives some insight into my approach, and the possibilities for a festival in a special city like Edinburgh.
I was born and raised in the North of Ireland, and have spent my formative years learning what it means to work on the margins, platforming those often overlooked, and having activism as a core part of any practice and approach to being in the world. Being from Belfast means that you are always fighting to be heard, and pushing against restrictions and legislation. From my short time in Edinburgh and more broadly in Scotland, I think this will have real resonance here.
Audiences have always been important to me, and I feel like any responsible and ethical artistic organisation or festival has a huge civic role to play. The power that we wield is enormous, and with that a consideration of who gets the right to speak and why is a core concern. With that, I have spent the past 11 months listening, reflecting, absorbing and sharing with Edinburgh. Our 19th festival in 2023 will be the start of a new approach to working with artists, audiences, partners and people and is a chance to explore new places in the city if you have lived here for a long or short time, or see them through the lens of visual art if you are visiting for the summer season.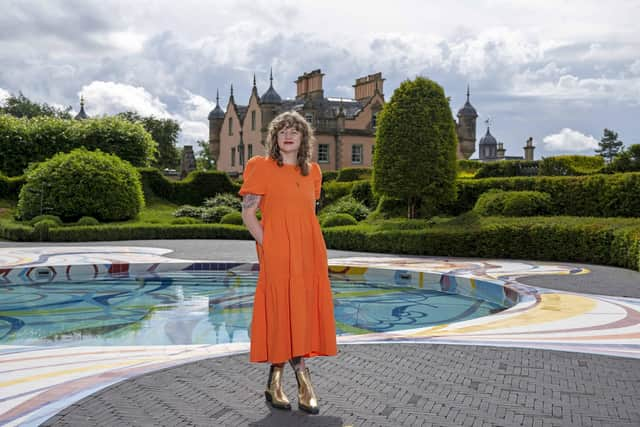 I want to ask "What could a festival look like that is rooted here and connects to people in the city and is also balanced with a critical and nuanced global dialogue?" In arriving in the city, I have spent a lot of time reflecting on the world that we are living in and how we operate. An important part of that is remembering that we are all human, and we are vulnerable, and we all need connection in our lives. What are our support structures, and how can we find solace in one another? This is what I want to bring to the Art Festival: that we embody generosity and welcome people in, to be part of this process with us.
The things I have been considering for our future include that we will work with artists, communities and collaborators in the development of creative work and conversations. Ensuring the success of these requires us to be led by our values, and to live them across everything we do. We will nurture vision from artists at all stages of their careers, with care and support. We will work with communities and collaborators in the development of creative work and conversations. We will cultivate connection, with and between artists, communities, programming partners and funders with generosity and humility. We are actively interested in progressing equity, in the projects we produce and the ways we work with commitment and empathy. We want the work that we produce to have a social relevance, and be unafraid to address the difficulties with the world in which we live.
Within our programme, we will work across the following main areas. Festival Projects: we will curate, develop and produce works with artists that connect with audiences locally, nationally and internationally. We want to challenge artistic, political and social conventions. Civic engagement: we will develop and deliver an ongoing series of annual programmes, located in our city at the intersection of art and activism. We want to platform underrepresented histories and stories: of queer communities, of women, of those from the global majority, people with disabilities or long-term health conditions, people from low socio-economic backgrounds, and people facing intersecting barriers. Platforms: we will make space to uphold Scottish-based practice and expertise. We will develop projects with early-career practitioners across many art forms, and recognise the talent in our region, while giving opportunity for national and international relationships.
What can you expect from this year's festival? I would like to share a few highlights. At the French Institute we are presenting Sean Burn's Dorothy Towers, a film telling the story of the legendary Clydesdale and Cleveland Towers, two residential blocks in the centre of Birmingham, UK. Completed in 1971 as a social housing development and located adjacent to the city's Gay Village, the towers' proximity to the community means they have long been a haven for queer people. This will coincide with workshops and discussions on Edinburgh's queer histories throughout the festival, with partners including the Lothian Health Services Archives and Lavender Menace Queer Books Archive.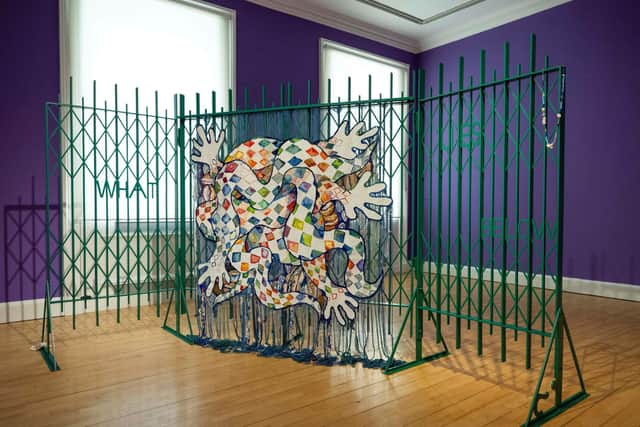 We launch the festival this year on 11 August at the Queen's Hall, with the world premiere performance screening of a hybrid opera-film History of the Present, by Irish artist and writer Maria Fusco and Scottish filmmaker Margaret Salmon, with new sound by composer Annea Lockwood. Semi-autobiographical and set in Belfast, it forefronts working-class women's voices to ask: who has the right to speak and in what way?
This year, with the support of the British Council, we have invited the collective Haven for Artists to spend time in-residence during the festival with a programme of activities, connecting with local organisations and initiatives. Based in Beirut, they are a feminist led group of people working creatively in Lebanon at the intersection of art and activism. They will launch the festival with an opening provocation with Array Collective, who won the Turner Prize in 2021, and who use similar methods in Ireland.
We also launch a brand new commissioned performance in Parliament Hall off the Royal Mile, with last year's Scotland + Venice artist Alberta Whittle in partnership with National Galleries of Scotland and Forma. In this new performance, in the buildings housing the Supreme Courts of Scotland, scenes and moments from Lagareh – The Last Born film (being shown at NGS), will be re-enacted and reconfigured, encouraging the audience to continue to think about the poetics of abolition and how love and grief can become healing forms of release. This will coincide with the Scotland + Venice selected artist's major solo exhibition, create dangerously, at the Scottish National Gallery of Modern Art.
EAF is nothing without its partner galleries in the city, and this year we are working closely on some very special co-commissions. We are partnering with Talbot Rice Gallery on a young persons workshop through the artist Jesse Jones' project in the gallery, with Collective on a queer poetry performance with the French Institute, as well as a series of feminist architectural events with Fruitmarket, and a one-day free party, JUPITER RISING, at Jupiter Artland on the outskirts of the city, co-curated with Bonjour, a workers collective from Glasgow.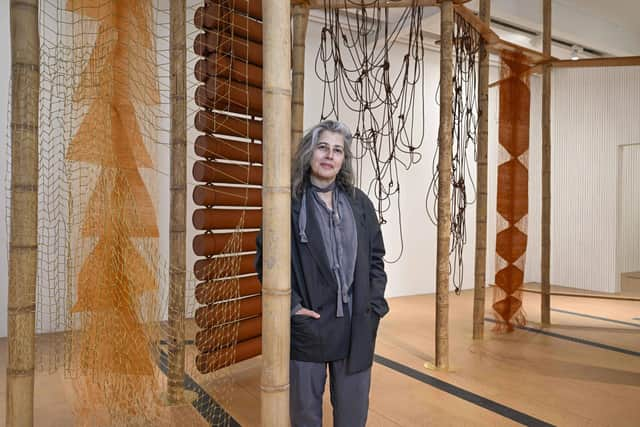 In the Old Town, Talbot Rice Gallery present Lawrence Abu Hamdan's film 45th Parallel, which considers structural divides in the Haskell Free Library and Opera House – a unique municipal site that straddles the jurisdictions of Canada and the United States, dividing the library collections and creating the only cross-border theatre in the world, where the audience and actors are in different countries. This is shown alongside a solo show by Jesse Jones, whose work The Tower calls us back to a moment of feminist possibility before the European Witch trials by channelling 13th century mystics in a monumental, durational performed installation.
Delving into the ideas of space and architecture at Fruitmarket is Portuguese born, Berlin based artist Leonor Antunes. Markéta Luskačová is considered one of the most critically acclaimed Czech social photographers to date, she has photographed children in the Czech Republic, Slovakia, and also Poland since the 1960s and this aspect of her practice is a focus in an exhibition at Stills – her first ever solo show in Scotland.
Meanwhile, a major retrospective of one of the UK's leading figurative painters, Peter Howson, takes place at City Art Centre. At Dovecot Studios they present their major exhibition Scottish Women Artists: 250 Years of Challenging Perception with The Fleming Collection, with works by over 45 pioneering women artists including Rachel Maclean, Sekai Machache, Joan Eardley and Alberta Whittle. To the west of the city, Jupiter Artland hosts Lindsey Mendick, who crafts everyday scenes in ceramic with intense attention to detail.
This year we are also working across the Book Festival and the Film Festival to present a series of Sunday Salons. Each Sunday afternoon, we will host a lineup of artists working across literature, film and art to talk about the finer details of their work and practice in an intimate setting. We are also partnering with the Deaf Festival on a series of events that will be BSL specific.
Over the past couple of years we have been working on a wonderful civic engagement programme, which is an all-year-round, dedicated, deep and slow process of getting to know communities in the city. This is something that has informed what we do and how we co-create, and going forward our commissions will be very much led by this, because that process has been so transformative.
Over these past 18 years, the Edinburgh Art Festival has achieved so much, and I am so excited to share this year's programme with you as we turn 19. Stay tuned for 20.