The Local Hero Festival is due to run for three weeks next month in Banff, where part of Bill Forsyth's 1983 comedy-drama was filmed. Organisers approached Glasgow-born Knopfler, who wrote the film's soundtrack and the songs for the stage adaption – Local Hero The Musical – to ask if they could perform some of his music.
In an email, seen by The Scotsman, permission was granted from the Sultans of Swing star for the festival to obtain rights to several of the songs.
David Greig, who co-wrote the musical, which ran for 12 weeks at Edinburgh's Lyceum theatre in 2019, said: "It's a pretty big thing because Mark doesn't let people do covers of his songs. He loves the film, and he felt that it was nice to be able to contribute to celebrations of it in some way.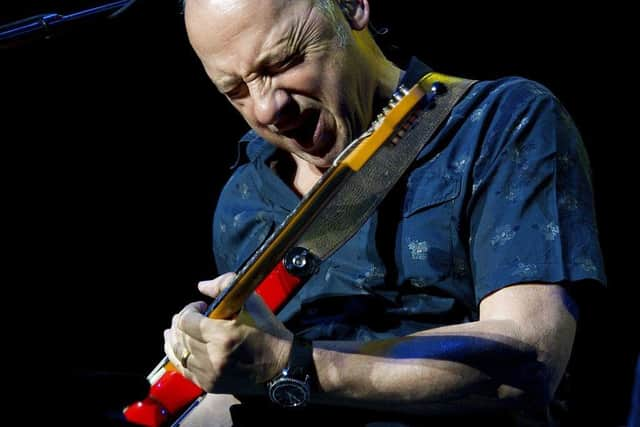 "It's great that a local festival can have rights to perform a few of the songs."
The festival's director, Andrew Mellon, said the tracks being performed at the event are yet to be confirmed, but Knopfler's "Only Rocks and Water" is on the list.
"Knopfler is so protective over his music, so it's just fantastic to be given this world exclusive," Mr Mellon said. "The songs will be performed by a newly-curated local theatre company that has been put together or the festival.
"We have some great talent that has come from a national casting call that we did."
Mr Mellon said the festival will have been organised in five weeks. "There was chit-chat about doing something, but not much action, so I just got this going," he said.
The festival website shows a range of options for tickets including wristbands for £2, £25 for the Mark Knopfler concert series, and £35 for a festival ceilidh.
Mr Mellon said wheels were in motion with Aberdeenshire-based Little Brown Dog Spirits to create a bespoke gin and a collection of McDuff single cask whisky for the event.
Outlandish Brewing Company is said to have partnered up with the Pennan Inn to create a "Local Hero Brew". The festival is due to run from May 6-28.