Did Sir Henry Raeburn really paint the Skating Minister?
A leading art historian has insisted that more evidence is needed to determine if Scotland's greatest portraitist really did paint The Skating Minister.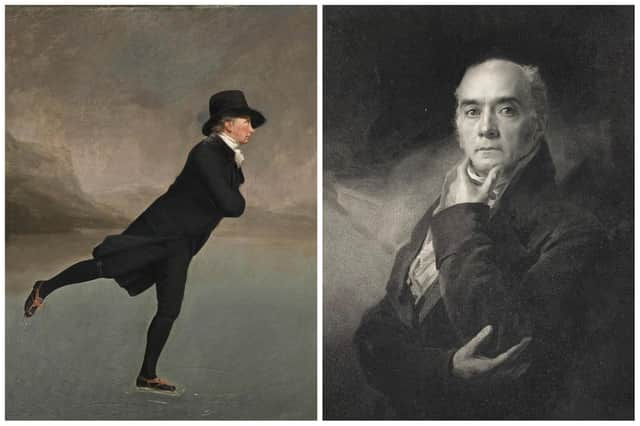 It is considered Sir Henry Raeburn's most famous painting and an icon of the Scottish Enlightenment, but did he really paint The Skating Minister.
Raeburn is believed to have painted The Reverend Robert Walker Skating on Duddingston Loch - often known simply as The Skating Minister - around 1795.Raeburn and the Rev. Walker were friends, and when the minister died in 1808, Scotland's finest portrait painter was a trustee of his estate.
But Viccy Coltman, Professor of 18th Century History of Art at the University of Edinburgh, told the National Trust for Scotland's (NTS) latest Love Scotland podcast she believes it remains unclear whether it is really Raeburn's work.
The famous oil painting was passed down through Walker's family for over a century and remained virtually unknown until 1949, when it was bought at auction by the National Gallery of Scotland, where it is currently on display.
Prof Coltman told host Jackie Bird: "Did he paint The Skating Minister? I think that at this point we simply don't know and we have to wait for further evidence to be revealed.
"I'd like to think it might be by Raeburn because it has such a place in the National Gallery's collection and in the hearts of many Scots, but I do think we need to find more evidence."
The 200th anniversary of Raeburn's death is being marked by an exhibition of his work at National Trust for Scotland's Georgian House in Edinburgh.Paintings and engravings have been selected from the collection of the National Trust for Scotland (NTS) at its properties including Craigievar and Fyvie Castles, Alloa Tower and Hill of Tarvit.Prof Coltman, who has edited a book, Henry Raeburn, Conext, Reception and Reputation, said Raeburn should be recognised for a wider range of his paintings.She said: "Raeburn is, it is fair to say, Scotland's greatest portrait painter of that period. He doesn't have a lot of other competition within Edinburgh -- he is the master."What is often said is that he is so technically good that people feel that his portraits are real people -- people get a real sense of the three dimensional historical sitter."His working career was about 40 years and we think there were possibly as many as 1000 canvases. Nobody has published a complete catalogue of his works -- it would be a life's work. He was hugely prolific but it seems to be that we only really know Raeburn through a few particular canvases."The Rev Robert Walker was a Church of Scotland minister born in 1755. The son of the minister of the Scots Kirk in Rotterdam, Robert is thought to have learned to skate on frozen canals in the Netherlands.
Comments
 0 comments
Want to join the conversation? Please or to comment on this article.