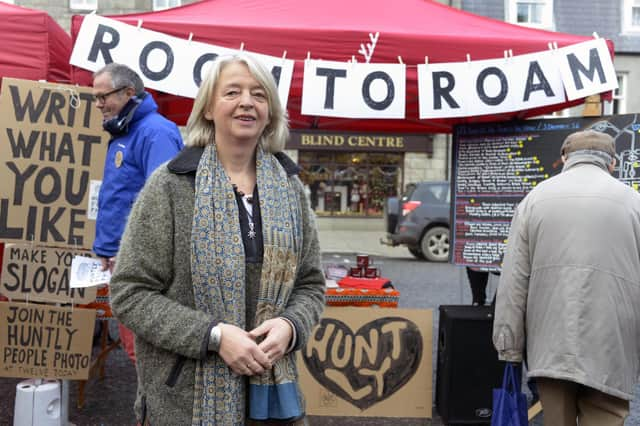 Through the narrow window of Claudia Zeiske's office, light fades on Huntly's town square. The impressive granite buildings of this once prosperous market town now bear the signs of small-town decline: closed shops and withdrawn services. On a winter afternoon, there is barely a soul about.
However, Huntly (population 4,400) is home to one of the most interesting arts organisations in Scotland. For 25 years, Deveron Projects (originally Deveron Arts) has been bringing acclaimed artists and musicians from around the world to the town to take part in projects with local people. It doesn't make major exhibitions or stage large-scale performances, but pioneers community-building through engagement with the arts.
The driving force behind all this is Zeiske herself, a German national who has lived here sine the mid 1990s. Energy fizzes around everything she does; even the pot of tea she makes for us seems to materialise on the table at speed. Her drive and determination has made Huntly, a town with little affluence or appetite for the arts, into a model for cultural engagement which is now studied across the country.
After 25 years at the helm of the organisation, Zeiske is standing down this winter. Usually, she avoids the spotlight. Today, she is reflecting quietly on the last quarter century. "I have mixed feelings, I can't deny that. I had a really good time. I'm really grateful that I had this opportunity in my life to meet artists, I just think they are the most interesting people in the world, they really open your mind."
Zeiske says she "slipped into the arts". She studied anthropology in Berlin, worked with the British Refugee Council to start a counselling service for torture victims in London, then ran international human rights networks for a major Dutch NGO. When her British husband got a job in the oil industry in Aberdeen and they moved to Huntly with their children, she feared she had washed up in a "cultural backwater".
With two like-minded friends, she started Deveron Arts. "At the very beginning, we wanted to do an arts centre, as one does. But we did a feasibility study which showed it was not feasible! It was disappointing at the time, but that was our big advantage, because I think we would be long bankrupt by now. So we invented this idea of the town as the venue."
An alternative approach took shape organically. Aberdeen-based artist David Blyth came to the town on a short residency. A year later, Deveron was awarded a small pot of funding by Creative Scotland. A pattern developed: three-month residencies based around themes generated by the community.
"We never invited artists who have a studio practice. I discovered what interested me was when the artist worked with other people. Also I have this anthropological idea that you always listen well to your community, you find out what they need, what their concerns are. And then we would match the artist with this need."
The art involved was rarely painting or sculpture, it was art as tree-planting, bread-making, walking, cycling, learning new skills. The issues were local, but often reflected much bigger themes. From the start, Deveron was doing 'act local, think global'.
Time and again, the organisation not only chose timely themes but anticipated much larger discussions. Artists worked on wind farms, the challenge of big retail, the credit crunch, the impact of Brexit. Deveron was one of the first arts projects in Scotland to commemorate the First World War, with the planting of the White Wood, "a living monument to peace", and celebrated the legacy of Nan Shepherd long before her recent reappraisal.
Over 25 years, Zeiske and her team have hosted 100 artists, and most have left a piece of work behind, meaning that Huntly now has a significant art collection (not in a single venue, but in the pub, the leisure centre, the library, the car repair shop). When Zeiske secured the participation of world renowned artists like Hamish Fulton, Richard Long and Roman Signer, the art world started to sit up and take notice.
In 2008, Deveron took on the challenge of developing a new brand for the town. In his research, South African artist Jacques Coetzer happened upon a poem by Huntly-born writer George MacDonald, Room to Roam, then connected with Mike Scott, the lead singer of folk-rock band The Waterboys, who had set the words to music for the band's 1990 album. Room to Roam became the town's brand, appearing on the local roadsigns with Coezter's logo and a new coat of arms. Mike Scott "gifted" the song back to the town with a special community performance.
Zeiske says: "I think that was quite a breakthrough for us. It was risky, it would have been really difficult if people had not embraced it. But this worked - there is an annual run which is called Room to Run, and there is a strategy which is called Room to Thrive, it's just used all the time."
In 2013, Huntly received Creative Scotland's Creative Place Award, which included a grant of £100,000. "And following that I became the Citizen of the Year. At first I was quite embarrassed, but then it was quite fun and useful, and you get your name in golden letters in the Stewart's Hall!"
Deveron's work hasn't been without opposition, she says. "The one thing that people mostly complain about is you get public money, and Huntly is quite a poor place. People don't necessarily understand that if we don't apply for this money it wouldn't come to Huntly, and also it won't go into the health budget or the social work budget."
When covid-19 hit, instead of closing their doors like many arts organisations, Deveron Projects went into overdrive. "I can't deny that it was very hard, but we thought 'maybe we're needed right now'." They started making face masks, set up an honesty shop to exchange local produce and a heritage bakery. The annual Slow Marathon took place online, led by Scottish-based Iranian artist Iman Tajik, with participants all over the world donating their lockdown walking miles to walk the circumference of the earth.
Zeiske's own passionate interest in walking has shaped several of Deveron's projects, and in 2017, after the Brexit referendum, she undertook a major walking project of her own. "I found the vote very upsetting, having done work here for such a long time. I think, when you come from a different country and you are confronted with Brexit, you really don't know where your home is. It wasn't a question I had asked myself before, and suddenly you feel you have to justify that. So I thought, I'll walk from my home in Huntly to my childhood home where my mother lives, near Munich. It took 90 days, and I loved every day of it."
Last year, against all expectations - Zeiske's included - Deveron Projects bought a building, after securing a £270,000 grant from Scottish Land Trust. "I was always against buying a building. But the town is in need of regeneration, and the Room to Thrive strategy said we should try to bring the town centre into community ownership." The building is currently being refurbished to create a community hub. "Not an arts centre!" she adds quickly.
After 25 years, Deveron Projects' longevity is the biggest testament to its success. "Everything is closing, the tourist information has closed, many shops have closed, the post office moved into very small premises. All these services are cut, and somehow we're still here, it shows there is still a need for something."
In the arts now, 'place-making' is the new watchword, and once again Deveron is ahead of the curve. "Our project officer at Creative Scotland said place-making is the total in-vogue term now." She smiles. "I said, 'Oh I think we invented it 20 years ago'."
A message from the Editor:
Thank you for reading this article. We're more reliant on your support than ever as the shift in consumer habits brought about by coronavirus impacts our advertisers.
Joy Yates, Editorial Director