Art reviews: The Scottish Landscape Awards | Borrowed Land | Forty One Point Five
Two new exhibitions of contemporary landscape art complement each other very well, writes Duncan Macmillan
The Scottish Landscape Awards, City Art Centre, Edinburgh ****
Borrowed Land, Kilmorack Gallery, Beauly ****
Forty One Point Five, 6 William Street, Edinburgh ****
The Scottish Landscape Awards is a welcome new initiative by the Scottish Arts Trust and its first exhibition is being held in the City At Centre in Edinburgh. The Awards were and will be open to anyone over 16, born, living in or studying in Scotland. Nearly 3,000 works were submitted and after a mammoth selection process chaired by Barbara Rae, they have been whittled down to 133. In her introduction, Rae invites us to "leave all preconceived notions of Scottish landscape art at the door." She also explains that the awards as conceived by the Scottish Arts Trust aim to encourage an environment where landscape is a springboard for investigation, experimentation and discourse. "We wanted to be surprised, shocked," she writes, "to see something that arrested us with its skill, insight, humour, sensitivity – to see something we had never seen before."
The work is certainly diverse, although in spite of the challenge to be different, the majority are pictures recognisable as landscapes and often of recognisable places. Clive Ramage, for instance, has a big, stormy etching of Dunnottar Castle which takes an honourable place in the long tradition of landscapes of historic places. Gregor Smith has an even stormier etching of the Ross of Mull, while Gregory Moore's etching, Cumulus, of the wind farm on Eaglesham Moore, brings such imagery up to date, as Hugh Kirkwood does too with a big painting of an oil rig in the Cromarty Firth.
The winners of the major prize, the £10,000 Lapeca Scottish Landscape Award, Kate Davis and David Moore, however, go back to the very beginning of Scottish landscape imagery. Their joint submission is a picture of the Bass Rock. Dating from around 1560, an image of the Bass in an engraving by Pieter Brueghel is the very first identifiable Scottish landscape and the Bass has been a popular motif ever since, so these two artists have placed the Awards squarely within that tradition. They also work a unique riff on it, however, while making another striking link with the past. Their haunting image is made from woven strips of sheet music from an eighteenth-century collection of Scottish songs. David Herd was one of the very first collectors of Scottish folk songs, and in his Scots Songs, published in 1769, made the connection between landscape and music when he wrote that Scottish song derived its distinction in part "from the romantic face of the country." (Coincidentally, another David Herd has a painting in the show, painting of an abandoned airfield building.)
The second prize was awarded to Lennox Dunbar for Island Storm, a near abstract, fragmentary image that, he says, is a reflection on recent storms and changing weather systems. The third prize went to L.U.C.A, by Kiera Walsh. An extraordinary spiky, three-dimensional creation made from brightly coloured beads and other things, it represents, she says, her vision of the Last Universal Common Ancestor, a very loose interpretation of landscape indeed. More recognisable as landscape is the big painting that has won the City of Edinburgh prize, Robbie Bushe's Reimagining the Civic Survey and Plan for the City and Royal Burgh of Edinburgh. It is a bird's eye view of Edinburgh, showing what it would have been like if all the multi-lane flyovers and underpasses slicing up the centre of the city, seriously proposed in that appalling plan, had been carried out. Forgotten now, fortunately very little of this monstrous vision was realised, but its mere existence afflicted the south side of the city with planning blight for years. Happily, the City of Edinburgh Award is a purchase prize. As the artist remarks, "I'm delighted that what was conceived as a planners' nightmare will now be in the city's permanent art collection" – a warning to future generations of the dangers of planners' hubris.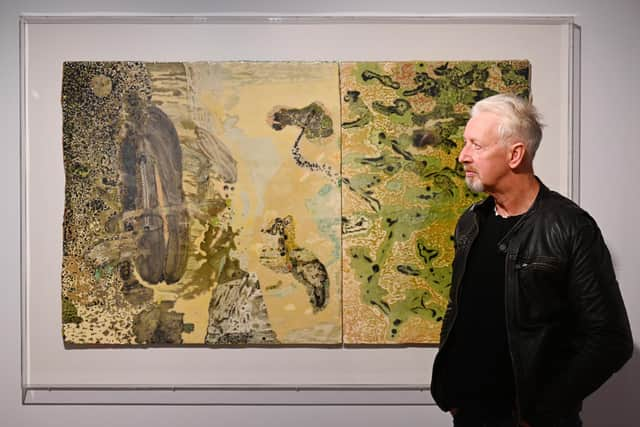 There are also a number of other awards. The Photography Award goes to a magnificent photo by Lindsay Robertson of Dialbeag-Isle of Lewis. It is such a stormy scene of rocks and breaking waves that you wonder how it was taken. The Sculpture Award goes to Lorna Fraser for Rising from the Cracks, an exquisite image in delicate porcelain of tiny plants finding their way through the cracks in a pavement. The Environmental Award goes to Magi Sinclair for Flow Mist Rising, an image of bog and water in the Flow Country drawn with peat ash and carbon, while Daira Ronzoni wins the Young Artist Award with an extraordinary creation in virtual reality.
There is of course much else to admire and in many different forms and media. Jean Gillespie, for instance, has used peat as a medium on Japanese paper, twisted into intriguing three-dimensional panels as it dried. Towards Luskentyre is a beautiful monotype of sand, breaking waves and blue water by Marion MacPhee, and Fowlsheugh Loonery is a wonderful image of a seabird colony by Chris Wallbank. Particularly striking, however, is Thirty-six Views of Schiehallion (after Hokusai) by Alexander and Susan Maris. It is a set of photographs of Schiehallion from a fixed viewpoint as light and weather change, the mountain's conical form echoing Hokusai's Mount Fuji.
Inevitably there is a lot of film – too much to my mind. Film does not sit easily in a show like this. You can judge a static work of art pretty quickly and always go back to it, but even bad film demands your time to make a judgement. The organisers have also made the films available online, however, which does make them easier to see. The outstanding film that I watched, however, Oceanus, by Elizabeth Ogilvie and Robert Page, is a big projection of waves breaking on a seashore that really does need scale.
Borrowed Land at the Kilmorack Gallery near Beauly in Inverness-shire is a show on a similar theme with work by 21 artists chosen by Tony Davidson, the Gallery's founder and director. The works, he says, are "not beautiful scenes but love letters to the wonders around us." The show is called Borrowed Land because the land is not ours. We only hold it in trust, but many of the works here are celebratory, nevertheless – Ade Adesina's capercailzies, for instance, (Adesina is in both these shows), Peter Davis's skies made of veils of colour, Lizzie Rose's moon seen through trees, Janette Kerr's stormy sea. These are paintings but there are also Allison Weightman, Patricia Shone and Lottie Glob's ceramics made from the land itself. Altogether, these two shows, both celebrations of landscape, complement each other very nicely.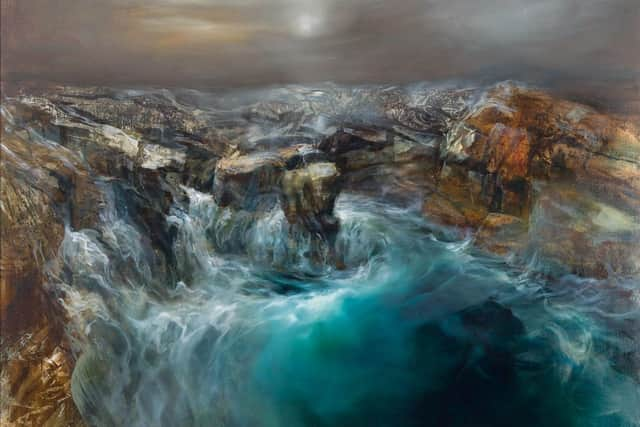 Finally, 6 William Street, a new initiative in Edinburgh, is also reason to celebrate. It is a new photography gallery, bookshop, publishing house and workshop for photography, all in elegant premises in Edinburgh's West End. The project is the initiative of Studies in Photography, chaired by Alex Hamilton, but is in partnership with AGITATE, a more recent photographers' organisation. Volunteers from both organisations will staff the gallery. Studies in Photography was founded 40 years ago and AGITATE a year and half ago, so the title of the opening show, Forty One Point Five, is the sum of those two figures. The show begins fittingly with a homage to pioneers Hill and Adamson, but consists mostly of work by such contemporaries as Patrica and Angus Macdonald, Wendy McMurdo, Sekai Machache, Frances Scott, Izzy Leach, and Pradip Malde. It is a promising initiative. May it flourish!
The Scottish Landscape Awards until 3 March; Borrowed Land until 2 March; Forty One Point Five until 24 November