RSA Annual Exhibition, Royal Scottish Academy, Edinburgh ****
Ian Westacott: Meetings with Trees, Brown's Gallery, Inverness ****
The RSA Annual Exhibition currently on view in the building that bears the Academy's name is the 197th. The bicentenary is getting close. We look forward to a bumper year in 2026 when the newly elected president Gareth Fisher should still be presiding. The current exhibition looks very good in the galleries, but it can now also be seen online. This was an innovation driven by necessity. In 2020 the Annual Exhibition had to be cancelled because of lockdown, although it was already on the walls, but with astonishing rapidity the gallery team published the whole thing on the RSA website. That has now become a welcome feature of the annual show, but it has also been a way of enlarging it. The exhibition has open submission and hopefuls send in work from all over. Previously the rejects would be lost without trace, but the show's online presence means that works that didn't quite make it onto the walls can still be seen.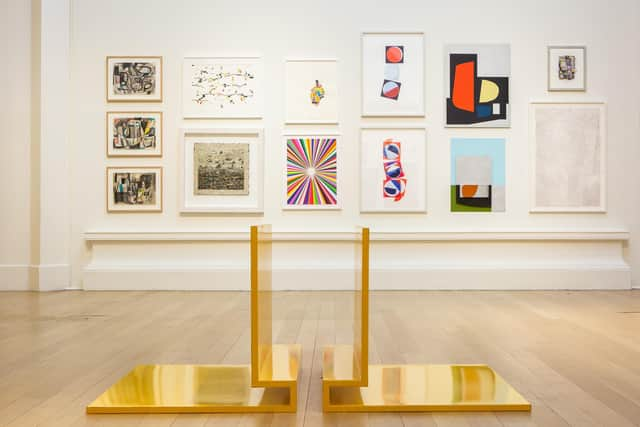 Even so, with more than 400 works on show the physical exhibition is already very large, but convenor Stuart Mackenzie and his team have done a brilliant job. The exhibition doesn't feel cluttered in spite of this weight of numbers. A number of really big works provide a kind of visual gravity. An enormous work by Ross Sinclair, for instance, with an equally enormous five-line title that could be summarised as "a picnic blanket for the Real Life Nuclear and Philosophical Ramblers of Faslane" is so commanding that even though it is in one of the back rooms it still has a significant presence in the main gallery.
Another unifying feature of the show is the way that in quite a number of cases works by individual artists have either been grouped together, or have been made to be seen as groups. In the central gallery, for instance, Stuart Mackenzie has four variations on a single enormous fish, a coelacanth. All the same size, executed in monochrome oil on paper and hung close together they make a powerful statement. Elsewhere Mackenzie has two herons in a similar arrangement. Leon Morrocco's two large paintings, one of mountains in the South of France and the other of a house and a topiary tree in the same part of the world, do gain enormously from being side by side. Similarly a small group of Henry Kondracki's pairings gain from this arrangement. Kondracki's works include a big picture of Monet painting in his garden in a touching tribute to one of his heroes.
A striking example of the impact of this grouping of works by a single artist is a set of four exquisite photographs by Norman McBeath. Because of the grace of the images they are aptly called Sarabandes. Plants or flowers, apparently slightly desiccated but still touched with colour float against a matt black ground. This really is photography taken to a new level of art. In a very different mood, veteran artist Ian McCulloch is showing a set of four spectacular wild paintings.
Some of these groups have, however, been presented as a single work by the artists. Ade Adesina and Florence Poirier Nkpa have a set of big limocuts called Meta'phyisique 1-10. Their title suggests that they were intended to be seen as group and they certainly gain from being hung together. Doug Cocker likewise has 24 small wooden sculptures hung together in an arrangement that presents them as a single multi-part work. Cocker has it both ways, however, for they are nevertheless for sale individually. Jim Pattison has a similar arrangement with a group of 12 paintings showing in profile examples of the mysterious carved stone balls that have been found in a good many Scottish historical sites. The paintings are hung in a block, but they too are for sale either all together as a single work or individually. But Leena Nammari beats all comers in this game with a thousand-piece work. I didn't actually count them but the work's title is A Thousand Protectors and it consists of a very large number of the blue and white ceramic eyes of the kind that are made as protectors against the evil eye. It is a massed arrangement, but the eyes are all fixed to the wall individually.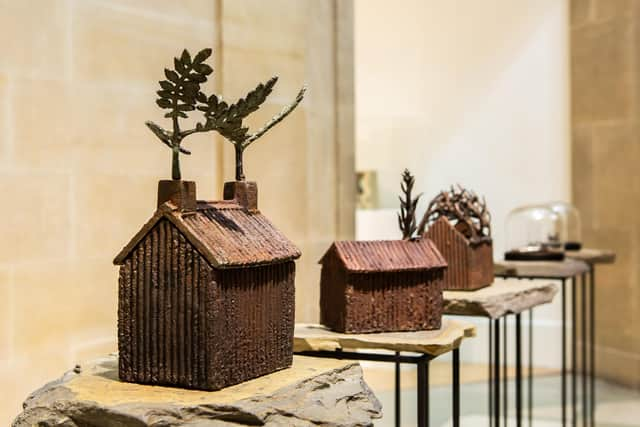 Not everything is hung this way of course and there are plenty of striking individual works. In the central gallery, a large painting by Jock McFadyen, for instance, shows Mont Blanc big and white against a deep blue sky, but, in a bizarre juxtaposition, beneath the mountain a low line of buildings is identified in the picture's title as Bethnal Green. At the other end of this gallery Adrian Wiszniewski's big painting Diaspora makes a powerful statement with its combination of strong drawing, complex composition and rich and commanding colour.
Though working here on a smaller scale, Toby Paterson is always an interesting artist. Teetering Megastructure is an austere, diagrammatic black and white print of some piece of modernist architecture tipped giddily off the vertical. Two other works hanging together, Penumbralism Redux and Oversized Proposal are acrylic on aluminium and pay homage to the clear design and consciously modern materials that reflected the optimism that briefly followed the Second World War.
In Battle for Bridge over Stockbridge Colonies (Post Abercrombie Plan) Robbie Bushe reflects on a different aspect of the same moment in history, the megalomaniac traffic planning that ruined so many towns and cities. Edinburgh only narrowly escaped one of the most grotesque of these schemes. In a big, spectacularly crowded picture, Bushe paints a monstrous bypass marching over the crowded city. The tanks are out to quell the citizens' justified unrest. The crowding in the picture works though, because all the mass of detail is somehow executed very freely while remaining coherent. It is a tour de force. In a similar mood, Robert Powell's Banquet is a wonderful vision of festivities in Dystopia, but it is paralleled in three dimensions by Kjersti Sletteland's Rumination Tango. Made in polychrome porcelain, it shows a worried face peering out of a confused pile of objects and strange creatures.
The RSA president Gareth Fisher has three works including a beautiful bronze of Darwin's Crossbill Finch and an elegant standing figure also in bronze in homage to Caspar David Friedrich's Wanderer above a Sea of Fog. A similarly life-size standing figure by Mark Bowman looks like marble but is made of polished, laminated plywood. Victoria Crowe has a striking painting of a scarlet tree against a scarlet cloud and a dark sky, but she also has several prints on view including Resilient Tree, Rising Moon which is especially lovely. Trees are the constant theme of Ian Westacott's prints. Nigg Pine here is a beautiful example. There is of course a great deal more to admire here and I did especially like Jessica Harrison's Marble Statue of Beautiful Naked Girl Greek 5, not a naked girl at all and not marble either, but a white porcelain replica of a figure encased in plaster ready to be cast in bronze.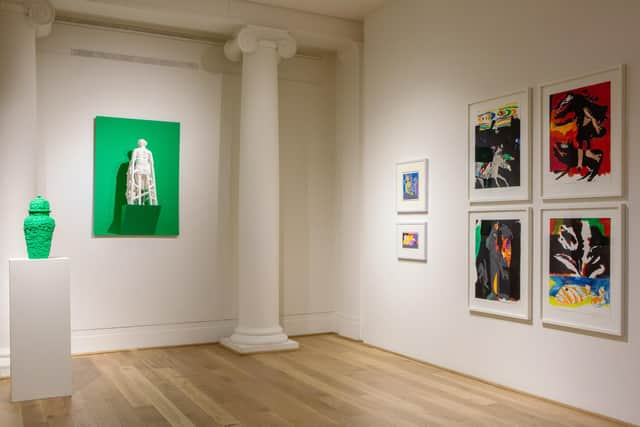 Finally, I would also to take this opportunity to report a piece of good news for art lovers in the north. Gordon Brown whose gallery has been such an ornament of Tain for so many years has opened a second gallery in Inverness. It is a beautiful space, centrally placed in Castle Street, and the current show there is in fact more of Ian Westacott's wonderful etched portraits of Highland trees.
RSA Annual Exhibition until 11 June; Ian Westacott: Meetings with Trees until 27 May