Art reviews: Pat Douthwaite | Latitudes | Rare Prints and Monotypes
Pat Douthwaite may have lived through the Swinging Sixties, but her work always remained rooted in the darker shades and subject matter of the immediate post-war years, writes Duncan Macmillan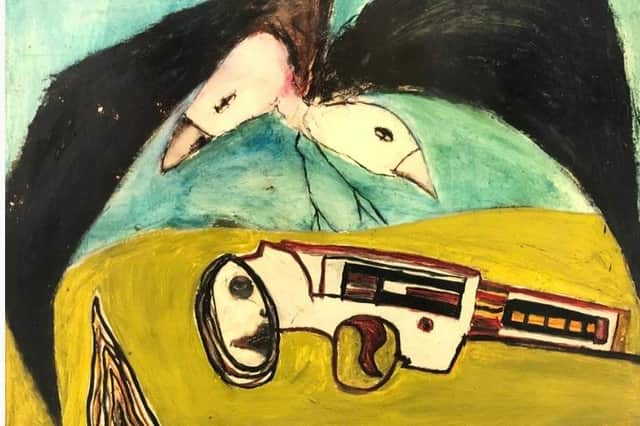 The Funeral, by Pat Douthwaite
Pat Douthwaite: On the Edge, Scottish Gallery, Edinburgh ****
Latitudes, Royal Scottish Academy, Edinburgh ****
Rare Prints and Monotypes, Royal Scottish Academy, Edinburgh ****
Yellow Hair, by Pat Douthwaite
Pat Douthwaite: On the Edge is online at the Scottish Gallery. Douthwaite was an outsider, at least she was resolutely non-conformist and lived an apparently rootless, peripatetic life in keeping with that role. Nevertheless, her art chimes closely with the bleak mood of the postwar years in which she grew up. She shares common ground with the tortured vision of older contemporaries like Graham Sutherland and Robert Colquhoun, although always with her own a striking female perspective. The Yellow Hair for instance, is a female figure in silhouette against black. Her mouth is open as though venting her lonely angst in a scream. Formally, too, Douthwaite is often close to Roger Hilton as in Woman with a Reptile, for instance, a grotesque, grimacing figure drawn against flat areas of black and yellow that you could compare to one of Hilton's savage nudes. Douthwaite, then, was really a survivor of a grey era, and, when the art world burst into starting colour the sixties, she stayed with the darker vision.
She certainly had a good artistic pedigree. She met Margaret Morris when she was seven years old. Deeply impressed, it was as though some fairy godmother had swept through her cloistered Paisley childhood. She brought such mysterious magic that Douthwaite claimed she knew even then that she was going to be of tremendous importance to her and indeed later she trained with Morris. She danced with her Celtic Ballet and toured with the group to the USA. An anecdote gives a hint of the unconventionality of the Fergusson-Morris circle that she had joined and that clearly shaped her. Summoned to Morris's dressing room for a reprimand after giving an individualistic performance in a group dance, she was greeted by Morris eating a bunch of grapes and with nothing on except a wig. She avoided the reprimand by pointing out that Morris, individualistic as she was, she would have done the same.
JD Fergusson also took an interest in Douthwaite, and under his guidance she changed from dancer to painter. Initially she had no other training than JDF's encouragement, but in the late 50s she spent time in the company of the two Roberts, Colquhoun and MacBryde, and other artists in their circle. The Roberts had escaped from London to live in the country and there she did enjoy some teaching from Colquhoun. Even if it is only the bleak mood of her work that is so like his, his influence does seem to have been formative. Her bleakness is relieved, however, by caricature and by dark, even savage humour. The Fête, for instance, shows two grotesque figures against a black ground baring their teeth at each other. One about to bite the other's head off, it resembles nothing so much as one of George Grosz's savage images of Weimar Germany.
Bernard Berenson at Leptis Magna, meanwhile, shows the old fraud like a skeleton in a wheelchair pushed by more skeletons, all in fierce, spiky drawing. Dancing Nude is a figure with a head like a bird or reptile against a black ground, while Woman with a Peacock in her Hair, an embracing couple threatened by a pair of flying scissors, is in the same savage, misanthropic mood. The scratchy drawing often suggests graffiti and the influence of the French master of graffiti adopted into art, Dubuffet. A couple of abstract collages in the show, both like walls of bricks and stone, have something of Dubuffet about them too, but there is also more than hint of American painting. Orcadian Landscape, hovering rectangles of dusty blue, is a homage to Rothko.
Bernard Berenson at Leptis Magna, by Pat Douthwaite
Douthwaite was very much an artist of her time, but with a very personal vision nevertheless, and this is seen best in her female figures. Goddess, for instance, is a woman with black hair and holes for eyes, her mouth open in a scream whose silence resonates more because, in painting, it is extended indefinitely in time as no mere sound could ever be.
Latitudes at the RSA is a show of work by recent winners of awards given by the Academy, which every year distributes £100,000 in grants and awards. Mostly this comes from legacies and gifts. Some are longstanding, like the Sir William Gillies and John Kinross estates, which have supported artists for almost 50 years, while the Carnegie Travelling scholarship has been running for more than a century. The William Littlejohn and Wilhelmina Barns-Graham awards are recent, but the Pandemic Award is of the moment. The Academy has found £30,000 to support artists through this difficult time.
Among the artists in the show, Richard Goldsworthy makes exquisite things from charred wood, exploing the beauty of its blackness in Intertwined, a piece of charred lime, but also its whiteness in Egg, for instance. In contrast, Blair McLaughlin paints directly and freely, but also topically. Isolation Study is a street scene from these difficult times, while I am Afraid says just that. In Venus Study, a laptop on an unmade bed suggests love at a distance.
Sara Alonso makes mysterious objects like Aseptic Atoms Split, a desk with open drawers topped by an upended polyhedron. She has "entombed" (her word) in beeswax a photographic image on this on her other other constructions. Lily Macrae makes rather beautiful abstract paintings from sweeping brushstrokes in dark blues and purples. They look grand, but online is tricky. They are only 20 centimetres high.
Orcadian Landscape, by Pat Douthwaite
There is not that problem with Steven Grainger's sculpture as its scale is easily read. It is impressive too. Works like Flag, a free-standing sheet, apparently of metal, striped horizontally in black and grey, or Untitled II, a horizontal rectangle with holes in it like a piece of Swiss cheese, both have a very satisfactory thingness about them as good sculpture should.
Also at the RSA, Rare Prints and Monotypes brings together a wide range of prints by academicians from the past such as Anne Redpath, John Houston, Philip Reeves and David Michie, and from the present by master printmakers like Alfons Bytautis, John McKechnie and Elspeth Lamb. There are monotypes by Barbara Rae, lithographs by Elizabeth Blackadder and etchings by Henry Kondracki. It's a cornucopia – shame it's not Christmas.
Pat Douthwaite: On the Edge until 27 February; Latitudes until 17 March; Rare Prints and Monotypes until 14 February
A message from the Editor
Palace Walls, by Richard Goldsworthy
Thank you for reading this article. We're more reliant on your support than ever as the shift in consumer habits brought about by coronavirus impacts our advertisers.
Joy Yates, Editorial Director
Landscape, Kyleakin, Late 1950s, by Anne Redpath