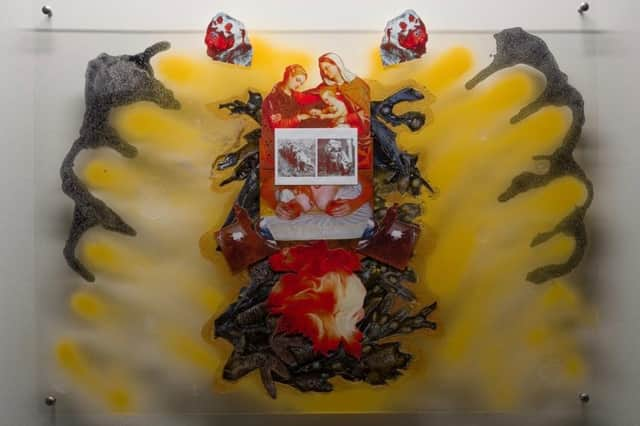 LUX Scotland: Give Birth To Me Tomorrow Artists' Moving Image Festival, online at luxscotland.org.uk ****
Holly McLean: If you get the knees right, the rest should follow, online at collective-edinburgh.art ****
Let's hope that 2021 doesn't turn into another year in which live events fall like dominos amid hasty announcements of online replacements. For the moment, though, it seems inevitable, with LUX Scotland's Artist Moving Image Festival (AMIF), due to take place this month at Tramway in Glasgow one of the first to announce an online transfer.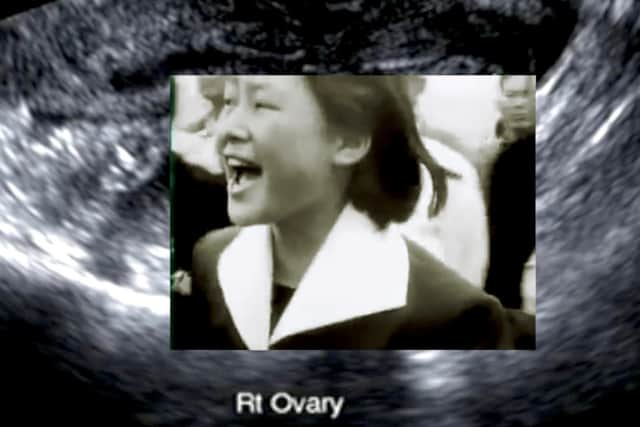 Pulling a silver lining from the Covid-19 cloud, the festival is screening five films on the scheduled Tramway dates (January 21-24) and others throughout the year on significant dates on the lunar calendar. As the programmers Adam Benmakhlouf and Tako Taal have said, this gives the work room to breathe, and the films they have chosen benefit from space, contemplation, even repeat viewings.
The festival's enigmatic title, "Give Birth To Me Tomorrow," is taken from the film, Born, Unborn and Born Again, by Korean artist Kyuri Jeon, a film which feels much bigger in scope than its 12-minute length suggests. It opens with a protest to decriminalise abortion in Korea in 2019, followed by the news that the necessary legislation has been passed, then opens up into a wider meditation on motherhood, and in particular, the selective abortion of girls in East Asian cultures.
Jeon was born in 1990, when selective abortion hit an all-time high in Korea, in part because of the Year of the White Horse which recurs every 60 years in Korean tradition. White Horse women are not only thought to be difficult and unmarriagable, but actively bring destruction on the men around them. Jeon tells us that her mother had previously had female children aborted, and suspects she survived because doctors wrongly identified the foetus as a boy.
The film not only explores this, including in a warm but evasive interview with her mother, but spools back to last Year of the White Horse, 1930, when Korea was still under Japanese occupation, and forward to the next, 2050. Shifting from Korean to English, she finishes with her discovery of the future perfect tense, noting how language can transform the way we understand time and history.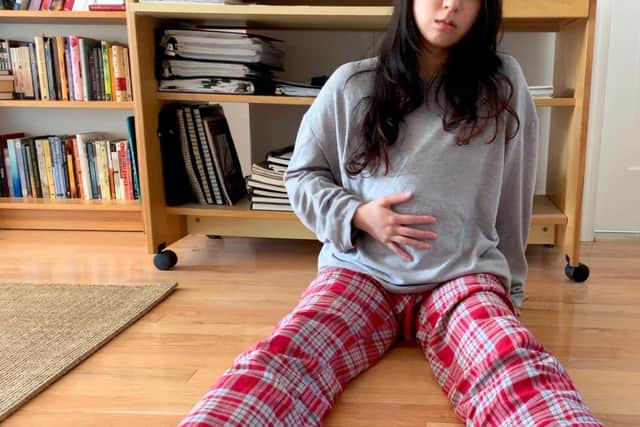 Camille Turner's 2005 film Miss Canadiana begins with a ruse: the artist reinvents herself as a maple-syrup-loving patriotic beauty queen, posing for selfies, signing autographs, even launching her own cosmetics range. While some of those interviewed in this documentary-style film directed by Sherisse Mohammed are clearly enjoying the irony of it all, others believe she's the real deal.
People are used to reading the surfaces of things, Turner reflects. They enjoy the glitz and glamour, and willingly become complicit in the illusion. Most revealingly, when she 'fesses up to her fans in a small Canadian town that the whole thing is an art project, the reaction is not anger or disappointment, but empowerment: "You just did this? Does that mean I can do it too?"
If Turner's film celebrates the power of the superficial, LIEF, by Birmingham-based artist De'Anne Crooks, is deliberately introspective. Crooks, who has described the film as a self portrait, layers home video, snippets of cartoons, thoughtful texts and a range of voices, weaving them together in a poetic, associative way in a reflection on childhood, language, mental health and identity.
Glasgow-based illustrator Isabel Barfod tackles a tricky subject in her film Hear Me Out by asking young people from different faiths to talk about their experience of prayer. Matching their words with her clever, empathetic animation, she takes us into territory where words strain to describe the mysterious: things are "cloudy", "fuzzy", it's like a telephone, or a hug, but also not like those things. Her film is an inventive take on what it means to have one's voice heard, perhaps in the ultimate context.
Sharon Hayes' Fingernails on a Blackboard: Bella is entirely about voice. It's a 16-minute text transcription, unfolding line-by-line in silence, of a conversation between US congresswoman and feminist Bella Abzug and a voice coach. By focussing on breathing and movements of the mouth, the coach would seem to be softening Abzug's voice, perhaps challenging the stereotype of the haranguing female. It's hard to be sure without sound, and the film is presented without any background information. Fortunately, we have Google, and once one knows who "Bella" is, one starts to understand what Hayes is getting at.
If the short films in the AMIF open up much larger themes and discussions, so too does Holly McLean's film, If you get the knees right, the rest should follow, part of the Satellites programme at Collective, now being screened online. It's a film portrait of artist and surfer Alice Vandeleur-Boorer, who is also – we find out as the film progresses – the mother of twins and a survivor of post natal depression. The film is part of an ongoing series by McLean on themes of motherhood and fertility.
In the first scene, we find Alice donning a wetsuit before going surfing (the title comes from the received wisdom on donning wetsuits). Later, we see her riding the waves in a chilly but exhilarating ocean, then at home amid the detritus of a toddler dinner, and finally, showing McLean her caravan, a rotting hulk which she is gradually renovating. She describes how stripping out rotted wood became a kind of therapy as she battled PND. She's a warm, likeable subject with whom it would be easy to spend much more time.
Film buffs sometimes employ a rubric known as the Bechdel test – to pass, a movie must include a conversation between two women which is not about a man, and it's surprising how many Hollywood films fail it. This film is the opposite, it is a conversation between women, one in front of the camera and one behind it, about what it means to be a woman and a mother. It's an intimate, honest film, complemented by McLean's raw DIY aesthetic, a gentle but firm challenge to convention. My only complaint is that the soundtrack is at times a little too harsh for its subtle, intimate tone.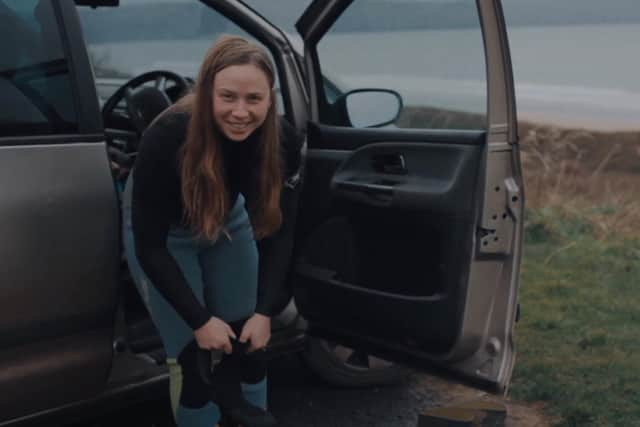 In the gallery, the film is shown opposite a collage of seaweed, resin and images of motherhood and matriarchy. Online, we don't have that, but we don't really need it. The film speaks clearly enough. In fact, it falls in the category reserved for the best short films: the ones we wish were longer.
A message from the Editor
Thank you for reading this article. We're more reliant on your support than ever as the shift in consumer habits brought about by coronavirus impacts our advertisers.
Joy Yates, Editorial Director