Ifeoma U Anyaeji: Ijem nke Mmanwu m (The Journey of my Masquerade), Tramway, Glasgow ***
Jasleen Kaur: Alter Altar, Tramway, Glasgow ***
Andrew Sim: a sunflower, six trees, three birds and two horses (one with wings), Modern Institute, Glasgow ****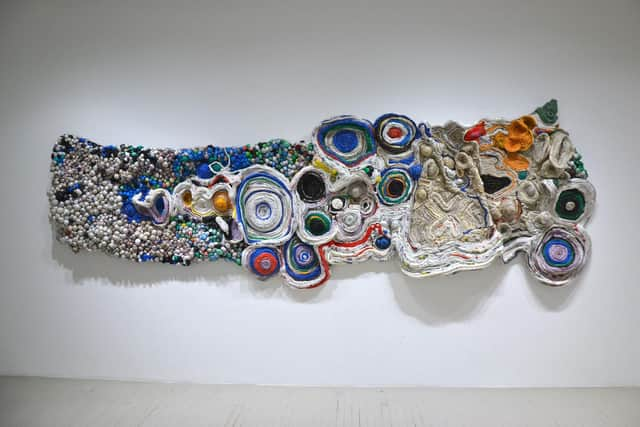 Andrew Kerr: Flattening the Penny, Modern Institute, Glasgow ****
The latest in a line of international artists invited to make their first Scottish exhibition at Tramway is mid-career Nigerian artist Ifeoma U Anyaeji. Born in Benin City and trained there as a painter before sidestepping into sculpture, she makes visually impressive work with a highly specific choice of material: non-biodegradable plastics – she calls it "plasto-art".
Her sculptures are mosaics of plastic bottle tops and "yarns" woven from fine strips of plastic. She weaves them using a traditional Nigerian hair-braiding technique known as "threading", as well as working with West African basketry and fabric-weaving, all highly labour-intensive and virtually obsolete in contemporary life. She also makes colourful baubles from balled up plastic bags.
The title piece, and largest work in the show, is a new commission created for Tramway. Somewhere between a tent and an oversized carnival costume, it references the traditional Igbo masquerade (Mmanwu), a masked rite performed by men. In re-imagining it through traditionally female craft practices, she challenges assumptions about gender and patriarchy.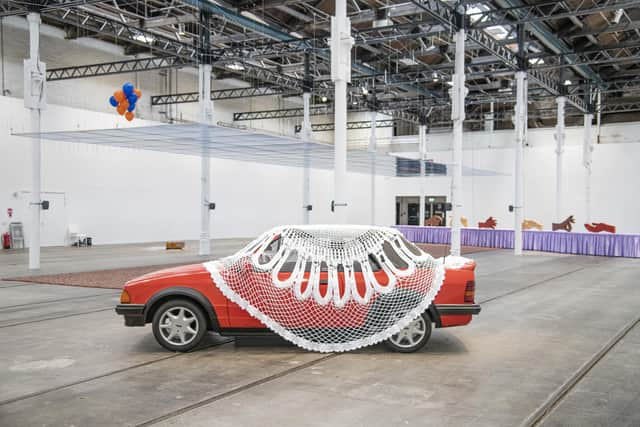 The other large work here is Ezuhu ezu (in[complete]), begun in 2017, a kind of ongoing unfinished magnum opus. Here, the weaving and plasto-art are brought together with found objects and photographs laser cut on wood in a great assemblage reaching from floor to ceiling. It's as if it is attempting – but failing – to unify her work's different concerns.
Unity is what the show lacks, and perhaps that isn't surprising given the diversity of her concerns. The individual pieces reference a sea creature, a piece of furniture, a tribal costume and a fresco (or perhaps a cave painting). They are interspersed with photographs of hairstyles. Employing obsolete craft practices on a material which, literally, won't go away is an interesting proposition. But the deeper concerns of the show seem to pull in a number of different directions.
Meanwhile, in Tramway 2, Jasleen Kaur has created something of a homecoming exhibition. Kaur grew up within a few streets of Tramway and studied jewellery and silversmithing at Glasgow School of Art and the RCA. She has been based in London ever since, and is using her first major solo show in Glasgow to unpack some aspects of her own personal history.
Tramway 2 has an uncanny ability to dwarf anything put inside it, however big, and it has that effect on Kaur's huge replica Axminster carpet and the red Ford Mk3 Escort XR3i, draped in a giant crocheted doily. Kaur defines the centre of the room with the carpet, which is matched by a false ceiling made of perspex tiles on which is printed an image of the Pollokshields sky. Scattered on the ceiling are objects which represent memories: political pamphlets, cassettes and CDs, car air fresheners, bottles of Irn Bru, a pink and white floral wreath spelling out the name "Vera". At one end of the carpet is a curved banqueting table decked out in lilac satin, perhaps for a family celebration.
The Ford represents "my dad's first car and his migrant desires", while the doily references the workforce brought from the colonies to staff England's mills – it was made for the British Textile Biennial in 2021. Enlarged family photographs are set in resin made with Irn Bru. There is an Indian harmonium, like the one on which her father taught her to sing. Another photograph shows the Kenmure Street protest which thwarted an immigration raid in Pollokshields in May 2021.
At least half the weight of this psychic landscape is hefted by sound. The car (courtesy of a subwoofer in the boot like the ones her brother used to make) beams out a soundtrack of Nusrat Fateh Ali Khan and Bob Marley (among others). Large-scale models of hands in Indian rosewood are mechanised to ring tiny "worship bells"; the harmonium drones its single repetitive note. In the "carpet" area, the artist has made a soundtrack of chanting in her own voice.
It captures the sense of a multicultural upbringing, of traditional Sikh culture and 1980s pop, Irn Bru at the Gurdwara, family and politics, sacred and secular. And it's presented with a mix of thoughtfulness, humour, nostalgia and pride, paying tribute to a community, while considering the cultural shifts which brought that community into existence in the first place.
All this is interesting, but the power and significance of these objects and images remain, largely, in the artist's mind. She chooses, perhaps wisely, not to over-explain, not to be effusively autobiographical. However, that leaves a disparate collection of fragments which don't quite cohere, and which are in danger of looking a bit lost in Scotland's biggest contemporary art space.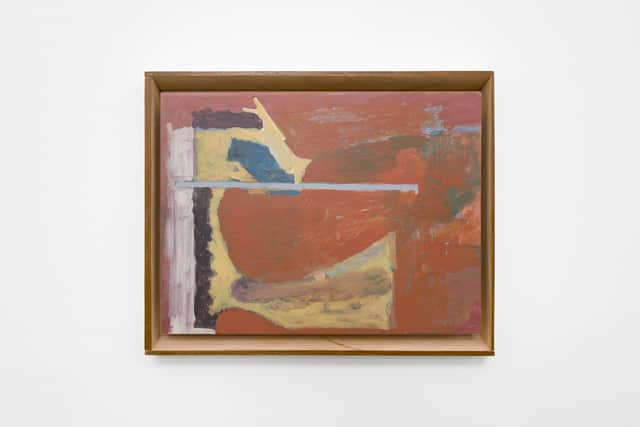 There is also a conversation about identity and memory happening in the work of Andrew Sim at the Modern Institute. Sim graduated from GSA's Scupture and Envrionmental Art course in 2014 and had their first solo show at Summerhall in 2019.
This, their second show with Modern Institute is, without doubt, Sim's most polished and most ambitious to date, consisting of large-scale pastels on black backgrounds. The title is a list of exactly what you find in the show; the implication is that is all you get but, of course, it is not.
The clarity of these images, and the time and care invested in making them, suggest deep personal significance. The monkey puzzle tree, we are told, refers to one which grew near the artist's childhood home. The two Christmas trees, bedecked with baubles and lights, speak about the performance of queer identity; the winged creatures (birds, a horse) might be about escape, or simply freedom. We're deep in archetypal territory here.
Like Kaur, Sim doesn't explain all the personal significances, though we're told enough to know they are there. And then we start adding our own: two birds together are surely a couple? The way the work is made, its precision and simplicity, tells us that these objects are being intensively considered, and this in turn lends them a totemic power.
Meanwhile, Andrew Kerr, at Modern Institute's Aird's Lane space, is continuing to carve out a quiet niche as an abstract painter. This suite of more than 20 new paintings in acrylic have been worked and reworked over a long period of time. They feel instinctive but measured, in restrained palettes of teal, lilac, greys and browns. There is consideration of qualities such as tone and shape and depth. Kerr, we're told, is interested in book cover design and draughtsmanship. Some of them seem to lean towards typography.
Without ever feeling derivative, they speak of early and mid 20th century abstraction, which is echoed, in turn, by the handmade frames of Steph Shiels and Marian Campbell. In a way, these are the opposite of Sim's symbols: they are not here for us to work out what they mean, despite some intriguing titles: Race You to Stirling, More Biro on the Boiler. But the paintings have a confidence which suggests they know what they're about, even if questions of meaning are largely irrelevant.
Ifeoma U Anyaeji until 4 June; Jasleen Kaur until 8 October; Andrew Sim and Andrew Kerr until 20 May