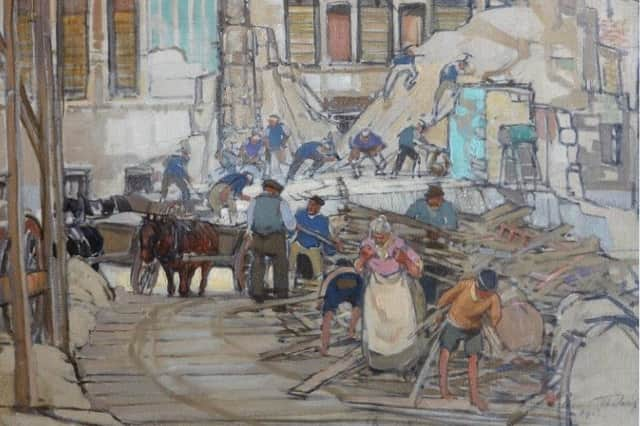 Edinburgh: Our City, City Art Centre, Edinburgh ***
Joyce Gunn Cairns: How We Live With Other Species, Smithy Gallery, Blanefield ****
The Graduates: Four Pillars, Tatha Gallery, Newport-on-Tay ****
Edinburgh's City Art Centre has been particularly proactive during lockdown, continuing to devise interesting projects even when the doors are closed. The latest is Edinburgh: Our City, an exhibition on ArtUK of paintings of Edinburgh from the city's art collection chosen by the front of house staff.
Some have chosen paintings which commemorate moments in history: John Wilson Ewbank's arrival of George IV on the legendary royal visit arranged by Sir Walter Scott in 1822; William Allan's painting of the Signing of the National Covenant. Others celebrate long-gone landmarks, like Alexander Nasmyth's painting of the Old Tolbooth being demolished.
Demolition turns into a bit of a theme, with David Macbeth Sutherland's painting from 1925 of the demolition of the Crown Hotel, on the corner of Princes St and West Register Street, and Edwin G Lucas's surrealist take on the now demolished Caledonian Station.
Some use their choice to reflect on the present times. Lynn Fulton writes that William Crozier's 1920s painting of the Mound, near deserted and with a covering of snow, looks much as it did this winter with the usual crowds banished by lockdown. David McLean of Lost Edinburgh, taking part as a guest, chooses Robert Easton Stuart's beautifully impressionistic painting Maule's Corner After Rain, marking one long-gone department store even as news breaks that Jenners, its one-time counterpart, is facing closure.
It's a pleasure to see again works which would normally be in storage, such as Wilhelmina Barns-Graham's abstract of the Forth Bridge, or Alberto Morrocco's The Pub (accompanied here by some colourful pub memories). But the greatest joy is the staff's pride in their city, all parts of it. Patrick Vaughan chooses Donald Provan's Window View at Sighthill, because, he says, he spent six years looking at the same view from his bedroom window. His words express a certain incredulity that an artist would wish to paint it, mingled with pride and pleasure at finding one's own view of one's city immortalised in paint.
The subtle, accomplished works of Joyce Gunn Cairns are a pleasure to spend time with, and tend to yield greater depths the longer one looks at them. Her solo show at Smithy Gallery explores our relationships with animals, wild and domestic, and perhaps some of the animal qualities we find within ourselves.
A blackbird and a black cat regard one another. The cat does not appear to be about to pounce, nor the bird to fly away. They are regarding each other with mutual interest, perhaps even mutual respect. This theme of a delicate balance recurs in other paintings. As anyone who lives with a cat will know, the pet/owner relationship is a nuanced thing. Gunn Cairns' cats and their owners capture that complex balance of need and affection on the part of both human and animal.
Crows and cats are common subjects here, perhaps because both are animals with an independent turn of mind. But, in truth, all the creatures in these paintings carry a sense of their own otherness, from the symbolic bird who is part of a gift from one woman to another in Annunciation to the wounded dove, plaintive but peaceful, in the hands of the woman who has rescued it.
A number of animal studies – a deer in a snowy field, a startled hare, a pair of bear cubs – demonstrate just how well Gunn Cairns captures the essence of a creature with an economy of line. And there are non-animal works, too: a landscape from Iona, and a painting of jugs which, in its stillness and muted colours, echoes the work of Morandi. There's a splendid portrait of Alasdair Gray, all twinkly eyes and energy, and an intimate nude of a mother and baby.
The works in this show are quiet but unflinching in their exploration of feelings and relationships. They capture things that can be hard to put into words but, in the hands of the right artist, can be expressed very well in pictures.
2020 was a difficult year to graduate from art school, with degree shows online and graduate showcases such as RSA New Contemporaries postponed until 2022. Three cheers, then, for galleries such as Tatha in Newport-on-Tay which, in The Graduates: Four Pillars, has pressed ahead with this show of work by 12 new graduates from around the country.
It's always interesting to see work transposed from degree shows to a professional context. Here, the works take on a more serious, considered quality, from the abstract paintings of Eve McGlynn, with their careful sensitivity to tone and texture, to the charcoal drawings of Zuzanna Salamon.
Recurring themes from recent degree shows resurface here – folklore, myth, memory – and there's a return to making, from Sophie Percivals's ceramics, with glazes suggestive of the Japanese art of kintsugi which repairs broken pottery with gold, to Emma Boiston's textiles, patching together memories with hand-dyed fabrics and embroidery.
Josie Jones uses the early photographic process of cyanotype as a form of painting, balancing abstract and figurative elements. Hannah Lim's sculptures reclaim elements of the colonial obsession with Chinoiserie for a contemporary multicultural society, while Lauren Ferguson's superb painting and drawings pick out the strangeness in the objects around us, from stair banisters to playground equipment. What all 12 artists share is a quality of care and attention, a considered approach which, regardless of the subject matter they are working with, suggests they have something to say which is worth listening to.
A message from the Editor:
Thank you for reading this article. We're more reliant on your support than ever as the shift in consumer habits brought about by coronavirus impacts our advertisers.