Art reviews: Crafted Selves | Otolith Group
All the artists in the Crafted Selves exhibition at St Andrews Museum are exploring issues of identity, writes Susan Mansfield
Crafted Selves: The Unfinished Conversation, St Andrews Museum ***
Otolith Group: …But There Are New Suns, Cooper Gallery, Dundee ****
Finding oneself, being oneself, expressing oneself is the driver for a lot of contemporary art, particularly by emerging artists. Crafted Selves, curated by Cat Dunn for Fife Contemporary, presents the work of 13 Scotland-based artists who are living with dual (or multiple) identities in relation to race, culture, gender and other contested territories.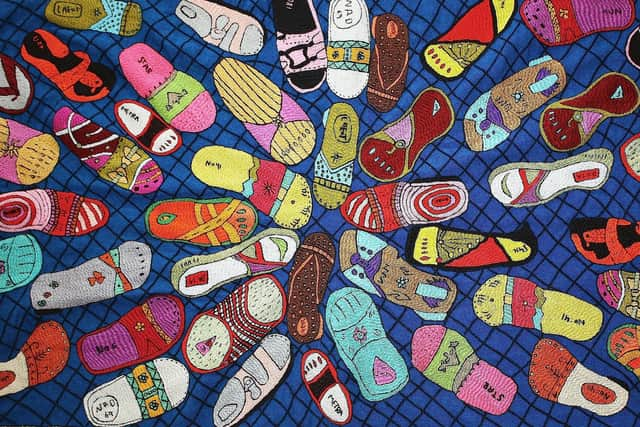 What soon becomes apparent is that this struggle is a double-edged sword. On the one hand, it's a tension to resolve, a wound to heal, on the other it's a fruitful place from which to work creatively. The same is true of the show's other duality: the fact that many of these artists work between art and craft, a boundary which is becoming increasingly porous, with interesting results.
Even within these broad parameters, the selection of artists is diverse. Some are recent graduates, others well established. The field stretches from Eden Dodd, who uses a conceptual sculpture practice to explore her transfeminine identity, to Li Huang, who is an award-winning figurative painter. Harvey Dimond's work consists of two short essays (accessed via QR code) about other artists in the show, and Alberta Whittle, though listed, doesn't appear here at all; the Scottish premiere of her film The Axe Forgets, But The Tree Remembers takes place at the Byre Theatre, St Andrews, on 17 January.
Adil Iqbal is a textile artist with an interest in anthropology and creating cross-cultural collaborations; the two works shown here, both from 2012, bring together textile traditions from Scotland and Pakistan. Emelia Kerr Beale makes textile work rooted in queer theory and disability studies: their finely crafted sweaters with long, linking arms were first shown in the Platform show at last year's Edinburgh Art Festival. Viv Lee is a ceramicist whose distinctive sculptures and craft objects are inspired by prehistory, modernism and the human body.
To a greater or lesser extent, all these artists explore aspects of identity – Li Huang's superb paintings are a kind of dialogue with the spirit of his late father. But some of the most vibrant work here manages to synthesise aspects of diverse cultures into bold, new expressions of the self. Sekai Machache's exploration of indigo dyeing in West Africa, which has produced her series The Divine Sky, not only examines that tradition but reclaims it, clothing herself in indigo in a way which feels almost triumphant.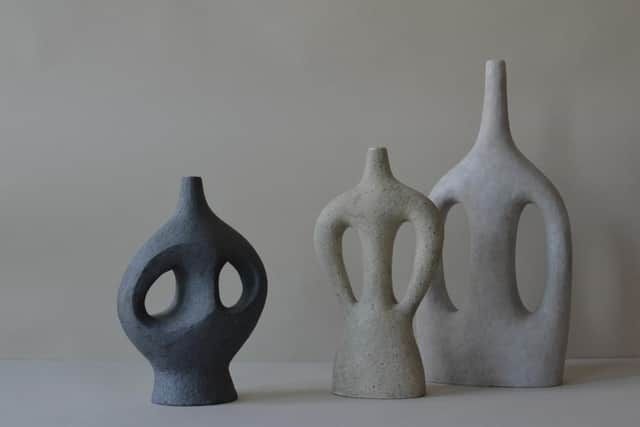 Rae-Yen Song negotiates a pathway between cultures by imagining new worlds, weaving a personal mythology which unites elements of past and future, autobiography and science fiction. Song's work is confident, richly imagined, beautifully made. Ashanti Harris' evocative masks made from copper mesh are quieter but no less assured, conjuring the ghost-like faces of Black women using techniques learned from Caribbean carnival culture.
These artists start to feel like a core within the exhibition from which the others spirals outwards, just about managing to stay united around a theme. It's a reminder of how fruitful and interesting group shows can be, but how careful one must be to set the right parameters.
Meanwhile, Cooper Gallery at Duncan of Jordanstone College of Art and Design continues its ambitious programme of exhibitions and events, The Ignorant Art School, by presenting the first major exhibition in Scotland by The Otolith Group. The collective, founded by Anjalika Sagar and Kodwo Eshun in 2002 and shortlisted for the Turner Prize in 2010, has a research-based, analytical practice which sits well in an academic environment, perhaps especially one which is rethinking what it means to be an art school.
The group presents two films, each about an hour long and deserving of time spent. The first, O Horizon (2018), is a deep dive into the ideas of Indian polymath Rabindranath Tagore, a slow, careful observation of daily life at Visva Bharati, the school/art school/university he founded in 1921 in Santiniketan, West Bengal. The camera lingers as classes of children sit in circles under trees, adults read and discuss literary texts, musicians sing and play instruments. Tagore's poem "In The Year 1400" is an evocative voiceover.
Filmed over five years, O Horizon is a kind of embodiment of Tagore's idea that education should not be dissociated from life. It seems to be an invitation to imagine other ways of learning, ways which are more connected, perhaps, to place, to the environment, a reminder that not all is set in stone.
The main gallery upstairs hosts the Scottish premiere of What The Owl Knows, which was co-produced by Cooper Gallery. Here, Otolith's carefully attentive camera is trained on the Black-British artist Lynette Yiadom-Boakye. We see her working in her studio, painting, repainting, and always looking, looking, looking. It's not a study of Yiadom-Boakye, the makers are at pains to point out, it is a study of painterly attention. We are studying her, studying her work.
Intense periods of studio work are interspersed by walks through London at night, over which Yiadom-Boakye reads her poems. There is a strange interlude in the middle where an owl and a dove enact an animated fable, which feels like an odd departure from the film's meditative, observational tone. Then, while the closing credits run, the soundtrack collages the news of 2022: Boris Johnston's resignation speech, Liz Truss' mini-budget, the death of the Queen – the background to Yiadom-Boakye's life as the film was made, and to all our lives.
Not so much a portrait of the artist, then, as a study of the process of art-making, from the free association of ideas while walking the city to the painstaking attention to brush, palette, canvas. In an art world in which conceptual possibilities have been thrown wide open, it's actually quite traditional in its focus on looking, learning, skill. In a building where people learn to be artists – and where they investigate how one learns to be an artist – it feels like a valuable contribution to the ongoing conversation.
Crafted Selves is at St Andrews Museum until 29 February, then at Kirkcaldy Galleries from 23 March until 12 May; Otolith Group until 16 December.